Students who major in philosophy study historical and modern thought, and there are a number of career paths that can be a good fit for this discipline. In this article, we discuss the benefits of studying philosophy and offer nine examples of jobs for philosophy majors.
Why major in philosophy?
Majoring in philosophy can grant you a number of interesting and unique skills. Philosophy majors learn to think deeply and complexly. They are required to consider innovative and creative solutions to society's common problems. They have a reputation for being independent thinkers and highly intelligent. Philosophy addresses a wide range of topics and philosophy majors often know a great deal about history, politics, religion and foreign cultures.
The majority of philosophy majors have excellent communication skills, both written and verbal. They can be skilled with problem-solving and often have an admirable work ethic. They frequently work well independently and are self-disciplined. Although philosophy majors are relatively rare in today's society, they can be valuable additions to any workplace.
9 jobs for philosophy majors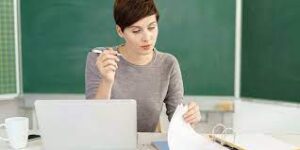 The ideal job for a philosophy major allows them to be creative and to use their specific skill set. Here is our list of nine jobs that suit philosophy majors. For the most up-to-date salary information from Indeed, click on each salary link below:
1. Writer
National average salary: $23.74 per hour
Primary duties: Writing can be a suitable job for most philosophy majors since they likely did a lot of reading and writing while pursuing their degree. Writers can work in a variety of industries and may write about a wide range of subjects. Many philosophy majors thrive when using their skills to create original and thoughtful content. A writer's job requirements and responsibilities will vary depending on their employer and specific industry.
Writing is a creative career that demands excellent written communication skills and proficiency in grammar and spelling. Philosophy majors can write journal articles, novels, short stories and many other types of content with a philosophy degree, but may also want to pursue an additional degree in English, Communication or Creative Writing.
2. Chaplain
National average salary: $52,475 per year
Primary duties: A chaplain uses their knowledge and understanding of religion in order to provide guidance and comfort to individuals in their workplace. They might work in hospitals, schools or in the military. In the course of their academic studies, philosophy majors almost certainly encountered different schools of religious thought. If a philosophy major wants to share their understanding of religion and theology with others, a career as a chaplain could be an advisable choice.
Successful chaplains are personable, approachable and excellent listeners. They use their communication and leadership skills to provide spiritual services and religious counsel for those who are suffering or facing challenges. Most chaplains have a master's degree in theology, religion or counseling. They must also be ordained or licensed in order to practice.
3. College Professor
National average salary: $66,838 per year
Primary duties: Teaching at a college level may come easily to many philosophy majors. If they enjoyed their years of academic study, they may decide to use their degree to educate other students. While teaching philosophy might seem the most obvious choice, philosophy majors could also teach history, sociology, literature, theology, English or other similar fields.
Many college professors have excellent organizational skills, communication skills and a love of learning. A good college professor is methodical, personable and confident with public speaking. In order to teach at a college or university, they must have a master's or doctoral degree in a field related to their chosen subject.
4. Lawyer
National average salary: $69,910 per year
Primary duties: In their college courses, philosophy majors study the best and worst of human nature. They learn about justice, free will and civil rights. This information is useful to anyone pursuing a career as a lawyer. Lawyers represent clients in courtrooms in order to ensure that justice is served. Philosophy majors may find the legal process and the responsibility of proving innocence and guilt intriguing.
Lawyers must be skilled in public speaking, research and various types of communication. They must have attention to detail and be able to think quickly and creatively. After earning a bachelor's degree, prospective lawyers must attend law school for an additional three years in order to be qualified to take the Bar exam. After passing the Bar, they are licensed to practice law and can pursue a position in an established law firm.
5. IT Technician
National average salary: $74,644 per year
Primary duties: Some might find a link between philosophy and computer science difficult to see. However, a significant number of philosophy majors seek out jobs in the information technology field. The common element is the logical decision-making process that is necessary in both philosophical thought and computer programming. Many philosophy majors find they can apply their innovative problem-solving skills and methodical mindset to the improvement and maintenance of computer systems.
IT technician is just one of many job titles available in the field of information technology. IT technicians use their practical skills and knowledge of computer hardware to troubleshoot and solve computer-related problems. Those with a bachelor's degree are eligible for many entry-level jobs, but an industry certification is necessary for more advanced positions.
6. Historian
National average salary: $76,269 per year
Primary duties: Historians and philosophy majors share a passion for studying how human thought has influenced events throughout history. Students of history and of philosophy examine historical records, documents and literature in order to better understand the lives and choices of past societies. They also dedicate time and effort to preserving important elements of the past.
Historians use their research skills, communication skills and their attention to detail to analyze and interpret historical records. They also use their master's or doctoral degree to aid in the protection and preservation of historical materials. A philosophy major who particularly enjoyed reading ancient essays or discussing historical events might be interested in a career as a historian.
7. Psychologist
National average salary: $85,794 per year
Primary duties: The study of the human mind can be fascinating for many philosophy majors. All philosophy originated in the minds of humans, so studying how the brain and mind works can be an easy transition for a philosophy major. Psychology is a science and philosophy is an art, but the two have more in common than you might think. Both fields seek to understand the nature of humanity and why society functions as it does.
Psychologists use a logical mindset and their problem-solving skills to diagnose and treat mental disorders and illnesses. They also use their communication skills to discuss possible treatment plans with their patients and their loved ones. Clinical psychologists must have a master's degree and a doctoral degree in psychology and must meet their state's licensing requirements to practice.
READ ALSO: BEST ONLINE BAHELOR'S IN SOCIAL SCIECES DEGREES
8. Economist
National average salary: $97,042 per year
Primary duties: Economists study the current state of the market in order to advise businesses and governments on making the best economic decisions. Understanding the philosophy related to how economies function and develop would be an asset to any economist.
Philosophy majors can use their research skills, creative thinking and problem-solving skills in order to analyze and predict economic changes and trends. An analytical mindset and logical learning style is also helpful for this career. Economists may be able to secure entry-level jobs with a bachelor's degree but can also earn a master's degree or Ph.D. in Economics.
9. Political scientist
National average salary: $117,570 per year
Primary duties: Anyone who majors in a field that studies historical literature must become familiar with political thought. Philosophy majors often take classes that discuss how political systems have evolved, how past political events influenced society and the current state of world politics. Understanding how different types of governments function and how political decisions have profound impacts is an important element of being a political scientist.
Political scientists must be able to analyze and interpret political data in order to understand its ramifications. They also need to develop theories based on the data and be able to record them in essays, articles or other documents. Communication skills are also necessary, as political scientists need to be able to explain their findings to colleagues and peers. Political scientists have a master's degree or a Ph.D. in political science, public administration or a related field.
I hope you find this article helpful.