Whether you're a native Chinese speaker or someone who learned it through academics, there are many roles to consider that allow you to use your language skills. Not only does knowing Chinese make you a more desirable candidate, but there are many sectors where you might find employment, such as education and business. Learning about the job opportunities that are available can help you identify a role that aligns with your career goals and aspirations. In this article, we explore a list of nine Chinese-speaking jobs you can pursue for employment.
9 Chinese-speaking jobs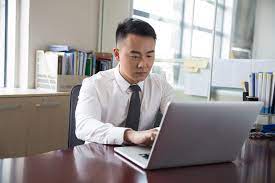 Here is a list of nine Chinese-speaking jobs for you to consider. For the most up-to-date Indeed salaries, please click on the links below.
1. Linguist
National average salary: $24,194 per year
Primary duties: A linguist is a professional who studies language and the elements that shape how people use it. A linguist who speaks Chinese may use their speaking skills and knowledge to research, analyze, and interpret the Chinese language. These professionals can find employment in many fields, such as government, private sectors, and education. Many of these individuals use their expertise in the Chinese language to make sense of its patterns or translate complex information so it's simpler for others to understand. Some of their other duties include:
Tabulating data and making transcriptions of old audio recordings

Studying Chinese language, society, and culture to develop academic and national language policies

Working with other language experts to discover and document the origins of texts and words

Staying updated on the latest developments in the language field
2. Caption editor
National average salary: $32,137 per year
Primary duties: A caption editor, or closed captioner, is a professional who adds and edits the subtitles that appear at the bottom of a video recording or television program. In this profession, you can use your language skills to add Chinese subtitles that accurately represent the dialogue spoken. This is especially beneficial for people who may be deaf or don't understand another language other than Chinese. Because there is such a large and expansive array of video programming for people to consume across the globe, Chinese-speaking closed captioners are in high demand. Some of their other duties include:
Using online or downloadable editing software to add captions and subtitles

Ensuring captions align with the audio and video footage accurately

Fixing syncing issues between captions and video

Developing a final version for broadcasting
3. Transcriptionist
National average salary: $38,415 per year
Primary duties: A transcriptionist is a person who uses computer programs to type different kinds of documents using the information presented in other materials, like voice recordings, footage, and rough drafts. They can use their language-speaking skills to develop Chinese-based materials like letters, forms, and reports. Transcriptionists may also perform a few clerical tasks, like answering phone calls in Chinese, distributing mail, and sending faxes. Some of their other duties include:
Typing various types of documents in Chinese

Transcribing Chinese recordings

Proofreading and editing transcribed documents for accuracy

Following instructions to collect and arrange materials accordingly
4. Translator
National average salary: $45,467 per year
Primary duties: A translator is a professional who translates text from one language to another. Someone who understands Chinese would translate Chinese text into English or another language they understand. They would also reverse this process to translate one language into Chinese. Some of their other duties include:
Translating text accurately and checking for errors

Attending meetings to discuss translation projects

Working with colleagues to translate large pieces of text

Completing language fluency assessments periodically
5. Journalist
National average salary: $45,612 per year
Primary duties: A journalist is a professional who gathers important information about current events and presents the news through writing, radio, or video in a realistic and truthful manner. They investigate ongoing or recent developments, often visiting the scene to speak with officials or witnesses. Some of their other duties include:
Writing articles that are concise and accurate

Recording notes, audio files, and interviews

Developing meaningful relationships with trustworthy sources and contacts for future research

Collecting and researching data to use in a news report
6. Interpreter
National average salary: $46,400 per year
Primary duties: An interpreter is a person who translates verbal communication from one language to another, often acting as the medium for parties where there is a language barrier. Sometimes interpreters translate written communication materials as well. These professionals can work in a diverse range of industries, such as health care, government, education, law and politics. Some of their other duties include:
Interpreting languages between multiple parties

Paying attention to audio cues like speaking tempos, vocal tones, and accents

Providing interpretations for questions, answers, explanations, and statements

Using tones and inflections to reflect the emotions of the speaker you're translating for
7. Liaison
National average salary: $46,877 per year
Primary duties: A liaison is a professional who serves as the mediator between two or more institutions that want to collaborate. As a Chinese-speaking liaison, these individuals may mediate and facilitate communications between an American company and its Chinese partners. These professionals can work in a broad range of industries, such as government, politics, business, science, health care, finance, consulting and education. Some of their other duties include:
Identifying opportunities for two or more parties to collaborate

Relaying your employer's interest to the potential partner

Explaining collaboration goals and objectives between both parties

Translating information between all involved organizations
8. Customer service representative
National average salary: $48,540 per year
Primary duties: A customer service representative is a professional who assists customers by answering their questions and helping them resolve their concerns and complaints. They may collect customer information to process orders, services, and returns. Bilingual CSR professionals who speak Chinese and English often have a more diverse range of job opportunities. These individuals can work in most industries that require customer interaction either through email, video call, or phone. Some of their other duties include:
Communicating with customers with empathy and professionalism

Solving customer complaints in a timely manner

Escalating customer concerns to the appropriate departments

Answering questions about different products and services
9. Tutor
National average salary: $54,174 per year
Primary duties: A tutor is a professional who helps students progress in their courses by providing them with additional learning assistance and guidance over topics where they may struggle. Tutors can help students with a variety of subjects such as Chinese language or math. Tutors often develop study plans to help students overcome their unique learning challenges. Some of their other duties include:
Attending scheduled appointments on time

Helping students learn challenging subjects and topics

Researching ways to improve students' learning capabilities

Familiarizing themselves with a student's academic curriculum
I hope you find this article helpful.