Being able to contribute to the design and growth of a community can be a satisfying and meaningful career path. There are many professionals who contribute to community development and programming, providing you with a range of job options to consider. If you're interested in career organizing initiatives within your local area, researching some of these roles can help you determine which positions are the best match for your interests. In this article, we review some of the different types of jobs related to community development, describe each position, and share salaries for each role.
What are community development jobs?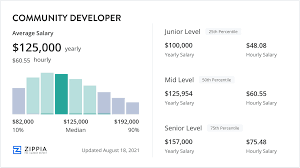 Community developer jobs are roles that relate to designing, managing, and improving a community, such as a city housing development. They help coordinate the layout, infrastructure, and overall function of certain areas to best serve their residents. Community development professionals can contribute to any stage of planning and implementing projects for a community, including zoning, construction, and public outreach. They strive to assess the needs of residents and provide services and programs within the community based on their research.
9 community developer jobs
Here are nine community developer jobs for you to consider if you're interested in pursuing a job in this field. For the most up-to-date Indeed salaries, please click on the links below:
1. Public safety officer
National average salary: $44,115 per year
Primary duties: A public safety officer is a safety and security professional who serves the public by protecting them from danger and responding to their emergencies. A general term, public safety officer is a title used for many types of professionals, including law enforcement officers, firefighters and paramedics. Their primary duties often include patrolling their jurisdictions, responding to calls for help, gathering evidence, speaking to witnesses at the scenes of emergencies and preparing reports about the incidents they handle.
2. Housing coordinator
National average salary: $45,016 per year
Primary duties: A housing coordinator is a real estate or social work professional who helps people find safe, affordable housing. They work in many environments, including nonprofit organizations, government agencies, retirement communities and universities. The primary duties of a housing coordinator often include communicating with clients to determine their needs, sourcing adequate housing for clients, helping clients prepare for their move, and ensuring tenants have basic resources.
3. Community development manager
National average salary: $49,708 per year
Primary duties: A community development manager is a planning and management professional who develops, implements, expands, and improves community programs. They establish connections with local organizations and the public and help them work together in mutually beneficial ways. Some primary duties of a community development manager may include creating community program budgets, conducting community outreach initiatives, overseeing development teams, and helping their communities solve problems.
4. Property manager
National average salary: $50,250 per year
Primary duties: A property manager is a real estate professional who maintains the operations and aesthetics of a property. They may manage commercial properties, such as office buildings, or residential properties like apartment buildings or housing complexes. The primary duties of a property manager may include collecting rent, hiring contractors to perform repairs and maintenance, maintaining the physical appearance of the property, and ensuring the safety of residents.
5. Grant writer
National average salary: $52,893 per year
Primary duties: A grant writer is a professional writer who requests private or government grants for organizations. They may work for many organizations, such as large companies, educational institutions, or nonprofit groups. Some primary duties of a grant writer may include researching different sources to find available grants, preparing and sending proposals requesting funding, following up on requests, and writing acknowledgment letters to donors.
6. Transport planner
National average salary: $65,121 per year
Primary duties: A transport planner is a planning and management professional who develops, implements, and maintains transportation systems within communities. These may include many types of transport, such as city buses, subways, walkways, and public transportation for specific purposes, such as health care. The primary duties of a transport planner may include researching efficient transportation systems, establishing a budget, working within the budget to determine solutions for their community, and coordinating with other professionals to establish transport systems.
7. Urban planner
National average salary: $66,408 per year
Primary duties: An urban planner is a community development professional who develops and implements strategies for land development that may have a positive influence on community growth and success. They may develop small areas, such as residential neighborhoods or specific communities, or large areas like cities or counties. Some primary duties of an urban planner often include communicating with citizens and community officials to determine their needs, developing and recommending projects to stakeholders, and collaborating with other professionals to complete projects.
8. Policy manager
National average salary: $76,279 per year
Primary duties: A policy manager is an organizational leadership professional who evaluates public and private policies and ensures they meet legal and ethical standards. In a community development setting, a policy manager may develop and implement policies that contribute to the improvement of their community. Other primary duties of a policy manager may include researching policy management trends, identifying areas of concern, collaborating with colleagues and government agencies to resolve issues, and advocating for the rights of community members when necessary.
9. Mental health counselor
National average salary: $84,584 per year
Primary duties: A mental health counselor is a clinical professional who helps people identify, treat, and manage mental health concerns. Some mental health counselors work at community health centers, such as clinics or health departments. The primary duties of a mental health counselor typically include meeting with patients to learn about their needs, providing individual or group therapy to help patients overcome or manage mental health disorders, monitoring their patients' progress, and referring patients to specialized medical providers as needed.
I hope you fidn this article helpful.