Professionals who possess effective technical skills might pursue a computer science job in the growing cannabis industry. Retailers, produces and technology companies use apps, websites and digital platforms to connect with consumers, share news and process orders. If you're a computer science professional seeking a career in cannabis, learning about the opportunities available might help you secure rewarding roles. In this article, we list nine computer science jobs in the cannabis industry, including their average salaries and primary duties, and discuss four cannabis companies that hire technology professionals.
9 computer science jobs in the cannabis industry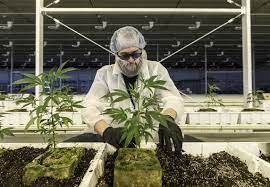 Here's a list of nine computer science jobs you could pursue in the cannabis industry. For the most up-to-date salaries, please click on the links below:
1. IT support specialist
National average salary: $44,061 per year
Primary duties: IT support specialists are technology professionals who help users resolve issues with a company's product or systems. They typically install and update software, host calls, meetings or live chats with users, lead demonstrations, create FAQs and instructional documents, research problems and test solutions. They're typically also responsible for maintaining a log of issues and solutions, documenting the steps they took to resolve them. These professionals might support cannabis technology companies by helping app users navigate the interface and identify areas for improvement.
2. Quality assurance engineer
National average salary: $71,575 per year
Primary duties: Quality assurance engineers review developers' code to ensure it meets company standards and client expectations. Their responsibilities might include creating software testing plans, executing automated tests, searching for bugs, writing product standards and documenting test results. A quality assurance engineer might test overall systems, unique integrations or individual features. In the cannabis industry, these professionals might work with technology companies to create high-quality code for cannabis apps or clients.
3. Data scientist
National average salary: $74,968 per year
Primary duties: A data scientist is a technology professional who analyzes data to gather and communicate insight. Their responsibilities might include gathering high volumes of data, developing algorithms to automate data collection, cleaning data and confirming its accuracy and storing data in digital databases. These professionals typically use principles of software engineering, science and statistics to attain conclusions and share them with stakeholders who use them to make appropriate decisions.
4. Product designer
National average salary: $87,015 per year
Primary duties: A product designer is responsible for a user's experience with an app, website or software program. These individuals create prototypes, wireframes, mockups and user journey maps that guide developers and engineers when developing a product. Product designers might identify areas for improvement, recommend new features, create digital assets such as text boxes, images, videos and logos and code front-end elements. Product designers might help cannabis companies build apps and websites that meet user needs.
5. Database administrator
National average salary: $87,244 per year
Primary duties: A database administrator oversees the storage of data in digital libraries. These professionals typically categorize data, manage database access capabilities, implement security protocols to protect data, create backups, review and utilize code and troubleshoot databases. They typically also work with development teams to recommend database improvements. Database administrators might help cannabis technology programs manage internal data and user information.
6. Security engineer
National average salary: $103,987 per year
Primary duties: Security engineers are technology professionals who handle a business' data protection protocols. They might have responsibilities such as recommending security software, monitoring networks for potential threats, executing tests, training employees about proper security protocols and developing automation scripts to monitor incidents. These individuals typically investigate incidents, identify vulnerabilities and update security standards. Security engineers in the cannabis industry might help researchers and distributors protect their records, insight and customer data.
7. Software developer
National average salary: $110,140 per year
Primary duties: A software developer is a technology professional who creates and improves software. Software developers might complete responsibilities such as writing effective code, building algorithms for software systems, documenting development processes, reviewing user feedback to implement updates, testing programs and identifying defects in software. They might work alongside testers to debug and improve existing programs, and they typically record their resolutions. These professionals might work with tech companies in the cannabis field to build apps offering maps of dispensaries, testing the potency of cannabis products and tracking medical cannabis care plans.
8. Software engineer
National average salary: $116,182 per year
Primary duties: Software engineers are technology professionals who build software programs. Their responsibilities can include defining system specifications, developing and installing apps, testing software, repairing bugs and defects, applying client feedback to programs, updating programs based on user feedback and retrieving licenses. Software engineers might also document their processes and help build a library of code for other engineers and developers to reference and use. Software engineers working in the cannabis industry might build apps for cannabis distributors, delivery systems or information libraries.
9. Machine learning engineer
National average salary: $133,355 per year
Primary duties: A machine learning engineer is a technology professional who creates machine learning tools. These professionals typically design and implement machine learning and artificial intelligence (AI) systems, research new machine learning developments, improve existing algorithms and interpret data science insights to inform machine learning and AI features. These engineers might also collaborate with product designers and managers to determine machine learning requirements that best address user needs. These professionals might work with cannabis technology companies to improve apps and internal systems to predict customer behavior and automate internal processes.
4 companies that hire computer science professionals in the cannabis industry
Here's a list of cannabis companies you could research that might hire computer science professionals:
1. Green Thumb Industries
Location: Chicago, IL
Size: 1,001 to 5,000 employees
About: Green Thumb Industries is a manufacturer of retail cannabis products founded in 2014. They sell a vast portfolio of products from a family of six brands and emphasize community service. While their headquarters is in Chicago, they operate in 13 markets and hire candidates in states such as Pennsylvania, Maryland, Rhode Island and Nevada. Opportunities vary, but Green Thumb Industries has teams working in several areas of expertise, including:
Legal and compliance

Government affairs

Facilities and administration

Sales

Finance and accounting

Planning and buying

Marketing

Real estate and construction

Strategy

Technology

Retail

Manufacturing
Employees at Green Thumb Industries might receive benefits such as:
Paid time off

Medical insurance

401(k) options

Life insurance
2. Weedmaps
Location: Irvine, CA
Size: 201 to 1,000 employees
About: Weedmaps is a technology company founded in 2008 that operates a mobile app and website featuring cannabis dispensaries, co-operatives, brands, doctors and delivery services. Users can discuss and review products, place orders from participating retailers and read about cannabis news. The headquarters for Weedmaps headquarters is in Southern California, but there are offices in New York, Tucson, Denver, Barcelona and Toronto. While job openings vary, Weedmaps offers roles in several departments, including:
Design

Corporate engineering

Engineering

Infrastructure

Finance

Sales

Government relations

Legal

Marketing
Weedmaps typically offers its employees benefits such as:
100% employer-paid medical, dental and vision insurance

Life insurance

Paid time off

Voluntary flexible spending accounts
3. MedMen
Location: Los Angeles, CA
Size: 51 to 200 employees
About: MedMen is a cannabis company founded in 2010 with retail stores in California, Illinois, Nevada, Florida, New York and Arizona. They focus on providing customers a comfortable shopping experience, educating users about cannabis products, advocating for criminal justice reform and donating to nonprofit organizations in the areas they serve. Available positions can change frequently, but MedMen hire employees in areas such as:
Corporate

Operations

Retail
Benefits packages for MedMen employees might include:
Medical, dental and vision insurance

Pet insurance

Paid time off

Paid holidays
4. Greenlane Holdings
Location: Boca Raton, FL
Size: 201 to 500 employees
About: Greenlane Holdings is a cannabis distributor founded in 2005 with headquarters in Boca Raton that manufactures cannabis products, devices and technology, natural options and safe packaging solutions. They partner with growers, retailers, medical providers and brands and support a portfolio of cannabis brands. Opportunities vary based on demand, but Greenlane Holdings operates teams in departments such as:
Sales

Customer service

Information technology

Operations

Production

Finance and accounting

Human resources
Jobs at Greenlane Holdings may offer benefits such as:
Medical insurance

Paid time off

Company events
I hope you find this article helpful.