Graphic design degrees demonstrate that you've completed advanced schooling in the graphic design field. Earning a graphic design degree provides you with the education and experience you need to find work and success in this field. If you're interested in a graphic design career, it's important to learn more about the many related degrees you can pursue. This article discusses the benefits of a graphic design degree and lists nine degrees to consider if you're interested in this field.
What are the benefits of graphic design degrees?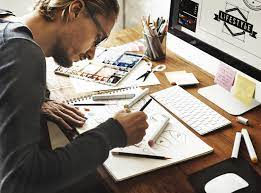 The graphic design field offers many opportunities to graduates with degrees in this field. Some reasons to consider a graphic design degree include:
Practical education
As a practical field, graphic design allows you to earn a great deal of experience during your studies. In addition to traditional avenues for earning experience such as an internship or fellowship, a design degree offers direct opportunities to build experience and receive critique—typically similar to what occurs in a work setting.
A graphic design portfolio demonstrates your skills and suitability when applying for a position in this field. Although it's common to fill your portfolio with professional work after you begin your career, the work and projects you complete during your degree program help you create a portfolio well-suited for entry-level work directly out of school.
Naturally developed skills
Working on graphic design projects during your studies allows for continued evolution and growth in this field. Whether you're pursuing a degree or you're already in the workforce, you're likely to face new challenges as you work on different projects. Clients often have different needs and your professors may present you with unique requirements. Because of this, you may need to approach the project from a different perspective and examine new styles of design in order to inspire your final product. This keeps your skills sharp and makes professional growth a natural byproduct.
Expression of creativity
Earning a graphic design degree helps you pursue a career where your creative outlet is also a source of income. If you're a creative person, a graphic design degree essentially allows you to combine your career with your passion. In other words, if you enjoy creating aesthetically pleasing pieces, earning a graphic design degree allows you to pursue your artistic expression.
New connections
In the graphic design field, professionals typically gather inspiration from others. Oftentimes, graphic designer develops their personal style by taking elements from more established designers and combining them with their own tastes in order to create a new approach to design.
When pursuing a graphic design degree, you may make connections and find mentors to learn from. In addition to learning from the experience of your graphic design professors, taking an internship at a design firm during your studies allows you to learn from established professionals. Learning from these avenues helps to create your personal design style in a professional setting while still pursuing your degree.
Lucrative career opportunities
Although graphic design jobs exist across a broad range of fields, it offer the potential for a lucrative salary depending on your success. Therefore, earning a degree in this field may help you earn generous compensation. Since most companies need graphic design in one form or another—whether for branding or marketing—they may offer generous compensation packages for graphic design professionals who provide consistently effective work.
Career freedom
Because so many companies need graphic design work, pursuing a degree in this field provides you with a great deal of career freedom post-graduation. This means you have a good chance of finding work opportunities that match your preferences.
Not only do you get to work in a variety of industries, but you also get to choose the type of work you do. Working as an independent designer provides a unique experience from working for a larger design agency. Similarly, the work required for a career in marketing differs from a web design or art career. The broad range of options lets you adjust your graphic design career to match your preferences.
9 degrees for a graphic design career
If you're interested in a degree in graphic design, there are several potential degrees to consider. Popular degrees for graphic design professionals include:
Animation and special effects
A degree in animation and special effects provides you with the knowledge you need to understand the framing and construction of a scene for various mediums like film, TV, and video. You also learn how to make renderings appear realistic and appealing on screen. The ability to create computer-generated graphics, drawn images, and animations is also useful when working in graphic design and can help you stand out from your competition.
Commercial and advertising arts
The advertising and graphic design fields have many overlaps. When pursuing a degree in commercial and advertising arts, you learn how to lay out a graphic advertisement for various media including magazines, billboards, and web designs. You can also apply these skills outside of advertising—specifically when pursuing a graphic design career after college.
Digital arts
Students in a digital arts degree program learn how to create digital compositions in a variety of forms including photography, 3D rendering, and animation. These skills benefit many graphic design fields since most designers complete their work digitally. By earning a digital arts degree, you receive both the in-class study and practical experience required to excel in graphic design.
Graphic design
If you want a variety of career options post-graduation, consider a general graphic design degree. While other types of graphic design degrees offer more specialized attention on unique elements of design, a general graphic design degree program offers the most well-rounded education which prepares you for many graphic design careers.
Industrial and product design
In addition to studying the design and construction of everyday products, students in an industrial and product design program also learn several useful skills for a graphic design career like package design. During the product design process, industrial and product designers often create sketches and designs for their products and seek to present them in aesthetically pleasing ways.
Marketing
While you mostly learn how to promote products and services when pursuing a marketing degree, you also learn how to create visually appealing layouts—a skill useful for the success of all aspiring graphic designers. Since marketing creations need interesting layouts, many marketing companies hire graphic designers and may even prefer candidates with a marketing background.
Photography
Photography has some of the same core concepts as graphic design, making it a suitable degree choice. For example, when pursuing this degree, you learn how to effectively lay out an image in order to create a compelling scene which you can apply across a broad range of graphic design tasks. You may complete courses in studio lighting, digital photography, and graphic design.
Studio arts
Majoring in studio arts provides you with a broad education in many traditional forms of art including photography, painting, sculpting, and drawing. This provides you with a diverse range of skills to demonstrate your value in a graphic arts position and teaches you important composition skills such as how to use artistic fundamentals to create attractive scenes.
Web development
A web development degree teaches you various programming languages and the fundamentals of creating a website. Though it's an information technology field and involves a great deal of coding, a web development degree may provide key skills for a future graphic design career. While creating or updating a website involves the structure and functionality of a website, the look of a site also plays an important part in web development. In addition to hiring a web developer, companies wanting a new or updated website may also want to hire a graphic designer with web development experience.
I hope you find this article helpful.