Setting goals for sales and marketing teams can help them develop promotional strategies and sales tactics that increase lead generation and revenue. Companies can use key performance indicators (KPIs) to track the effectiveness of their marketing and sales efforts. Understanding these measures can help you identify potential areas of improvement and make necessary adjustments to existing sales and marketing efforts.
In this article, we define marketing and sales KPIs and provide a list of nine different metrics companies can track in order to improve their strategies and increase their client base.
What are marketing and sales KPIs?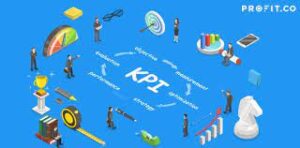 Marketing and sales key performance indicators are metrics employees and managers may track and review to ensure they're meeting goals and are using the most effective strategies. Many KPIs are data points that clearly detail how well teams perform. Hitting projected marketing metrics typically indicates that a company's marketing campaigns are successful and that they can continue following similar marketing or sales efforts. If a business' KPIs demonstrate that it's underperforming, employees can use this data to understand how and where to add improvements to their current strategies.
9 marketing and sales KPIs to track
Common marketing and sales KPIs you can consider tracking include:
1. Customer retention
Customer retention is important because it allows companies to grow their relationships and establish trust with consumers over time. Customers may feel more committed to a brand it trusts, which can prevent them from switching to a competitor's product or service. Having many long-term customers can also boost a brand's reputation, as it shows prospective buyers that current customers enjoy the company's goods and make repeat purchases.
Keeping current customers can also be more profitable than marketing to and onboarding new ones. Companies may analyze how long customers stay with a company by identifying the part of the sales process where prospective clients decide not to purchase their products.
2. Cost per lead
Cost per lead is a KPI that measures how much a company spends to gain new leads. Leads are consumers who express interest in learning more about your product or service. This metric can help a business better understand how much they spent on marketing efforts and if that price produces enough leads to earn a profit.
Organizations can use this data to determine which advertising and marketing outlets bring in enough leads and if the cost of promoting their campaign on their service provides positive results. If they notice higher costs and fewer leads, companies may consider promoting on a different outlet or operating on a smaller budget during their next marketing campaign.
3. Marketing ROI
Your marketing return on investment (ROI) measures how much of a profit you earn after implementing certain marketing campaigns. This metric typically compares your earnings to the amount you spent on running and promoting the campaign. If you earn more money than what you spent, then you have a strong marketing ROI.
When tracking this KPI, divide the number of leads your team generates by the opportunity value. This tells you what your final marketing ROI is to help you determine how well your campaign performed and which changes to make to ensure you're managing a budget that reaches a wide target audience and provides significant compensation.
4. Sales revenue
You can use this KPI to understand how much profit the business makes from selling products or services. Try to encourage your team to sell more products and make higher sales each week. As your sales revenue grows, the company can continue making a strong profit to put toward upgrades or extended product lines to ensure it grows further to offer more valuable and competitive merchandise to clients. You can use this metric to track individual performances as well. You can offer bonuses or other incentives to sales employees who bring in higher sales revenues each week, month, or quarter.
5. Sales-qualified leads
Marketing team members typically develop materials that educate, entertain, and inform target audiences. This helps prospective customers generate interest in a company and build trust in the brand, which may motivate them to learn more about a company or its products. This allows the sales team to know which clients to contact and pitch the product. Customers interested in purchasing from the organization are sales-qualified leads. By tallying how many sales-qualified leads a company attracts, individuals can understand whether the business' pipeline process and lead generation strategies are successful.
6. Marketing qualified leads
A marketing-qualified lead is a prospective client who reviewed a company's marketing materials but hasn't yet expressed interest in purchasing a product or service. Most marketing-qualified leads provide their information through online form submissions to download a brand's content or sign up for email newsletters. This provides the sales team with enough information to reach out to the marketing-qualified lead to pitch a product and learn if they're interested.
Companies can track the number of marketing-qualified leads they receive and use this information to cater their content and other marketing materials more closely toward these prospective customers and their priorities.
7. Opportunity-to-win ratio
This is a ratio that helps sales teams understand how successful they are at converting their leads into final sales. When tracking this metric, companies typically review how many people the sales team can successfully sell products to after having contacted a potential client who expressed interest in the product. This metric can often tell companies how well their employees are at closing sales. If this ratio is low, businesses may reevaluate their training efforts to focus on tactics for successfully closing deals with customers.
8. Form conversion rate
When customers want to receive more information about a product or read educational content, they may navigate to a landing page on a company's website to fill out a form. This form typically includes their name and contact information, which supplies a company with a potential lead to contact them to share the information they requested or pitch a product. By tracking the conversion rate, companies can learn how many people are visiting their online forms. This helps organizations learn how compelling, engaging, and effective their marketing materials, resources, and messages are.
9. Website traffic to lead website ratio
This metric tracks how many customers become leads after visiting a website. If a company has high website traffic to lead website ratio, then this typically means its site copy is strong enough to attract and engage visitors. It can also mean that the website follows the necessary search engine optimization (SEO) guidelines. Strong SEO methods allow a website to appear on the top results of a search engine. Typically, if a brand shows up on search engines, potential customers are more likely to visit the site and find the solution they're looking for by learning more about a product on a company's website.
I hope you find this article helpful.