Ethical traits are characteristics of a person or company that demonstrate respect and responsibility. Individuals who develop these traits generally make fair leaders and contribute to a supportive workplace environment. For this reason, it can be helpful for you to learn about the traits that align with the mission statement of your current workplace, especially if you're interested in growing into a leadership role.
In this article, we define ethical traits, list nine valuable traits for leaders, explain why they're important, share the strategies you can use to develop these traits at work, and provide a real-world example of ethical leadership.
What are ethical traits?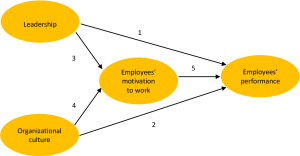 Ethical traits are the attributes that define the personality of someone who always follows strict moral principles. Adhering to these ethics may help guide your behavior in various situations. For example, leaders who display ethical attributes may make fair decisions or appear more trustworthy to the public.
Many individuals develop these ethical characteristics over time as they come to understand what's most important to them and how they want to treat others, including friends, family members, colleagues, and direct reports. It's common for employers to hire or promote people who display the kind of traits they desire as part of the company's culture.
9 ethical leadership qualities
Explore this list of characteristics that an ethical leader can develop to contribute to a successful workplace:
1. Honest
Ethical leaders may be more likely to be honest in the workplace, which can earn the trust of their team. Leaders who are honest might offer open communication and dependability. They might also share company news and other feedback with complete transparency. While leaders sometimes encounter classified information, being an honest leader means sharing as much as you can, especially with individuals who ask.
2. Communicative
Promoting communication in the workplace can help form trust and accountability. Team members may also be more likely to speak with each other before allowing conflicts to develop. For these reasons, those in leadership positions especially might benefit from fostering a communicative workplace.
While many organizations already have an open-door policy written into the company handbook, many individual leaders let their staff know that this policy extends to their own office door. Leaders who encourage their team to start a conversation when they have a question, concern, or idea, can help them feel like valued members of the organization.
3. Team-oriented
Ethical leaders prioritize teamwork, so all team members feel like a part of something greater than their individual tasks and responsibilities. As a leader, you might explore how you can help your entire team, both individually and as a group, achieve goals. When there's a sense of teamwork in the office, individuals at all levels may feel higher levels of:
Creativity

Productivity

Motivation

Satisfaction
4. Leads by example
After communicating expectations to a team, it can be helpful for leaders to lead by example. This means performing the duties and expressing the attitudes you ask your team to uphold. By holding yourself to the same standards as the rest of the team, you can communicate that you realize the importance of everyone in the workplace, including yourself, doing the work that's needed to help the organization succeed.
5. Respectful
Respect is a valuable trait you can have as a leader. Respecting others in the workplace means you listen to opinions, even if they vary from your own, and remain compassionate toward those with whom you work. It also involves taking the time to understand the management style that individual team members prefer and incorporating that knowledge into your leadership style.
6. Fair
Being fair as a leader means treating everyone the same and avoiding bias. Specifically, fair leaders may follow ethics that allow balanced treatment regardless of demographic factors like:
Gender

Ethnicity

Religion

Gender or sexual orientation

Marital status
Although it's natural to connect with individuals with whom you work closely, it's imperative that leaders both praise and provide constructive feedback to all team members in the same manner to remain fair.
7. Considerate of organizational guidelines
Every organization has its own set of values that employees can follow to contribute to a positive company culture. Effective and ethical leaders make decisions based on the values of the organization and expect their team to operate in the same way. If there's an organizational guideline that appears misaligned with the ethics of the company or specific leader in question, they may make an effort to update or replace the guideline in question with one that better represents the ethical goals of the organization.
8. Encourages others to take initiative
In the workplace, an ethical leader can help every member of their team grow as a professional and take initiative over their own career. This might include getting credit for additional responsibilities or discovering how to contribute to the workplace in new ways. When leaders encourage initiative, they let team members know that they value their work, opinions, and ability to make a difference.
9. Responsible
Another ethical trait of effective leaders is the ability to accept responsibility. While everyone makes mistakes, it's a leader's ability to accept responsibility for their own mistakes and, sometimes, their staff's, that helps build ethics in the workplace. Responsible leaders can help turn mistakes into learning opportunities that might prevent another mistake from occurring. Accepting responsibility for your own actions and those of your team can also help build commitment, openness, and trust in the workplace.
Why are ethics important?
Ethics, and the traits that might convey those ethics, are important because they can help you connect with others, communicate effectively, and find success in professional and interpersonal relationships. These traits can also guide your life so you can feel confident and proud of how you've built your relationships and the success you've been able to find at work. Ethical practices that pair with the values of an organization can help you feel more connected to the company, find job satisfaction, and promote ethical values in others.
While ethical characteristics are valuable at an individual level, they can also benefit a company in employing ethical individuals in leadership positions. Here are some benefits of having ethical leaders in the workplace:
Positive company culture

Employee loyalty

Increased job satisfaction

Lowered workplace stress

Ability to attract top-quality candidates
How to develop ethical attributes
If you want to be an effective and ethical leader, review these strategies to develop the ethical characteristics you need:
1. Define your values
It can be helpful to understand more about the traits you currently possess and the ones you want to develop. Define what's most important to you so you can build your ethical leadership qualities around these values. When you're able to define your more prized values, you can also find an organization that supports them and makes working there a joy.
2. Take a leadership course
Leadership courses can be a great way to develop new skills and learn about the latest advances in ethical leadership. Specifically, a course like this might:
Help you understand more about the qualities of a good leader

Give you guidance on how to develop your own leadership style

Allow you to practice with other attendees, so you're prepared to work as an effective leader in your own workplace
In this type of course, you're likely to learn about the following topics:
How to motivate teams

The benefits of open communication

The steps you can take to coach underperforming staff members

How you can grow your team so they feel confident in their work
3. Ask for feedback
One of the best things you can do to develop your ethical values and be able to display them at work is to ask for feedback. Feedback is valuable whether it comes from your manager or your direct reports, so consider asking varying levels of individuals within your organization about how you display your ethical values and what you can do to improve. This can show your team that you're committed to contributing to a productive and positive workplace.
4. Enroll in ethics training
Different leaders may have unique backgrounds that have contributed to different sets of traits or ethics. This level of ethical preparation to become a leader might differ from person to person. Many effective leaders work on developing these traits before they come naturally.
That's why ethics training is frequently a part of becoming a leader. It can introduce you to common codes of conduct, give you the knowledge you can identify unethical actions, and guide you in making ethical decisions that use the values and principles that you find important.
Ethical leadership example
Here's an example of an individual using ethical leadership in a real-world scenario:
Donny is a manager at a toy factory. He keeps a suggestion box on his desk so that the individuals on his team always have a way to give feedback. One day, he finds a suggestion in the box that asks him to give instructions at the beginning of the day more slowly. Donny institutes this change and also adds a visual element to his morning presentations to make sure they're as clear as possible for all. Donny's team appreciates feeling heard and can now function better than before.
I hope you find this article helpful.