---
If you are interested in laboratory research and want to contribute to the latest developments in medicine, a career in medical research might be right for you. There are many options within medical research for people with skills in technical work, written and verbal communication, management, teaching, and study conception and design. Understanding your options in this field can help you determine the right career for you based on your talents and interests. In this article, we discuss nine jobs in medical research, their primary duties, and the national average salary.
What is medical research?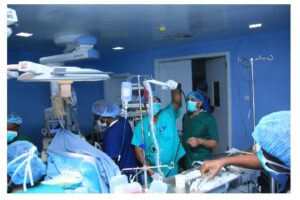 Medical research is a broad term that includes all of the following processes required to solve challenges in medicine:
Identify a problem or question

Propose solutions to problems or answers to questions

Design and test solutions

Analyze results of tests

Communicate findings with the public and medical community
Medical research is usually performed in laboratories, including ones at pharmaceutical companies or academic institutions, but may also include hospitals and clinics during clinical trials.
What are the benefits of choosing a career in medical research?
A career in medical research can be personally and professionally rewarding. By working in this field, you have the opportunity to directly contribute to advances in medicine and clinical care that positively impact the lives of patients. The work can also be challenging, providing mental stimulation as you collaborate with top scientists working together to save lives.
This career field is also likely to remain stable. People always require medical care, and there are always new advances in drugs and other treatments. Employment opportunities are available in many different locations and, depending on your role can be quite lucrative. Options for jobs include working for local or national governments, universities, private or public companies, or nonprofit healthcare organizations.
9 jobs in medical research
Here are nine jobs in medical research you can pursue:
1. Medical technologist
National average salary: $57,648 per year
Primary duties: A medical technologist is a research professional who works in a diagnostic laboratory and conducts tests to determine a patient's health status. They process and analyze body fluids and tissues as requested by healthcare providers. These tests help determine a patient's diagnosis and prognosis and may supply data for further research. Medical technologists may also help evaluate new testing methods and are responsible for maintaining a lab's diagnostic equipment. Some people may also refer to this position as a medical laboratory scientist or clinical laboratory scientist.
2. Pathology Assistant
National average salary: $65,058 per year
Primary duties: A pathology assistant is a health professional who works to support a supervising pathologist in analyzing human tissues. Their responsibilities include sample preparation, documentation, and storage, as well as performing postmortem examinations. They may also be involved in teaching, research, and administrative tasks within a laboratory. In this way, they perform many of the same tasks as a practicing pathologist. However, pathology assistants are often not qualified to determine a patient's diagnosis.
3. Microbiologist
National average salary: $65,914 per year
Primary duties: Microbiologists study microorganisms, such as fungi and bacteria, to determine how they can be both harmful and helpful. Their responsibilities in medical research might include monitoring the microbial contamination of drugs or devices and contributing directly to research about diseases and treatments. They accomplish this by collecting, processing, and analyzing samples to identify species of microbes present in a patient and monitor their response to antimicrobials.
4. Clinical research coordinator
National average salary: $69,077 per year
Primary duties: A clinical research coordinator supports the research of principal clinical investigators as they conduct clinical trials. They manage day-to-day processes such as coordinating with an investigator and institution, maintaining inventory, procuring equipment, monitoring compliance with regulations, and supervising personnel. They also recruit and screen participants for clinical trials and are responsible for adhering to all necessary ethical and privacy requirements.
5. Nurse researcher
National average salary: $79,888 per year
Primary duties: Nurse researchers are healthcare professionals and scientists who study diseases or monitor clinical trials. They are registered nurses who have chosen to pursue advanced practice and work alongside other scientists to recruit participants for studies, care for them during treatment, and compile and present gathered data. They may also be involved in the conception and design phases of clinical research or trials. Due to their advanced levels of education, nurse researchers often undertake the duties of training new staff members and providing academic instruction.
6. Epidemiologist
National average salary: $81,380 per year
Primary duties: Epidemiologists study disease incidence rates in populations, as well as management and prevention of diseases. They usually work in a laboratory or academic setting but may travel for cases if outbreaks occur. Epidemiologists study existing diseases, help anticipate risks for new diseases or epidemics, and evaluate the effectiveness of past strategies. They are often involved in all phases of a research process—from a study's conception to its implementation, analysis, and final publication.
7. Medical writer
National average salary: $115,879 per year
Primary duties: Medical writers produce written content related to medical research, diseases, and pharmacology. Their audience may include the media, the general public, patients or other scientists, and healthcare professionals. They may also write grant proposals to secure funding for a research project or help investigators write academic papers detailing their findings. Therefore, they often possess an excellent understanding of the aims and results of a study they write about and can communicate using readable levels of technical language.
8. Pharmacologist
National average salary: $116,943 per year
Primary duties: A pharmacologist is a scientist who studies medicines, including their development, uses, and safety. Pharmacologists may study drugs using cells and tissue samples or actual participants, such as in a clinical trial. Pharmacologists may choose to focus on therapies targeted at specific bodily systems, such as the brain or cardiovascular system. They are often involved in all stages of clinical research and mentoring and teaching students and young scientists.
9. Chief scientific officer
National average salary: $196,912 per year
Primary duties: A chief scientific officer is responsible for executive duties related to their company's research and technology developments. They set the overall vision for research projects and priorities and balance those needs with their organization's financial goals and brand. In addition to spending their time working in a laboratory, they also have many managerial and supervisory duties. They are often responsible for external communications with investors, the media, and the public.
I hope you find this article helpful.