More companies across various industries are using drone technology to improve efficiency and solve unique problems. Though many people consider the drone industry most common in aerospace and defense companies, construction, delivery, real estate, and other company types might offer positions that use drones. Learning about some of these opportunities can help you decide if a job in this field is right for you. In this article, we discuss nine jobs you might explore in the drone industry and share tips you can use when starting a career in this field.
Drone industry's average salary
Salaries in the drone industry can vary based on experience, location, and sub-industry. For example, drone operators for technology companies may make more than drone operators in real estate. Similarly, drone operators in large cities might make more than drone operators in rural areas. According to Indeed salaries, the average salary for a drone operator is $42,748 per year.
9 jobs in the drone industry
Below are some jobs you might consider in the drone industry. For the most up-to-date Indeed salaries, please click on the links below: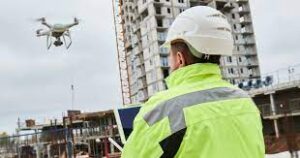 1. Photographer
National average salary: $39,432 per year
Primary duties: Photographers and filmmakers use drone technology to capture images and scenes from new perspectives. Independent photographers capture unique images of landscapes, people, and events. Photographers also might work for journalism companies like magazines or newspapers to capture current events. These professionals often adjust lighting, and angles and edit photographs using digital software. Drones can help photographers in many areas like disaster coverage, traffic reporting, and investigative reporting.
2. Roofer
National average salary: $46,612 per year
Primary duties: Roofers install and repair roofs for commercial, public, and residential buildings. They might replace shingles, fill holes, cut roofing materials to fit their client's needs, and install insulation in attics. This process often involves climbing on a ladder, taking manual measurements, and gathering a team of laborers. With drone technology, roofers can quickly assess any issues on a roof, which can be especially helpful with tall buildings and those with minimal access points. Some drone technology can also deliver materials to these high locations, providing a safer and quicker way to transport materials.
3. Firefighter
National average salary: $48,617 per year
Primary duties: Firefighters are emergency response professionals who prevent and respond to fires and other safety situations. They often inspect fire safety of structures and locations, operate equipment like trucks, hoses, and ladders, and respond to emergencies within their assigned areas. Firefighters can use drones for several purposes. They might use them for inspections, like identifying emergency exit locations or inspecting locations like ceilings and walls that might be difficult to reach. Similarly, with emergency response, a firefighter might deploy a drone into unsafe situations to identify any potential victims and determine the best way to resolve the emergency.
4. Lineman
National average salary: $53,923 per year
Primary duties: A lineman installs, maintains and repairs electrical wires connecting buildings and to power units. They often climb poles to inspect electrical boxes, identify problems with wires between power sources and ensure safety compliance for all outside electrical equipment. Using drone technology, linemen and power line inspectors can inspect extremely high wires and wires connected through smaller corridors that they might have difficulty accessing.
5. Drone pilot
National average salary: $57,842 per year
Primary duties: Drone pilots are dedicated professionals who operate drones and other unmanned aerial vehicles. They may inspect drones to ensure safe operations, document drone findings, plan routes and maintain and repair drone equipment. Drone pilots can work in several industries, including aerospace, agriculture and military defense. Some positions may require technology experience that involves sensors, imaging, photo and video editing or artificial intelligence.
6. Delivery driver
National average salary: $63,208 per year
Primary duties: Delivery drivers load cargo and transport it from one location to another. They may work for specific companies or delivery companies where they often serve a specific location. For smaller packages, like mail, envelopes, and light boxes, delivery companies might leverage drone technology to deliver packages. As a drone operator in the delivery field, you might need to log package details, input customer location, and confirm deliveries.
7. Surveyor
National average salary: $64,363 per year
Primary duties: Surveyors evaluate land and buildings to assist in new construction projects, land mapping, and property line determinations. Working with engineers, architects, and agricultural or urban planners, they collect data like property measurements and topography to ensure the size, property borders, and land types accurately match their records. Using tools like drones and GIS (geographic information systems), they can photograph and measure locations that might be difficult to access through standard means.
8. Transportation planner
National average salary: $65,741 per year
Primary duties: A transportation planner is a professional who develops plans and programs for various transportation systems, including waterways, highways, and rail systems. They often work with engineers and architects, performing research on the most efficient way they might build or update infrastructure. Using drone technology, they can gather aerial data on land and existing transportation systems to evaluate how they might design and build new structures or fix existing ones. As transportation planners might also inspect existing infrastructure, they can use drones to survey different components like rail tracks, concrete beams, landslides, and bridge components.
9. Miner
National average salary: $79,237 per year
Primary duties: Miners explore and excavate underground areas to retrieve minerals, and oils or set up underground infrastructure. They might drive underground vehicles, use explosives, and operate equipment like pickaxes and construction vehicles to build, maintain, and explore underground systems. Drone technology can help ensure these processes happen safely, as they can photograph underground locations to determine what tools they can use, what paths they might follow, and what risks they might take.
Tips for starting a career in the drone industry
Here are some tips you can follow to start your career in the drone industry:
Determine an interest area. As you can operate a drone in many industries, determining your interest area can help you decide what career you might pursue. For example, if you're interested in media, you might explore careers in photography and filmography where you might use drones to capture unique perspectives.

Learn the technology. Drone technology can be something you learn on your own without a formal education. Consider learning about the physical technology, like devices and remotes, along with software you might use, like mapping, GIS, or photo editing software, depending on the industry you want to pursue.

Get an education. Though many jobs might provide training, a formal education can help showcase your knowledge to recruiters and hiring managers. Many schools now offer associate and bachelor's degree programs in drone technology or unmanned aircraft system science.
I hope you find this article helpful.