The IoT industry creates technology and software that allows devices and systems to connect to a communication network. This industry contains a variety of positions that involve computer programming, technology solutions, software development, and computer networking. If you're interested in pursuing a technology position, consider reviewing available jobs in the IoT industry to see which role fits you. In this article, we discuss what the IoT industry entails, and provide a list of jobs for you to consider.
What is the IoT industry?
The Internet of Things (IoT) industry involves professionals who combine physical objects with embedded technologies like software, processing systems, and sensors. It connects physical objects with technology using communication networks, like the Internet, to exchange data from one system to another. Industrial IoT uses technology in the industrial field, like manufacturing, oil, gas, energy, and transportation. For example, an individual using a wireless phone may connect their phone using cloud systems to exchange information and upload data.
9 Jobs in the IoT Industry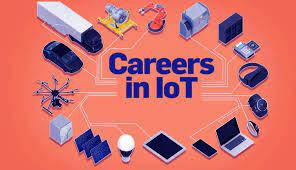 Here are some jobs in the IoT industry for you to consider:
1. Web designer
National average salary: $48,537 per year
Primary duties: Web designers are technology professionals who develop websites for clients according to their needs. They often program websites to function with a variety of systems, which allows them to incorporate IoT theories into their practice. Web designers use computer programming skills and graphic design knowledge to program websites that are functional and visually appealing.
Before developing a website, web designers first meet with clients to understand their website needs. They may ask clients what information to include on the website and how they prefer the website to display. They also perform coding using a variety of computer programming languages to create different pages and enhance the appearance of the site.
2. Application developer
National average salary: $80,523 per year
Primary duties: Application developers are software professionals designing, updating, and releasing programs for devices and operating systems. They often specialize in one area of application development, like website applications, mobile phone applications, or social media applications. They often craft applications that are easy for users to operate, that also meet the needs of their clients. Application developers often update programs to include recent innovations and advancements in technology. They have the opportunity to work in a variety of industries, and they often work in the IoT industry to create applications that align with physical devices and operating systems.
3. Network engineer
National average salary: $83,834 per year
Primary duties: Network engineers are technology professionals who design, maintain and update computer networks to fit the needs of businesses. They often use IoT concepts to align networks with physical devices, like cell phone networks and computer networks. Their goal is to ensure that a network provides high-quality speed so that businesses can complete their work efficiently. Companies often contact network engineers to identify issues within their network that may cause slow speeds, which can cause delays in workflows. Network engineers also perform routine maintenance on existing networks, like performance analysis, upgrades, configurations, and installing patches.
4. System engineer
National average salary: $95,898 per year
Primary duties: System engineers are technology professionals who are responsible for overseeing systems at their workplace, including systems that relate to software, product development, manufacturing and transportation. They work on a team of technology experts to monitor existing systems to ensure they operate properly. They may upgrade systems to help them offer a higher quality of performance. System engineers also develop new systems for their workplace to help their operations run smoothly. They often create systems that automate tasks. They may install new operating systems that contain updated technology and software to optimize their workplace's productivity and efficiency.
5. Full stack developer
National average salary: $106,347 per year
Primary duties: Full stack developers are programming professionals that develop software for the front end and back end of applications and systems. They work to improve user experience so that users have an easy time operating physical systems, technology, and software systems. Full-stack developers often work with data bases, user interfaces, and server configuration. They may work on a team of software engineers, IoT developers, and hardware professionals. Full stack developers often solve problems that relate to web development to help create applications that are functional and easy to operate.
6. Cloud engineer
National average salary: $118,152 per year
Primary duties: Cloud engineers are technology professionals who are responsible for observing and evaluating a company's technological infrastructure and transferring them to a cloud-based setup. They often assist business professionals in moving important business applications that may contain private or sensitive data to private cloud systems. If a company wants to make its information public, it may consult with a cloud engineer to begin using a public cloud system.
7. Data engineer
National average salary: $119,387 per year
Primary duties: Data engineers are information technology professionals who are responsible for identifying patterns within raw data sets to create algorithms. Companies can use these algorithms to make strategic business decisions to help them achieve positive results. These data sets can also help business professionals to predict potential outcomes, based on previous information and outcomes. Data engineers often work with their clients to determine the information that they want to analyze, which helps them have a better idea of which data sets to use. Data engineers often work in the IoT industry to analyze data from previous IoT models and systems.
8. IoT engineer
National average salary: $132,233 per year
Primary duties: IoT engineers are technology professionals that create and implement systems that are compatible with physical devices and software. They research and test IoT solutions that solve previous issues. They may also perform coding procedures for software so that it aligns with physical technology. IoT engineers often test existing IoT technology to find areas of improvement. They may consult with team members or users to provide solutions that relate to connection issues for device networks or platforms.
9. Software architect
National average salary: $134,019 per year
Primary duties: A software architect is a technology professional who is responsible for designing and implementing solutions for software-related issues. They often lead a team of software professionals while working on projects, and they make important design decisions that impact the outcome of a project. It's common for software architects to research various technical standards and equipment before starting a project to determine which options may work best to achieve the desired outcome. They also communicate a client's requests and needs to their team to help them meet the proper software development criteria.
I hope you find this article helpful.