Basic life support (BLS) knowledge helps employees in multiple fields handle emergency medical situations. If you're pursuing a job in the healthcare industry or any other field that may involve emergency medical procedures, earning a BLS certification can help you differentiate yourself from other candidates. Learning about the different jobs with a BLS certification requirement can be useful when choosing a career path.
In this article, we discuss what types of jobs generally require BLS certification and list multiple examples, plus their national average wages and typical job duties.
What are jobs with a BLS certification?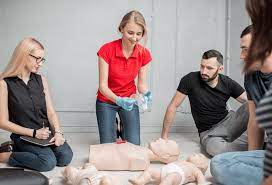 Jobs with a BLS certification requirement are the types of jobs that may expose employees to unexpected medical emergencies. Besides healthcare professionals, this usually applies to any profession where employees may be required to perform cardiopulmonary resuscitation (CPR) and other cardiovascular life support procedures. Some of the elements that a BLS certification covers are:
CPR for various categories of patients, such as infants, children and adults

Emergency medical procedures in case of cardiac arrest

When and how to use an automated external defibrillator (AED)

How to work within a team when performing emergency medical procedures

Eliminating foreign objects that may affect breathing for adults and children
9 jobs that require BLS certification
Below are nine jobs that generally require employees to have a BLS certification.
1. Lifeguard
National average salary: $32,557 per year
Primary duties: Lifeguards work near large bodies of water where people swim, such as pools, oceans and lakes. Their main role is to ensure swimmers follow safety regulations and save people in distress. They also educate the public regarding safe practices when performing recreational activities in the water. Since lifeguards may be required to save people who have inhaled water, earning a BLS certification may be useful and popular with employees.
2. Flight attendant
National average salary: $34,157 per year
Primary duties: Flight attendants work onboard various types of aircraft and may assist passengers with the boarding process, providing personalized help to passengers with special requirements, and briefing everyone on board regarding safety procedures. Flight attendants may be required to manage emergency medical situations while the aircraft is in mid-flight. Having a BLS certification can help them maximize their chances of stabilizing patients until they have access to specialized medical care.3. Childcare provider
National average salary: $34,877 per year
Primary duties: Childcare providers work with one or multiple children in private homes and childcare centers respectively. Some of their usual tasks include preparing and giving it to children, cleaning them, organizing educational and fun activities and looking out for any signs of emotional or developmental challenges. Another major aspect of the role is monitoring the safety of the children they supervise and earning a BLS certification can help them handle emergency challenges, like choking situations.
4. Coach
National average salary: $35,046 per year
Primary duties: Coaches work at an amateur or professional level and instruct teams and individuals regarding the skills and techniques required to perform a sport. They typically use their expertise within a particular sport to develop specific practice drills and training sessions and may also be required to scout and recruit promising new athletes. Since the role involves working with people who perform challenging physical activities, having a BLS certification as a coach can help you resolve unexpected medical situations.5. Emergency medical technician (EMT)
National average salary: $44,747 per year
Primary duties: EMTs provide emergency care to people before transporting them to a hospital or other medical facility. They usually work on ambulances but may also be part of other units, such as air rescue teams and fire response teams. Their work involves responding to emergency distress calls, determining the caller's issue, providing first aid and transporting them to an emergency department. Earning a BLS certification is an official requirement in some areas and departments.
6. Firefighter
National average salary: $52,355 per year
Primary duties: Firefighters are first responders in multiple types of emergencies. Although their main specialization is extinguishing fires and rescuing fire victims, they also usually respond to other situations, like isolating hazardous materials, helping other public employees manage major road traffic situations and rescuing people from natural phenomena like floods. Since the role involves rescuing people in situations where they may require resuscitation, earning a BLS certification is useful for the role and may lead to more employment opportunities.
7. Police officer
National average salary: $59,632 per year
Primary duties: Police officers are government employees that enforce law and order. They typically patrol their designated geographical areas with the purpose of noticing any sign of illegal activity, stopping it and retaining those they suspect committed it. Police officers are also usually the first to arrive in emergency situations, like road accidents and crimes that involve victims. Since they're likely to get there before healthcare professionals arrive, having a BLS certification can help them provide first aid to victims and maximize their chances of recovery.
8. Nurse
National average salary: $98,989 per year
Primary duties: Nurses are healthcare professionals that assist physicians and provide direct care to patients. They have the knowledge and skill to diagnose and treat multiple basic conditions and also play an essential part in educating patients and their families on how to maintain their health. While earning a BLS certification is a requirement for all nurses who may be required to perform CPR in a medical institution, those who specialize in emergency care are also required to earn an Advanced Cardiac Life Support (ACLS) certification.
9. Physician
National average salary: $155,524 per year
Primary duties: Physicians, also called medical doctors, diagnose and treat various illnesses and injuries depending on their specialization. They typically do that by examining their patients, reviewing their medical histories, performing diagnostic tests and using their expertise to determine an appropriate treatment. Regardless of the type of medical institution they operate in, physicians are usually required to earn their BLS certification.
I hope you find this article helpful.