If you want to work in the healthcare field industry but prefer a lab-based position, you can explore many career opportunities that use different skills. Individuals who enjoy conducting research and assisting in medical processes may find fulfillment in a medical laboratory. Learning about the different careers in a medical laboratory can help you find one that suits your interests and abilities.
In this article, we discuss nine types of medical laboratory jobs, including salary information and a description of duties for each.
What is a medical laboratory job?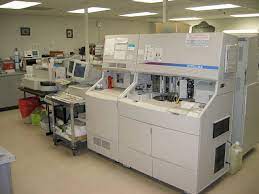 Medical laboratory jobs are positions in medical and clinical environments in which individuals perform testing, research, analysis, and reporting for health care and medical processes. Medical laboratory employees conduct tests on clinical specimens to collect information about a patient or otherwise aid in the testing processes that lead to patient diagnoses, new treatment developments, and medical discoveries. Individuals who enjoy conducting research and using the scientific process to generate data and conclusions can benefit from working with scientists in a laboratory setting.
Job outlook for medical laboratory positions
The U.S. Bureau of Labor Statistics (BLS) projects a 7% increase in employment between 2021 and 2031 for both clinical laboratory technologist and technician roles and health technologist and technician roles. The BLS categorizes this growth rate as faster than average for all other occupations. The organization attributes this growth to an increased need for diagnostic tests for chronic medical conditions like cancer and diabetes. The growth may also occur due to an increase in families who pursue genetic testing before they have children.
9 types of medical laboratory jobs
Explore nine types of medical laboratory job titles that feature different responsibilities and areas of expertise.
1. Medical equipment technician
National average salary: $40,774 per year
Primary duties: Medical equipment technicians can work in medical labs to install, maintain, and repair medical equipment and laboratory testing devices. For example, they may work with equipment like blood pressure monitors and blood analyzers to ensure these devices are functioning properly. This type of medical laboratory technician keeps thorough maintenance records and recommends the replacement of equipment if certain devices are old and beyond repair.
2. Phlebotomist
National average salary:   $48,819 per year
Primary duties: A phlebotomist works with patients in medical settings to draw blood for diagnostics, research, transfusions, and procedures. Some phlebotomists may also conduct the assessment and testing of samples to produce reports and diagnoses. Medical facilities such as hospitals, laboratories, donation centers, and doctor's offices hire phlebotomists for duties such as collecting blood, studying samples, and writing reports. During the blood-drawing process, a phlebotomist ensures the patient is comfortable and explains the procedure to them so they know what to expect.
3. Anesthesia technician
National average salary: $63,109 per year
Primary duties: An anesthesia technician assists anesthesiologists during medical procedures to ensure proper care and administering of anesthesia for patients. They may work in hospitals, surgical rooms, and physicians' offices. The primary duties of an anesthesia technician include examining, testing, cleaning, and operating equipment like anesthesia gas tanks.
4. Medical technologist
National average salary: $66,646 per year
Primary duties: A medical technologist works in a clinical laboratory to perform testing and gather results from medical samples. They provide doctors and specialists with the data necessary to create a diagnosis and treatment plan for patients based on test results. They have profound knowledge of chemistry and hematology, so they can analyze blood and detect the presence of abnormalities like low red blood count levels, parasites, or bacteria. They may also analyze other bodily fluids like urine and spinal fluid samples to identify any issues.
5. Histology technician
National average salary: $70,525 per year
Primary duties: A histology technician works with others in a lab to research the processes and causes of diseases. These technicians may work with and prepare samples of tissues from plants, humans, or animals to conduct research and detect medical processes and abnormalities. Their primary duties include preparing microscopic slides, staining samples, examining tissue samples, and assisting pathologists and researchers.
6. Pathologist Assistant
National average salary: $79,250 per year
Primary duties: A pathologist assistant works in a medical laboratory or clinic under the supervision of a licensed pathologist. They complete training to perform the functions and procedures of surgical and autopsy diagnostics. This employee provides a pathologist with the information and reports to reach a diagnosis. Common duties of a pathologist assistant include human tissue dissection, postmortem exam preparation, and autopsy reporting.
7. Nuclear medicine technologist
National average salary: $113,256 per year
Primary duties: A nuclear medicine technologist performs nuclear imaging testing for patients. They operate laboratory equipment, oversee processes to administer radioactive drugs, and use specialized cameras to create images of a patient's internal organs. Their primary duties include administering radiopharmaceuticals, sterilizing clinical environments, transporting and communicating with patients, and handling imaging equipment. They may also operate computed tomography (CT) and magnetic resonance imaging (MRI) machines in combination with other nuclear medicine procedures.
8. Cytotechnologist
National average salary: $132,703 per year
Primary duties: A cytotechnologist examines microscopic cell samples to detect, compare, and evaluate abnormalities that relate to diseases and medical issues. They perform scientific research in a laboratory to assess human cell samples and analyze the significance of any abnormalities that occur. Cytotechnologists provide reports and data for pathologists and physicians to assist in the diagnosis and treatment of patients. These employees have an important role in detecting precancerous and cancerous cells and viral and bacterial infections.
9. Pathologist
National average salary: $242,484 per year
Primary duties: A pathologist is a physician who has completed medical school and either has a Doctor of Medicine (M.D.) or a Doctor of Osteopathic Medicine (D.O.) credential. They study the causes of different diseases and analyze how they can affect humans. Other duties to expect if you enter this career path include gathering data on infectious diseases into cohesive clinical studies and studying available data to form more definitive claims about a disease's effects or origin.
Skills for medical laboratory employees
Medical laboratory jobs encompass a large range of specialties and subject areas, but these employees implement several of the same basic skills and principles to gather research and results. Here are some common skills for medical laboratory positions:
Scientific reporting: Lab employees conduct experiments and analyses on multiple samples and subjects regularly. Skills in scientific reporting ensure that data, results, and conclusions remain accurate and consistent among lab members, physicians, nurses, and patients.

Observation: Conducting complex testing and evaluating scientific and medical procedures and samples require skills in observation and attention to detail to detect abnormalities or symptoms of diseases and treatments. Laboratory employees may spend extended periods observing changes and processes in cells, blood samples, and medical scans.

Lab safety protocols: Medical processes, samples, and chemicals require all lab employees to follow and understand safety procedures and sanitation guidelines. Using the skills and knowledge of lab safety measures helps laboratory personnel protect themselves from infectious diseases and follow methods for the quality control of their samples.

Communication: Medical lab employees share the results of tests and samples with surgeons, physicians, pharmacists, and patients. Proper communication skills increase and maintain the accuracy of diagnoses, treatments, prescriptions, and information for doctors and patients.
I hope you find this article helpful.