After earning a bachelor's degree related to public health, you might consider advancing your education by obtaining a master's degree or Ph.D. One option is a graduate degree in global health, which allows you to obtain a more in-depth understanding of the field and conduct research. Understanding relevant career options can help you determine whether this degree is worth the time and effort it requires.
In this article, we explain what a global health graduate degree is and discuss nine jobs that are relevant to this type of postsecondary education.
What is a global health graduate degree?
A global health graduate degree is a master's or doctoral program that focuses on the connection between public health, society and politics. These programs focus on healthcare and policy issues from an international perspective, though the material is relevant to supporting all types of communities. Relevant courses include research methods, epidemiology, statistics, ethics and healthcare systems in different nations. Coursework may also cover topics like: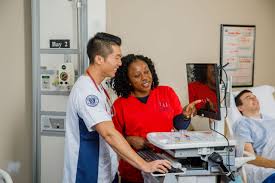 Health economics

Epidemiology of communicable and non-communicable diseases

Applications of data science

Cultural differences

Language barriers

Political circumstances that impact a nation's or region's health issues
Global health graduate students may specialize in a specific concentration to differentiate themselves in the workforce. It's also common to complete an internship or supervised research, which tends to form the basis of a dissertation. Graduates often find jobs with programs that have an international focus. Examples of organizations that offer relevant opportunities include:
Government agencies

International charities

Research institutes

Universities or colleges

International aid or development organizations

Disaster relief organizations

Refugee health services

International finance or banking industries

Nongovernmental organizations
What can you do with a graduate degree in global health?
Here are nine potential career options for people who obtain a graduate degree in global health:
1. Global health educator
National average salary: $29,668 per year
Primary duties: A global health educator develops and promotes wellness programs to teach individuals and communities how to care for their health. Educators may specialize in a particular area in the world and provide health information specific to that area's culture and health needs. Other duties include creating teaching materials, assessing the effectiveness of an organization's health curriculum, training other educators and helping community members find or access health programs.
2. Safety coordinator
National average salary: $62,750 per year
Primary duties: A safety coordinator ensures an organization meets safety standards regarding its employees, customers and visitors. They use their knowledge of public health regulations and industry-specific standards to conduct safety inspections, train employees on health and safety practices and develop emergency response plans and safety requirements. Safety coordinators often specialize in the kind of industries they inspect, such as health facilities, schools or public businesses.
3. Epidemiologist
National average salary: $68,172 per year
Primary duties: An epidemiologist is a health care expert who specializes in identifying the cause, location and patterns of a disease outbreak. They collect and analyze data on infectious diseases, conduct clinical trials and field research, interview subjects and compile reports based on their findings. Epidemiologists may also work as educators or policy advisors. Some epidemiologists investigate public health issues such as bioterrorism, environmental health or substance abuse.
READ ALSO: UNILAG MASTERS IN URBAN MANAGEMENT PROGRAM
4. Global policy analyst
National average salary: $72,608 per year
Primary duties: A global policy analyst works with governments, international agencies and charity organizations to analyze research for public health policies. Global policy analysts compile data, identify global health patterns, evaluate policy outcomes and prepare health reports for government officials. They may also provide direct advice to leaders on new or existing health guidelines and influence international regulations and laws.
5. Global health program manager
National average salary: $78,416 per year
Primary duties: A global health program manager plans and oversees multiple global health projects in an organization. Program managers help develop national health guidelines, provide direction to projects, publish research and communicate with an organization's internal and external supporters. They may also set milestones for project completion, manage budgets and allocate company resources.
6. Emergency services manager
National average salary: $78,516 per year
Primary duties: An emergency services manager directs, plans and coordinates disaster response plans. Coordinating with governments and nonprofit organizations, emergency services managers advise on crisis management procedures and prepare personnel to respond to emergency situations. Additional duties include raising community awareness about emergency procedures, maintaining relationships with media organizations and coordinating emergency personnel during a crisis.
7. University professor
National average salary: $79,611 per year
Primary duties: A university professor instructs students in their subject of expertise at the undergraduate or graduate level. They advise students, create lesson plans, present lectures, develop tests and grade assignments. Many professors may also perform experiments or research in their field and publish academic papers. Professors can teach either full-time or part-time.
8. Healthcare consultant
National average salary: $80,910 per year
Primary duties: A healthcare consultant helps health companies or nonprofit organizations optimize their operations. They may suggest improvements by analyzing existing structures and policies. Consultants also create or refine company strategy goals, build professional partnerships, identify methods to reduce costs and increase revenue and assist with organizational changes. Many healthcare consultants work on a short-term basis with multiple clients. Some larger companies may employ full-time consultants to continuously evaluate their programs.
9. Medical officer
National average salary: $169,205 per year
Primary duties: A medical officer is a physician who oversees doctors in a department or organization. Duties include recruiting staff, giving medical advice, performing administrative tasks and managing training programs. This role typically requires a medical degree, but a candidate with a medical degree and a graduate degree in global health may be eligible for medical officer positions in global health organizations that promote quality medical care and human rights.
I hope you find this article helpful.