Working as a mock juror is a great way to make some extra money, often without leaving the comforts of home. Mock jurors help shape legal cases and provide research companies with valuable information. Many market research and legal companies provide mock juror jobs, and the application usually comprises making an online profile. In this article, we will discuss what a mock juror does and list companies providing in-person and virtual juror jobs.
What is a mock jury?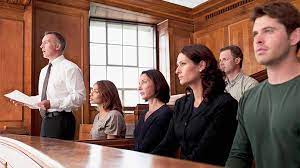 A mock trial and mock jury allow lawyers to work out weaknesses or loopholes in their cases and get an idea of what the outcome would be in an actual trial. As a general rule, a mock jury has the same demographic makeup as a jury in a real trial.
A mock trial takes mock jury members through the same court proceedings as an actual trial, including opening arguments, evidence, rebuttal, and closing statements. At the end of the presentation, the mock jury answers a series of questions and sometimes offers a verdict on the case.
There are two kinds of mock juries:
Live mock jury: These mock juries meet in person, like in a conference room at a hotel or office building. Lawyers present evidence and lead you and the other mock jurors in discussions about the case. Lawyers record jury discussions for review at a later time. Then, you receive your payment as you leave for the day.

Online mock jury: These mock juries take place virtually. In an online mock jury, you may watch videos, inspect photos, and read transcripts. After reviewing the trial documents, you answer questions or give your verdict on the case. Pay for online mock juries may not be as much as the pay for live mock juries, but many people enjoy the convenience of completing the work from home.
Common mock juror requirements
Although specific requirements vary depending on who you work for, there are some common requirements to work as a mock juror:
You must be 18 years of age or older.

You must be a citizen of the United States.

You must be proficient in reading and writing.

Your record must be free of any indictments, felonies or misdemeanors.

You must be of sound mind.
Where to find mock juror jobs
Here is a list of nine companies offering mock jury jobs:
eJury
eJury is an online research company that uses focus groups to help lawyers build cases. The company builds 40- to 50-person virtual juries for mock trials. You can sign up to work for eJury through their website. When a new case becomes available in your geographic area, you receive an invitation email. All you need to do to work on the mock trial is accept the email, read all documents included and either give your verdict or answer questions about the case. Your work is complete when you submit your answers. eJury pays through PayPal, and pay ranges from $5 to $10 per case, depending on length and complexity.
Jury Talk
A part of the Wilmington Institute Network, Jury Talk offers work as a virtual juror on mock trials and as a participant in legal focus groups. If you serve on Jury Talk, you watch attorneys present short cases and then answer questions or give your opinions on the legal matter at hand.
Online Verdict
Online Verdict matches lawyers with mock jurors in their geographical area. Mock juries with Online Verdict usually include 25 to 50 virtual jurors, with the number varying depending on the complexity of the case. After hearing the case details, you give your verdict and answer questions. Online Verdict sends you an email when a case is available in your area. Payment varies depending on the time required, but you can generally expect to earn between $20 and $60 per case.
Jury Test
When you work as a virtual juror for a Jury Test, you listen to or read legal cases and then provide feedback. Your feedback may be in the form of a live video chat, a voice recording, or an online survey. Cases usually take an hour or less. Your chances of getting work through a Jury Test are higher if you live in a city. Pay varies from $20 to $50 per trial.
Virtual Jury
Virtual Jury is an online focus group that creates virtual jury panels to discuss current political issues and noteworthy legal cases. After hearing information on a political topic or case, you share your opinions and answer questions. Selection for a Virtual Jury panel is completely random.
Resolution Research
Resolution Research is a marketing research company that also creates online mock trials. You can work through Resolution Research as a virtual juror or participate in industry surveys. The pay range is from $5 to $400 depending on the complexity of the case and the amount of time involved. You can also earn a small referral fee when you get new people to sign up.
Trial Juries
Founded by two practicing attorneys, Trial Juries offers many virtual mock jury trial jobs. You can apply to work for Trial Juries by filling out a profile on the T Lex website. You will get an email invite for any available cases that match your profile. Typical pay is $30 per case, but you can earn more on complex cases.
Sign Up Direct
Sign Up Direct is an online juror recruiter. After signing up on their website, you will receive invitations to mock juries that match your specific demographics. During a Sign Up Direct mock trial, you will listen to a case and then answer questions. Sign Up Direct pays approximately $12 per hour.
Jury Solutions
Jury Solutions is another focus group research. Unlike many of the other companies listed here, Jury Solutions offers both online and in-person mock trial jobs. If Jury Solutions selects you to take part in a mock trial, expect to spend up to eight hours on a case. Jury Solutions pays $20 per hour.
Important tips for mock juror jobs
Here are some things to keep in mind when seeking mock jury opportunities:
Understand the selection process: Registering with a mock jury company doesn't mean you will get selected to serve, as selection often depends on your demographics, location, and the current demand.

Review the requirements to be a juror: As is often the case in real-life juries, people are disqualified from mock juries for many reasons. If you are a lawyer or closely related to a lawyer, you may be unable to participate. Recent participation in a similar mock jury case can also be cause for disqualification.

Check the compensation rules: Mock jury pay rates vary from company to company and case to case. Additionally, some companies have a minimum amount you must reach before withdrawing your earnings. In these circumstances, the mock jury company holds your money until you reach that threshold. Read the details of each mock jury company closely when you sign up so you know what to expect regarding payment practices.
I hope you find this article helpful.