A forensic scientist contributes to criminal investigations to help provide evidence to solve the case. By pursuing a forensic science degree program, you prepare yourself for this career by learning key skills, procedures, and techniques. Learning more about how you can earn this degree online may help you reach your career goals in a way that suits your lifestyle.
In this article, we discuss what a forensic science program is like and where you can earn an online forensic science degree.
What is forensic science?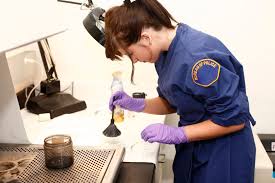 Forensic science is a specialized technical field that applies scientific principles to criminal investigations. Forensic scientists analyze evidence to provide findings from fingerprints, bodily fluids, and deoxyribonucleic acid (DNA). They may also review the facts of a case to determine if particular theories are scientifically viable. Forensic scientists often specialize in a scientific area, such as:
Biology: Forensic biologists handle evidence that relates to the human body, such as fluids, fingerprints, hair, and DNA, and develop toxicology reports to learn more about the time and cause of death or biological markers of the person who committed the crime.

Chemistry: Forensic chemists investigate non-biological evidence found at a crime scene, like explosives and controlled substances, using chemical analysis techniques.

Physics: Forensic physicists aim to understand how force, motion, and gravity affect an event, such as a car crash, domestic violence, or explosion.
Forensic scientists perform much of their work in a forensics library. They may also present their findings in court and share reports with law enforcement departments.
Why pursue an online forensic science degree?
Forensic science is a reliable field to enter if you're seeking long-term industry stability, as the United States Bureau of Labor Statistics (BLS) projects jobs for forensic science technicians may grow 11% between 2021 and 2031. This is more than twice the average projected rate of growth across all industries.
You can also pursue many relevant careers that offer a wide range of salaries. Below are some of the jobs forensic science graduates can be eligible for, along with the national average salary. For the most up-to-date salary information from Indeed, visit indeed.com/salaries.​​
| | |
| --- | --- |
| Job title | National average salary |
| Forensic science technician | $37,755 per year |
| Crime scene technician | $43,485 per year |
| Private investigator | $48,548 per year |
| Forensic scientist | $62,325 per year |
| Chemist | $74,913 per year |
| Detective | $81,302 per year |
What do you learn in an online forensic science degree program?
If you enroll in a forensic science degree program online, you're likely to study a range of related topics, including:
Biology
These programs may include introductory courses in biology and human anatomy, along with forensic biology courses. Forensic biology classes may teach you about important concepts like DNA, toxicology, and bone analysis to help you develop insights from biological samples.
Chemistry
Chemistry classes may focus on chemical compounds and forensic chemical analysis. You may learn how to use key devices and instruments for chemical analysis, interpret results, and work with common chemical substances like gunpowder and explosives, paint, polymers, fibers drugs, and alcohol. You may learn about toxicology, how to analyze arson incidents, and compound analysis.
Criminal investigation
You typically learn crime scene and criminal investigation techniques. This may involve capturing, documenting, and preserving evidence. It may also introduce you to the chain of command for handling evidence. Criminal investigation courses may also train you in legal processes for investigation, like using subpoenas and search warrants.
Fingerprint and DNA analysis
Forensic science programs train you in how to effectively collect and analyze fingerprints and human DNA from a crime scene or evidence. You can expect to learn the basics of DNA, like DNA structure and genetic inheritance, and DNA profiling, which can help you match evidence with suspects. These courses may also discuss the ethical implications of fingerprinting and DNA analysis.
Forensic psychology
Forensic psychology courses may help you understand psychological concepts that apply to both suspects and victims. You may explore topics like lie detection, repressed memories, and jury selection and decision-making.
Schools with online forensic science degree programs
If you're interested in pursuing an online forensic science degree, you may choose to apply to one or more of these online programs:
1. American Intercontinental University
American Intercontinental University's online forensic science bachelor's degree program contains 180 credits, including major courses, general elective courses, and general education courses. Core courses in the forensic science program include introductory-level courses in criminology, criminal law, law enforcement, and the American court system. Students also take classes in crime victim studies, juvenile justice and delinquency theory, research methods, statistics for criminal justice, and foundations of corrections.
2. Arizona State University
Arizona State University offers an expansive range of online courses and degrees, including an online Bachelor of Science in forensic science. The program consists of 120 credit hours. The program offers an interdisciplinary approach to study, with classes in topics like basic forensic science, chemistry, cultural diversity, and ethics to humanities and math. This broad approach aims to provide students with both the technical knowledge and a broader cultural understanding to succeed as forensic scientists.
3. Florida International University
Florida International University (FIU) offers an online Bachelor of Science in crime science through its Steven J. Green School of International and Public Affairs. FIU's program emphasizes emerging technology in the fields of crime scene investigation and policing. This 120-credit program includes courses on statistics, terrorism, evidence, cybercrime and the court system.
4. Maryville University
Maryville University's online bachelor's degree program in forensic psychology focuses on both forensic investigation and human psychology to help prepare students for a path in this specialized branch of forensic science. The 89-credit program involves core classes in criminal justice, psychology, and social science research, along with an internship component.
5. Pennsylvania State University
Enrolling in an online program with Pennsylvania State University allows you to earn a Bachelor of Science in forensic science. Students can choose between a chemistry and a biology focus. Facilitated through the university system's Eberly College of Science, online study through Pennsylvania State University offers courses in crime scene investigation, criminalistics, essential practices of forensic science, and the scientific approach to investigation. This provides students with a balanced skill set of forensic science capabilities to apply upon graduation.
6. Stevenson University
The online Master of Science in Forensic Studies from Stevenson University provides an opportunity for those seeking advanced education in the field. During the program, students learn about the instruments and technologies used by forensic scientists, applications of forensics in court settings, and techniques for the collection and assessment of evidence. The program targets people working full-time with flexible options to complete a degree remotely.
7. University of Florida
The University of Florida offers a graduate program in forensic science for students seeking to expand upon their undergraduate degrees. Students may enroll in their master's degree program, consisting of 32 course credits. You can choose from four concentrations: forensic science, forensic DNA and serology,  forensic drug chemistry, and forensic toxicology. This part-time program usually takes between two and three years to complete, but students have up to seven years to finish.
8. Grand Canyon University
Grand Canyon University's online master's degree in forensic science uses at-home lab exercises to provide students with practical experience without requiring on-campus study. Topics include statistical analysis in the context of forensic investigation, toxicology, quality management in lab work, and forensic reporting. The university states that this program can be suitable for people with experience in the forensic science field and those outside the industry hoping to begin a career in forensics. The program requires 36 credits, and online courses last eight weeks each.
9. Oklahoma State University
Oklahoma State University's master's degree in forensic science is available online for all non-thesis programs. Students can concentrate on forensic chemistry and toxicology, forensic biology and DNA, forensic investigative sciences, forensic psychology or arson, explosives, firearm, and tool maker investigations. Aside from specialized courses for your concentration, core classes explore topics like forensic leadership, ethics, criminalistics, and the law in depth. The program is 32 credits.
I hope you find this article helpful.