A paraprofessional assists an educator with many aspects of teaching and managing a healthy classroom environment. A career as a paraprofessional may be very rewarding if you enjoy working with children and have a passion for learning. It's valuable to know what skills paraprofessionals need to be successful so you can develop your own skill set. In this article, we explain what a paraprofessional is, discuss some essential skills for the role, and show how to highlight these skills to get a job.
What is a paraprofessional?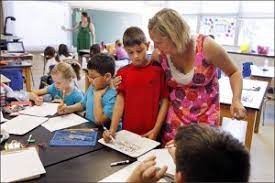 A paraprofessional, also called a paraeducator, is a type of teacher assistant or aide who supports educators. Although paraprofessionals don't have a license to teach, many of their job duties involve performing tasks to assist students with their studies. They also help educators oversee students in the classroom and conduct classroom management. Paraprofessionals often work in public schools, private schools, and tutoring centers.
What does a paraprofessional do?
Paraprofessionals assist teachers or educators with daily tasks inside and outside of the classroom. They may record student attendance, enforce classroom rules, prepare lesson plans, grade homework and administer tests. In addition, paraprofessionals often give support to each student after a teaching lesson to reinforce new information. Paraprofessionals are important to school systems because of the support they provide to students. The four types of support a paraprofessional may give include:
1. Classroom behavior management
Paraprofessionals often assist students experiencing challenges in the classroom with maintaining focus and managing their emotions. Paraprofessionals may document any behavioral challenges, teach students coping skills, and help schools develop behavior intervention plans to reduce disruptive behaviors and promote positive behaviors. Some of these behavioral challenges may include emotional outbursts, attention deficit hyperactivity disorder, and oppositional defiant disorder.
2. Disability assistance
Some paraprofessionals work with students who have medical conditions or physical disabilities. Paraprofessionals can help students with physical disabilities develop life skills to adapt to situations in the classroom. They may also help children who need medical help throughout the school day. For example, a paraprofessional may transport a student in a wheelchair to their classes or monitor students with epilepsy.
3. Language services
Some paraprofessionals know multiple languages and can translate for students who aren't native English speakers. For example, paraprofessionals can use their language skills to translate classroom assignments or instructions to make them accessible to English as a Second Language (ESL) students. They might also be a translator for parent-teacher meetings or phone calls to help communicate important information.
4. Teaching assistance
Often, paraprofessionals provide support while educators explain lessons to students. Paraprofessionals can be a source of positive reinforcement to students who struggle with understanding the educational material. They may conduct meetings or have small group activities with students to help them better understand the lessons. For example, a paraprofessional may host a study group to guide students struggling with science through their assignments.
9 skills for a paraprofessional
Here are nine paraprofessional skills that can help you succeed in this role:
1. Communication
A paraprofessional's position requires them to interact with students of all ages, as well as other educators and parents. It's important to be able to modify your communication skills to convey ideas effectively to students, teachers, and parents. This can also eliminate potential confusion when explaining challenging topics.
2. Lesson plan creation
Paraprofessionals often help teachers design lessons for classes. Understanding how to design activities that fit with the classroom curriculum may help you become successful in this role. Lesson plan creation involves knowledge of different classroom subjects, such as math, science, reading, and writing. You may learn how to create effective lesson plans through school training and volunteer teaching experiences.
3. Classroom management
A paraprofessional oversees all the aspects of a classroom while an educator teaches. It's important for them to understand how to manage classroom behaviors and maintain the structure of the classroom. For example, if you notice a student is paying attention to their electronic device instead of the teacher, you may address the behavior and redirect the student's attention to the lesson.
4. Leadership
It's valuable to have strong leadership skills while pursuing a career as a paraprofessional so you can effectively mentor students during classroom lessons. Paraprofessionals often guide students while learning new subjects and motivate them to continue to learn. You may also apply leadership skills while instructing a small group activity or maintaining authority and order in the classroom.
5. Patience
Patience is another important skill for paraprofessionals. When a child has a behavioral disability or struggles to obey classroom rules, staying calm can help a paraprofessional approach the child and invoke a positive response from them. This can give the student an opportunity to improve their behavior and continue to learn in the classroom.
6. Organization
Paraprofessionals often use organizational skills to gather and maintain student assignments, organize classroom materials and document student attendance. You can use organizational skills to assist teachers with grading assignments and preparing new lesson plans. These skills also can be useful in maintaining cleanliness in the classroom.
7. Positivity
A paraprofessional should have a positive attitude in the classroom to demonstrate exemplary behavior in school. Being optimistic and calm while interacting with children can show professionalism. A paraprofessional can also use their calm and rational demeanor to provide a comforting classroom atmosphere for students facing emotional challenges. A positive attitude can also help you reinforce respectful behaviors in students who may struggle with assignments.
8. Creativity
A paraprofessional's ability to be creative allows them to engage with students. Creativity skills also enable paraprofessionals to collaborate with teachers and develop enjoyable lesson plans for classroom instruction. Using creativity skills can assist you with developing activities to motivate students to study and actively listen throughout teaching lessons.
9. Teamwork
Paraprofessionals may use teamwork skills while working with education professionals and with students during classroom instruction. As a paraprofessional, your role is to assist a teacher in achieving their educational objectives with their students, so it's important to work with others efficiently. You can also model your teamwork skills to help students develop their own skills and build friendships with their classmates.
Tips to improve paraprofessional skills
Here are three tips to improve paraprofessional skills:
1. Implement active listening
If you apply active listening to your conversations, you may be able to better understand the information a student or educator is trying to convey. Active listening involves focusing on the individual speaking to you and interpreting their information to form a thoughtful response. While actively listening, it's important to allow the speaker to finish their side of the conversation. This can help you develop a meaningful response and build trust between you and the student or educator.
2. Ask for feedback
Asking for feedback consistently can help you build positive workplace interactions and improve your teaching skills. Ask the teacher to help you identify areas of improvement as a paraprofessional. An educator may give you constructive feedback to help you develop teaching strategies for approaching challenging assignments with a student. You may also ask for feedback from students and parents to understand how to enhance the classroom experience.
3. Build trust with students
When you establish trust with your students, they may be more likely to want to learn from you and respect your authority. You can show that you're trustworthy by expressing that you genuinely want them to learn and succeed in life and in the classroom. This may help create a positive classroom environment.
Highlighting paraprofessional skills
If you're looking to pursue a career as a paraprofessional, knowing how to highlight your skills on a resume and cover letter, as well as during an interview, can help you find a position. Here are examples of how to display your paraprofessional skills:
Paraprofessional skills for a resume
Reviewing job listings can help you identify the paraprofessional skills an employer is looking for in a candidate so you can incorporate those skills into your resume. You can demonstrate these relevant skills in the experience section of your resume. The skills section can also include a bulleted list of your paraprofessional skills to highlight your expertise.
Paraprofessional skills for a cover letter
A cover letter gives you an opportunity to discuss your experiences and skills that qualify you for a paraprofessional role in three or four paragraphs. You can reinforce your abilities or skills by providing specific examples of previous job duties. For example, if you have experience as a teaching intern, you may write in your cover letter that you used your creativity skills to design practice lesson plans.
Paraprofessional skills for an interview
An interview can be an opportunity to show your enthusiasm and competence for a paraprofessional role. Hiring managers may ask situational questions regarding your teaching experience to learn about your experiences interacting with students and supporting teachers with lesson preparation You can offer examples of situations when you successfully used paraprofessional skills and explain how your role as a paraprofessional positively affected students.
I hope you find this article helpful.