There are multiple certificate programs in the healthcare industry that can teach you specific medical skills. One of these certification topics is phlebotomy, which specializes in teaching you how to perform patient blood drawing procedures. If you want to enroll in a phlebotomy certificate program, it can help to know what skills you may learn and some jobs that you can perform with this type of credential.
In this article, we explore what a phlebotomy certificate is, some things you can learn from these types of programs, and nine jobs that may require a phlebotomy certificate.
What is a phlebotomy certificate?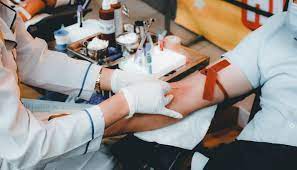 A phlebotomy certificate is a professional certification that teaches you how to draw blood from a patient's veins for the purpose of collecting a medical sample. You can achieve this certificate by participating in an accredited phlebotomy certification program. Certification courses can differ by state and may include a combination of training courses, field experience, and aptitude tests.
What do you learn in a phlebotomy certificate program?
Here are a few main skills that you can learn while earning a phlebotomy certificate:
Fluid extraction
One of the main skills that you can learn while earning a phlebotomy certificate is how to properly extract fluids, particularly blood, from a patient for the purpose of medical testing. These courses teach you how to find veins and arteries and extract blood with a needle stick. They may also require you to learn some basic anatomy concepts to help you understand common extraction points.
Disease prevention
Working as a phlebotomist can include contact with bodily fluids such as blood, urine, saliva, and other substances that may carry pathogens. Understanding how to prevent disease and follow safety regulations is an important aspect of working in phlebotomy. Your certification program can teach you extraction methods that minimize risk and how to properly dispose of a used sample.
Maintaining records
Professionals who practice phlebotomy often need to provide written documentation, such as labeling samples, recording patient history, or writing down test results. Therefore, certification programs often focus on teaching you how to practice efficient and legible record maintenance. During the phlebotomy certification process, you may take classes that teach you how to neatly keep records and provide accurate written instructions.
9 phlebotomy certificate jobs
Here are a few jobs that someone with a phlebotomy certificate may want to pursue.
1. Phlebotomy instructor
National average salary: $33,840 per year
Primary duties: Phlebotomy instructors teach students about the basic techniques and best practices of phlebotomy. They can impart valuable knowledge about how to draw blood, prepare test samples, and clean medical equipment. A phlebotomy instructor often works at a community college or trade school and helps other people achieve phlebotomy certifications.
2. Veterinary technician
National average salary: $34,694 per year
Primary duties: Veterinary technicians assist a licensed veterinarian in caring for and performing medical procedures on animals. They can take an animal's temperature and other vital signs, feed and walk animals stay at the veterinary center, and help to perform medical procedures. If a veterinary technician has a phlebotomy certificate, they can also draw blood and perform tests to help diagnose sick animals.
3. Phlebotomy technician
National average salary: $38,146 per year
Primary duties: A phlebotomy technician takes blood samples and prepares them for analysis. They can draw blood, comfort patients, or answer questions and send the samples to a laboratory technician. Some phlebotomy technicians may also record a patient's vitals or update their medical records.
4. Laboratory Assistant
National average salary: $44,929 per year
Primary duties: Laboratory assistants help scientists and researchers in a laboratory setting. They can maintain lab equipment, record experiment results, and set up materials for experimentation. Some laboratory assistants may also take samples and perform basic analyses.
5. Medical assistant
National average salary: $47,314 per year
Primary duties: Medical assistants help doctors perform basic administrative and medical tasks in a healthcare setting, such as a hospital or doctor's office. Common duties include taking a patient's vitals and medical history, changing the dressing on a wound, and providing accurate information to patients. Many medical assistants also draw blood and perform basic laboratory tests.
6. Emergency medical technician
National average salary: $49,896 per year
Primary duties: Emergency medical technicians (EMTs) provide basic medical care and transportation services during an emergency. They can respond to medical emergency situations, provide life-saving care such as CPR, administer medication, and transfer a person into an ambulance. EMTs may also need to quickly explain a patient's medical situation to a doctor at the hospital.
7. Medical lab technician
National average salary: $65,092 per year
Primary duties: Medical lab technicians are responsible for testing samples for medical laboratory tests and procedures. Duties include labeling and storing samples, performing medical tests, calibrating and maintaining test equipment, and educating patients about their test results. Technicians with a phlebotomy certificate can often collect their test samples directly from patients.
8. Phlebotomist supervisor
National average salary: $72,334 per year
Primary duties: Phlebotomist supervisors oversee a team of phlebotomists at a health care center. They can monitor blood draws, conduct performance reviews, and ensure that their team follows health and safety regulations. Some phlebotomist supervisors may also participate in blood draws and other technical duties.
9. Registered nurse
National average salary: $89,432 per year
Primary duties: A registered nurse (RN) fulfills a variety of medical duties meant to assist doctors in a health care center, such as a hospital, doctor's office, or retirement home. Nurses can administer medication, take vital signs, educate patients about certain medical procedures, and coordinate with doctors and other medical professionals to create treatment plans. While a phlebotomy certificate can help a nurse improve their blood drawing skills, you may need additional qualifications to become an RN.
I hope you find this article helpful.