One of the main goals of most projects is finishing them on time. To accomplish this, project managers estimate timelines and schedule project tasks accordingly. You can manage and schedule a project in many ways, depending on various factors and details.
In this article, we define project scheduling, explain what to include in a project schedule, and list nine techniques you can use to plan projects efficiently.
What is project scheduling?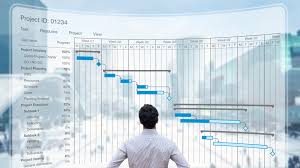 Project scheduling is the process of aligning project tasks to fit a deadline. Since tasks may overlap or require completion before starting on another, it's essential to schedule tasks in an optimal order to complete them in a timely manner. Through project scheduling, you can determine a method for completing a project that may increase your efficiency while helping you adapt to changes that may arise during the process.
For example, a video game company may want to create an advertising campaign before the holiday season arrives. To launch this campaign, they might conduct market research, test their latest products, and develop plans for different marketing channels. Each of these tasks has its own timeline and steps. By creating a project schedule, the company can improve the ability of the team to finish each task in a timely manner to meet its holiday deadline.
What to include in a project schedule
Project schedules typically have at least the following elements:
Tasks
Tasks are a list of duties you assign throughout the project. These include both the larger aims of the project and the smaller tasks that lead to them. When adding tasks to a project schedule, try to be as specific as possible. For example, include the name of the task, the goal of the task, who the manager of the task is, and anyone else working on it.
Deadlines
Another detail to add to your tasks is the deadlines, which are the expected completion dates for each task based on how long you expect the task to take. You can determine this estimation through several methods, such as consulting with the manager of the task. Also, list the final deadline for the entire project. As you progress through the project, you may need to change this deadline, but having this estimate can help you plan out your other deadlines.
Stakeholders
Stakeholders include anyone who has an interest in the project's outcome or who you plan to inform of its progress. Some stakeholders include:
Project managers

Team leaders

Team members

Company CEOs

Company investors

Vendors or suppliers

Advertising partners
You may find it helpful to create your project schedule in a way that makes it easy for stakeholders to access and view it. For example, you may store all the files in a folder on the cloud, and then grant each stakeholder access.
9 project scheduling techniques
Here are nine techniques you can use to help you create efficient project schedules:
1. Critical path method
The purpose of the critical path method (CPM) is to help you determine both the longest and shortest possible time it'll take to complete a project. The CPM contains three essential elements, which are:
The tasks required to complete the project

Which tasks depend on the completion of others

A time estimate for each activity
Determining the tasks that require completion before teams can take on other tasks can help you determine an order for all the project's tasks and estimate a minimum and maximum completion time.
2. Program evaluation and review technique
The program evaluation and review technique (PERT) is similar to CPM in that they both create a task flow and an estimated timeline. Rather than a single possible timeline estimate like in CPM, PERT uses a weighted average duration. With PERT, you assign each activity a time estimate and factor in uncertainty. You can do this by:
Estimating how much time a task will take

Estimating the time in a best- and worst-case scenario

Averaging them together to determine the time estimate for the project
The PERT method also helps project managers generate a realistic estimate for their timelines. This method requires more initial work and information to establish but can provide you with more reliable timelines for your projects.
3. Fast-tracking
Fast-tracking is a technique that involves finding tasks you can perform simultaneously or with some overlap. This allows you to start some tasks earlier and reduce the time spent overall on the project. Project managers often choose this approach for projects that have already experienced delays or that have an urgent deadline.
4. Crashing
Crashing is a technique that involves adding more resources to help you and your team finish a project faster. One common crashing method includes assigning more team members to a project, which reduces the amount of work required for each person. You can also have employees work longer hours and invest in overtime to help you meet a deadline quickly.
5. Gantt chart
A Gantt chart is a type of bar graph that project managers use for planning and scheduling. You can use them to simplify complex projects. Gantt charts represent each task horizontally on a bar chart, which shows the start and end dates, and they frequently include deadlines, dependencies, and task owners. Using a Gantt chart may make it easier to visualize the progress of a project and see how different tasks interact with one another.
6. Simulation
A simulation is a technique that involves inputting different sets of activities into a computer software program and allowing it to determine possible timelines. With a simulation, you can factor in different uncertainties and variables so if they occur during the project, you already have a plan for them.
Businesses often use a simulation technique called a Monte Carlo simulation, or Monte Carlo analysis. With this technique, you input the best-case and worst-case duration scenarios for each task. The Monte Carlo simulation analyzes all the combinations and uncertainties and then provides you with probabilities. By using a Monte Carlo analysis, you can get an early indication of how long a project might take and create a more realistic schedule.
7. Task list
One of the simplest project scheduling techniques is the creation of a task list. Using a word processor or spreadsheet software, you can create a list of tasks and include important information like the task manager and deadline. This is a common method project managers use when completing small or simple tasks that don't require extensive scheduling or analysis.
8. Resource leveling
Resource leveling is a project scheduling technique that allows you to optimize resources to help you use them more effectively. This allows you to create a task distribution plan that enables your teams to balance busy periods with periods of inactivity, which can lead to a more consistent process. You can integrate resource leveling into other project scheduling approaches to help you maintain efficiency and stay on budget.
9. Calendar
Using a calendar can be a simple way to help you and your teams visualize important tasks and their deadlines. Calendars make scheduling easy to understand and can make project schedules readily accessible to teams and stakeholders. You might consider using project calendar templates or color-coding methods to identify tasks associated with particular aspects of the project, such as task managers or types of resources.
I hope you find this article helpful.