A Computerized Numerical Control (CNC) programmer, also called a CNC machinist, uses special machinery to transform raw materials into finished products. Regardless of your current background and training, knowing some of the most relevant reasons to become a CNC programmer can help you decide if it's an appropriate career path for you. Learning about the benefits of choosing this career can be useful for your professional development in programming. In this article, we discuss some of the main reasons to become a CNC programmer.
What is a CNC programmer?
A CNC programmer develops programs that control machines, which then automatically cut raw materials and transform them into products and product components. The tools they use include conventional technologies like drills, milling machines, and lathes, and novel technologies like laser, plasma, and water jets. They're used in various industries, like automotive, medical, and aerospace, to produce highly specialized parts and components.
9 reasons to become a CNC programmer
Some of the main reasons choosing a career as a CNC programmer may be an excellent decision are: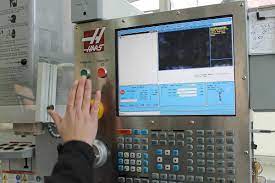 1. You can choose to specialize in a wide variety of industries
Many industries that require manufacturing parts or products can use CNC programming. Some of the most popular industries for CNC programmers are hand tools and equipment, automotive, aerospace, medical, oil and gas, electronics, industrial, and nuclear. This means that you can choose to specialize in an industry for which you're passionate and knowledgeable.
2. You don't depend on a single industry's relevance
Because CNC programmers can work in multiple industries, this means that their long-term career perspectives don't depend on the success of a single industry. Having different fields to choose from means that CNC programmers can specialize in another industry. Having this flexibility may be useful if you want a new challenge in a different field or if you want to switch to a field that might offer you more growth opportunities.
3. You're likely to have higher-than-average wages
The average base salary in the U.S. for a CNC programmer is $64,877 per year, which is more than the average salary for all occupations. CNC programmers also usually have other job benefits, such as health insurance and employer contributions to their 401(k). In the U.S., 58% of all CNC programmers consider their salaries to be enough to cover the living costs in their area, meaning that choosing this job can help you achieve financial stability.
4. You get to work with computers
CNC programming typically involves working with computers. The job also requires you to understand how the computers that control the machinery work and how to troubleshoot various issues as they occur. These challenges can be a major benefit for someone who enjoys learning about technology and improving their coding skills.
5. The job blends physical work with computer work
As a CNC programmer, your tasks include programming the CNC machines, optimizing their operations and working directly with the machine tooling equipment. Unlike other factory jobs, which typically only involve one aspect of the manufacturing process, CNC programmers have a role in each phase of the operation, from initial planning to the final product. This can make the role more interesting and challenging by exposing you to all manufacturing phases.
6. The skills you develop are transferable to other industries
The varied nature of the role not only makes the job of a CNC programmer more diverse but also helps these programmers to develop a transferable skill set. Depending on your exact specialization, you might pursue a career in fields like automotive or aerospace, construction, quality control, computer programming or mechanical engineering. Other soft skills you can develop by working as a CNC programmer, such as attention to detail, interpersonal communication skills, the ability to adhere to safety guidelines, multitasking and problem-solving, can be useful in any area of activity.
7. You constantly learn new things
Looking for ways to improve efficiency is usually one of a CNC programmer's primary job responsibilities. Doing so usually requires constant learning and testing out new methods and processes to improve efficiency metrics like processing time and raw material use. This constant need to improve your practices means that you're likely to learn new things while on the job.
8. You get to see your work turn into something tangible
Working as a CNC programmer can allow you to see how complex pieces of machinery turn raw materials into finished products. Unlike other manufacturing roles, which usually only handle one aspect of the entire process, CNC programming allows you to see your ideas turn into reality. This can improve work satisfaction and can provide you with the positive feeling of seeing a project from its planning phase to completion.
9. You get to operate within a team
Working as a CNC programmer typically involves being part of a team. This can be a major advantage if you enjoy working alongside others and face-to-face communication. Doing so also allows you to create strong professional and personal bonds with coworkers.
Tips for becoming a CNC programmer
Consider these tips if you're planning on becoming a CNC programmer:
Complete a training program. Although the official minimum educational requirement for CNC programmers is usually a high school diploma or equivalent, completing a training program can significantly improve your chance of finding a suitable position. Associate degrees and certificate programs teach you the basics of the role and also give you the chance to gain practical experience through apprenticeships.

Get relevant entry-level work experience. Most employers choose to hire CNC programmers with relevant experience. You can improve the chances of working as one by first pursuing roles that involve working directly with machinery or programming roles.

Get certified. Although certification is not an official requirement, you can usually find more lucrative roles if you become certified. You can choose a relevant certification depending on the industry in which you want to work as a CNC programmer.
I hope you find this article helpful.