Neonatal nurses play a vital role in the critical care of newborns and infants. They provide babies with health care services required to overcome short- or long-term illness. A career in neonatal nursing can be rewarding for those who want to work with infants and help save lives. In this article, we discuss the role of a neonatal nurse, explore nine reasons to become a neonatal nurse, and provide a list of jobs related to neonatal nursing.
What does a Neonatal Nurse do?
Neonatal nurses treat newborns and infants with a variety of problems they may experience in development, birth, or shortly after. This may include birth defects, heart malformations, infection, surgical problems, or prematurity. The neonatal period is the first month of life, but many infants may be sick months after they're born.
Although most babies need care for less than two months, neonatal nurses may also care for babies with long-term ailments. This may include treating infants with illness or prematurity that may require longer hospital care. Neonatal nurses manage the health of a newborn in the hospital until they're healthy enough to go home. Some of their responsibilities include: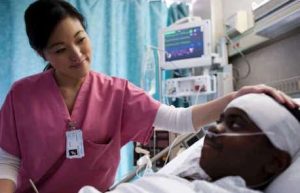 Administer medication

Change diapers

Feed babies with a bottle

Monitor medical devices

Change feeding tubes

Perform intubation

Rock and hold infants
Where do neonatal nurses work?
Neonatal nurses primarily work in a specialized Newborn Intensive Care Unit (NICU) of a hospital but may work in a variety of other settings, including clinics or in-home care. In a smaller hospital, neonatal nurses may work in a nursery that treats babies with minor ailments. In a level three or four hospital, they may work in an intensive care nursery that treats infants with critical illness. For infants that require follow-up care after they leave the hospital, a neonatal nurse can provide home visits and checkups when necessary.
9 reasons to become a neonatal nurse
Consider this list of 9 reasons to become a neonatal nurse:
1. Source of support
Neonatal nurses can provide families with support while their newborn is in the NICU. Parents are often limited or denied hands-on care of their infant, so they often seek reassurance from the nursing staff that the baby is being cared for and comforted. NICU nurses can inform families of care procedures, provide parents with time for special interactions, and comfort them with the knowledge that someone's always caring for the welfare of their vulnerable infant.
2. Lifesaving mission
NICU nurses can provide care for infants and newborns with life-threatening conditions, such as infections, birth defects, or prematurity. They have the knowledge and experience to act fast in critical situations with corrective measures, such as pulmonary resuscitation and oxygen therapy. Neonatal nurses provide infants with nurturing care until they're strong enough to go home.
3. Job security
Because neonatal nursing is very specialized work, it requires a lengthy and specific education. Hospitals hire specialized nurses with expertise and an impressive skill set. These strict requirements can provide job security for the position. Neonatal nurses often choose to remain employed at a hospital or clinic for a long time.
4. Rewarding career
Working as a NICU nurse can be a very rewarding career. It gives you the chance to improve and save the lives of infants and newborns and comfort their families. Being able to make a positive difference in the lives of others can be very rewarding and beneficial.
5. Source of information
A neonatal intensive care unit nurse provides daily information to each patient's parents. Because NICU procedures can take time and cause confusion to the parents, a nurse's straightforward and frequent updates can reduce some of their uncertainty. Opportunities to give good news or send a baby home can also be very encouraging to nurses.
6. Travel opportunities
Because the need for neonatal nurses is in such high demand, you may choose to become a travel nurse and work at a variety of hospitals that lack sufficient neonatal nursing care. Or, if your unit discharges patients who require in-home care, you may get the opportunity to travel to an infant's home. This may allow occasional travel and work outside of your hospital or clinic.
7. Career advancement
As neonatal nurse gains more experience, they can advance in their career. This may include providing mentorship or taking on leadership roles. Here is a list of advancement opportunities for neonatal nurses:
Clinical nurse specialist

Nurse manager

Neonatal nurse practitioner

Developmental care specialist
8. Daily challenges
Working in a NICU presents new challenges each day. Because patients are admitted with a variety of conditions and illnesses, neonatal nursing requires close attention and adaptive problem-solving. Teams of doctors and nurses work together to manage short-term situations and long-term recovery plans. Neonatal nurses are prepared every day to handle emergencies, moments of infant comforting, and parent reassurance.
9. Relationship building
Being a neonatal nurse provides many opportunities to create and build relationships. Strengthened by patient families and the trust built to take care of their infants, there's a family environment in a neonatal unit that many nurses enjoy. You may build valuable relationships with the nursing team or other hospital staff. And because many babies stay extended periods in the NICU, you may also build connections and relationships with patients' families.
Neonatal nursing jobs
Consider this list of jobs related to neonatal nursing. For the most up-to-date Indeed salaries, please click on the links below:
1. Neonatal registered nurse
National average salary: $79,825 per year
Primary duties: Neonatal nurses are responsible for taking care of infants in the NICU. They provide basic daily care for infants, assist with corrective treatments, test a newborn's cognitive skills, and monitor the progress of each patient's prematurity, condition, or illness. Nurses maintain records, communicate with patients' families, and provide support.
2. Clinical nurse specialist
National average salary: $83,511 per year
Primary duties: Clinical nurse specialists are advanced practice registered nurses who provide assessments, diagnoses, and treatments to patients. They work in clinical settings to provide cost-effective specialty care. They often consult or coach other staff members on appropriate treatments.
3. Registered nurse manager
National average salary: $88,050 per year
Primary duties: Registered nurse managers are responsible for overseeing a team of neonatal nurses. They ensure the safety of their patients and staff in the NICU unit. Nurse managers also make sure other staff members are following hospital guidelines while on duty.
4. Neonatal nurse practitioner
National average salary: $112,248 per year
Primary duties: Neonatal nurse practitioners are advanced practice registered nurses who also hold a master's degree or doctorate with a specialty in neonatal nursing. They're responsible for overseeing the care of infants and newborns in the NICU. Nurse practitioners have more skills and experience than a registered nurses and handle care with specialized equipment.
I hope you find this article helpful.