When performing tasks as a 3D visualizer, having the right skills and experience can help these professionals meet client requirements effectively. It's also important for prospective 3D visualizers to research relevant positions and note the qualifications in each job listing, such as technical knowledge and interpersonal skills. Understanding what each position entails, the common skill sets that visualizers have and how they use them may also help you identify areas to develop. In this article, we discuss what a 3D visualizer is, their skill sets, and how to improve those skills to secure available roles.
What are 3D Visualizers?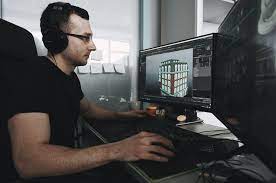 A 3D visualizer is an artist who produces animations, effects, and graphics for industries such as architecture, construction, engineering, gaming, marketing, and medicine. They may also work for companies in contract or freelance roles. With the various fields and capacities of work, visualizing is a flexible career choice that can provide autonomy. Regardless of the industry, visualizer job responsibilities are often the same. Some of their tasks may include:
Collaborating with artists on sketches and planning

Creating storyboards to visualize scenes

Meeting with clients and employers to discuss projects

Presenting project ideas to clients and employers

Reviewing and improving 3D effects

Troubleshooting project problems

Using 2D imaging to improve 3D graphics

Employing 3D modeling to create animations

Working with design teams to visualize projects

Utilizing industry-standard design programs
Skill set for a 3D visualizer
Here are some skills that allow 3D visualizers to complete their tasks effectively:
Analysis
When reviewing a project's requirements, visualizers typically use strong analytical skills to interpret client plans. By analyzing the information and requests, they may identify details that efficiently guide the direction of product images and results. Using attention to detail skills can also help them discover possible discrepancies within coding or imaging that they can prevent or resolve.
Architectural drafting
This represents the foundation of most 3D projects, including those for real estate, marketing, and construction companies. Features of architectural drafting include ensuring the accuracy of dimensions and considering structural functionalism. When creating plans and visualizations for builders, the accuracy of proportions is important so construction can proceed as planned with minimized risks for errors.
Collaboration
Collaboration involves working productively with team members or clients. While visualizers often work individually, they still consider client requests and needs throughout the process of their projects. When working with teams, being able to collaborate can help keep those involved with a project updated on its progress.
Color theory
This is an important aspect of creating visualizations because it can help digitally generated colors adhere to a product's actual colors once it's complete. When working with various graphics, it's important for these professionals to consider the different devices and screen types used and how colors may look on each type. Understanding and familiarizing yourself with color theory and its methods can help you represent realistic colors when working on a 3D project.
Communication
Visualizers often communicate their projects' planning and progress to clients and peers. Communicating your ideas and directions clearly and concisely can help your audience understand you easily. While the visual outcome of each project is important, being able to present and communicate is also necessary to complete a project successfully.
Composition
This focuses on the texture and realism of materials replicated in a 3D visualization. Working on composition requires the use of 2D image compositing. Usually, the compositional aspects of animation are fine-tuned at the end of the 3D imaging process to refine and retouch details and surface finishes that reflect real-life appearances.
Computer-aided design (CAD) software
Visualizers often use CAD software to create visualizations for their clients. They might work with engineers or use CAD files from engineering teams to help build models and design virtual environments. You can also use CAD software to create the lighting, textures, and colors for animations.
Creativity
This skill can help professionals visualize project ideas and develop innovative solutions to problems. Being able to think creatively can help you develop concepts that engage audiences. The design aspects of creating 3D visuals make creativity necessary for identifying optimal strategies and methods to make a virtual model as realistic as possible.
Time management
Most visualization projects have deadlines, and some visualizers may work on multiple projects simultaneously. Time management is especially useful in team projects where each member may have individual tasks that rely on another member's completion to progress forward. Effective visualizers prioritize tasks and manage their time efficiently to ensure that they complete their projects in a timely fashion.
How to improve your skill set as a 3D visualizer
Consider the following ways to develop and improve your skills in a 3D visualizing role:
1. Attend classes or workshops
One way to develop your skills as a 3D visualizer is to attend classes or workshops that focus on developing specific skills, such as drafting. There may also be conferences for visualizers that specialize in visualizing for particular industries. Learning from professionals can help you discover how they identify which skills to develop and how they apply them within their careers.
2. Obtain a degree
Some employers may not require candidates to have a particular degree for visualizing jobs, but education can be beneficial in improving your skills and helping you network with professionals who possess similar career goals. Programs related to graphic design can offer you practical knowledge and opportunities to apply that knowledge. Your coursework may also include projects you can highlight as experiences in your portfolio and resume.
3. Develop your portfolio
This step entails gaining experience to showcase your skills. When applying to 3D visualizing jobs, a prospective employee typically presents a portfolio that a company can access through a physical drive or website link. Consider completing projects for friends or acquaintances to practice and create content for your professional portfolio, besides the projects you may complete while pursuing an education.
4. Update your equipment and technical knowledge
With the use of CAD programs and image rendering processes, it's important to remain updated on relevant equipment and technical skills. The development and improvement of your skills may depend on the capabilities of the computer and systems you possess. Having proper equipment that can handle visualizing graphics and storing your data is necessary for you to work optimally.
5. Apply for an apprenticeship
Consider also applying for an apprenticeship if you're interested in learning more about becoming a 3D visualizer. You can learn from a skilled professional full-time while receiving training on the job. Learning directly from a professional can allow you to understand work processes and strategies for success.
I hope you find this article helpful.