Most management teams have a hierarchy, with senior administrators at the top, including CEOs and CFOs. While these individuals certainly occupy an important role in the operation of their companies or organizations, middle management personnel often oversee a majority of the day-to-day operations of a venture. If you're interested in pursuing a career in middle management, it can be helpful to understand the necessary skills for succeeding in the profession to maximize your chances of success.
In this article, we describe what middle management is and the typical duties of someone in the career, followed by a list of nine skills middle managers can use to maximize their success in the workplace.
What is middle management?
Middle management is an administrative term that refers to the managers in a company or organization whose positions are just below the senior managers on a company's hierarchy. Middle managers are the ones who oversee the daily operations of an organization.
Some of their common workplace duties include assigning work to employees, handling inter-employee conflict, recruiting and hiring, retaining talented employees, and maintaining a positive work culture. Middle managers are the ones who interact most directly with employees and are often their first form of reference when an issue or question arises. They often advance to their positions from entry-level roles.
9 middle manager skills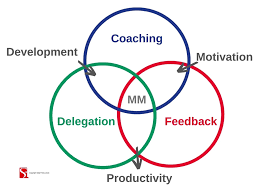 Here are nine of the most important skills you can have while working in a middle manager position:
1. Communication
Communication is a vital skill for someone looking to start a career in middle management. Middle managers are the ones who directly engage with employees, unlike most senior administrators in a company or organization. It's important that they can communicate effectively in both verbal and written forms so that there's always transparency between them and the employees they manage. Strong communication eliminates the risk of errors resulting from miscommunication, making operations more efficient.
2. Problem-solving
Another important skill to have as a middle manager is the ability to solve problems with minimal exterior guidance. Middle managers are responsible for handling the day-to-day operations of a company or department, making them the foremost authority when employees have questions or concerns related to the workplace. It's necessary that members of middle management are able to think logically when solving problems to come to a solution as efficiently as possible.
3. Attention to detail
Attention to detail entails ensuring that various elements of employee work and relations adhere to the standards of the company's goals and values. It's important that middle managers exhibit attention to detail when overseeing employee progress on various projects, evaluating performance and investigating questions, errors or conflicts in the workplace. Middle managers often complete significant amounts of paperwork filled with pieces of company data that they must understand and interpret with precision.
4. Organization
Organization is crucial for middle managers to ensure that all elements of their company can operate simultaneously and smoothly. Middle managers can remain organized by keeping a detailed schedule where they outline all of their obligations, including meetings, paperwork deadlines, interviews and performance evaluations among other responsibilities. Organization is important for all careers but especially for managers who have a wide range of daily duties like those in middle management.
5. Empathy
A soft skill that's extremely helpful for management roles and can significantly improve workplace relations is the ability to empathize with employees. Middle managers can exhibit empathy by listening intently to employee concerns, offering resources and providing support and understanding when unexpected or uncontrollable circumstances impact performance. A middle manager with strong empathy skills can foster a trusting work environment where employees feel comfortable expressing their struggles and feel motivated to solve them with the guidance of their managers.
6. Negotiation
Negotiation is another important skill for middle managers to have, as they often represent their employees' interests to senior members of an administration. While senior administrators have their own sets of expertise, they may not have a full understanding of what the day-to-day operations and expectations are for employees occupying lower positions in the company structure. This is where middle managers can serve as advocates for the employees they work with every day, representing their interests and negotiating with executives to ensure entry-level employees and other personnel can voice their opinions.
7. Leadership
A skill that's beneficial for all individuals in management positions is, of course, leadership. Leadership skills may naturally develop within professionals, but they can certainly improve this skill through experience. Middle managers use leadership skills every day as they manage the operations of their companies and oversee, encourage and show appreciation for the hard work of their employees. A strong leader can make employees enthusiastic to succeed, which can therefore increase productivity and overall company performance.
8. Collaboration
Collaboration involves working cooperatively with other individuals on a singular project or venture. Middle managers use collaboration skills every day when they work alongside their employees on various assignments for the good of the company. They also work together with other managers from different departments to ensure that all sides of the company operate as efficiently as possible while introducing different perspectives and ideas that can generate innovation.
9. Creativity
Creativity is an important skill for all kinds of occupations, and middle managers use creativity when planning incentives for employees to succeed, whether that involves creating department-wide performance challenges, offering rewards for high performance, or showing appreciation through thoughtful gifts. Middle managers also use creativity when solving problems. They do this by using elements of their training, education, and experience to overcome hindrances in workplace operations.
I hope you find this article helpful.