Construction management is an integral part of any construction project, as it oversees the entire planning, production, purchasing, and sales processes. Many construction managers choose to use software programs that streamline elements of management including scheduling, budgeting, and inspecting. If you're interested in pursuing a career in the operational side of construction, it may be helpful to familiarize yourself with different construction management software programs and their features to determine which ones best fit your company or project.
In this article, we discuss what construction management is, why understanding its software programs is important and list nine of the most common construction management programs available on the market.
What is construction management?
Construction management is a term that refers to the running of business operations for a construction firm or assignment. A construction manager is typically an individual who possesses leadership and organizational skills, as they have several responsibilities that directly impact the success of a project. Some of their common duties include creating and adjusting employee and production schedules, researching and negotiating with contractors and vendors, planning and monitoring finances and budgets, obtaining the proper permits and licensure for construction, and meeting with workers to discuss milestones, goals, and progress.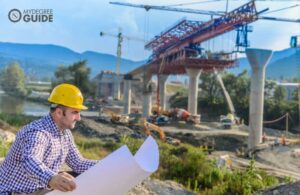 Why is understanding construction management software important?
You can greatly benefit from becoming familiar with the different construction management software on the market. Understanding what each program offers in terms of features, speed, security, and user-friendliness can help you come to several conclusions on the relevance of each tool in regard to your construction task. With so many construction management tools available, it can be beneficial to know the distinctions between products and understand how each could potentially improve the operations of your business or project.
9 construction management tools
Here are nine of the most common construction management tools you can use to organize and operate a business or project:
1. Procore
Procure is a construction management software that allows users to manage various projects, finances, and other resources. Every contractor and contributor is able to connect using the program, making it easy for them to communicate over budgets, timelines, and schedules. Procore offers its customers the ability to access technical support through email, phone, and a large online knowledge base. It's also available as a mobile app, allowing users to access its features from any location.
2. Contractor Foreman
The Contractor Foreman construction management software gives construction professionals the ability to customize a dashboard where they can access a variety of different resources. Some features of the Contractor Foreman dashboard include local weather, a calendar, appointments, schedules, notes, and the ability for employees to clock in and out. It also includes a financial and accounting system where users can process bills, reports, reimbursements, and budget estimates.
3. BuilderTREND
BuilderTREND is a construction management system that allows customers to conduct many elements of the planning stage of a project. Some of its primary features include project management tools such as timesheets, budgeting, and scheduling, and customer management tools such as warranty requests and payment processing systems. The program offers customer support in the form of webinars, charts, and 24/7 help services.
4. CoConstruct
CoConstruct is a highly-rated construction management software application that targets its services towards residential construction and remodeling projects. The program is compatible with desktop and mobile devices and offers support for its users in the form of email, forums, a help desk, and phone and chat services. Some of its primary features include the ability to manage multiple elements of a project at once including purchases, permits, estimates, warranties, and subcontracting.
5. Houzz Pro
Houzz Pro is a construction management program that offers users an all-in-one format to operate multiple facets of a construction assignment or firm. The program's design is most compatible with residential contractors and construction companies whose projects primarily involve designing and building homes. The software system offers multiple plans depending on the size of the business and has features including 3D floor plans, collaboration tools, invoicing, and payment portals.
6. ConstructionOnline
ConstructionOnline is a construction management program that assists program managers with completing projects within a specific frame of time and under an outlined budget. Some of its primary features are scheduling, customer management, photo management, document control, and cost management. ConstructionOnline offers client portals where customers can view construction calendars, request changes, and view photos. Users can access the software using web browsers on desktop and mobile devices.
7. Projul
Projul is a construction management system specifically for small to medium-sized construction firms. The program focuses on simplicity, making it user-friendly even for the most technologically-averse individuals. Some of its main features include the ability to organize cost estimates, payments, schedules, reports, files, and photos. Projul offers its customers 24/7 support with a live representative and is compatible with mobile devices and most web browsers. It also includes assistance tools including webinars, video tutorials, and live online training.
8. Spectrum
Spectrum is a construction management software that uses a cloud-based system aimed at construction enterprises of all sizes. Some of the program's main features include accounting, project management, inventory management, reporting, human resources, payroll, and job cost services. It also features an accounting module where users can access payroll, cash management, and budgets. Spectrum is available as a mobile app and offers customer support in the form of phone calls, videos, webinars, and podcasts.
9. Quickbase
Quickbase is a construction management program that allows its users to track various construction tasks at once and store all of their project data in one place. It's an end-to-end solution, meaning it uses its own software for all of its features, as opposed to using third-party solutions. Quickbase has plenty of features, including employee management, service requests, project management, and customer relation management, all of which can contribute to the overall success of a construction project or firm.
I hope you find this article helpful.