Sports broadcasts require consistent teamwork from a diverse group of individuals in order to make every broadcast successful. Sports broadcasting jobs give you the opportunity to be an active part of a team while working in a career that you are passionate about. Each sports broadcasting job differs from another, and they each have different requirements. In this article, we explore nine sports broadcasting jobs, including their salaries and primary duties.
How can you find sports broadcasting jobs?
One good way to find sports broadcasting jobs is to network with people who are already in this field. Seek broadcasting networking events where you can connect with professionals in the field. Bring copies of your resume or business card to hand out so people know how to contact you should they find a role that fits your qualifications. You can also build long-term relationships with industry professionals who can help you throughout your career.
Besides networking with people in associated fields, take time to research available job opportunities and learn more about what their specific requirements are. Use job research tools to compare various sports broadcasting jobs so that you choose the best opportunity that works for you.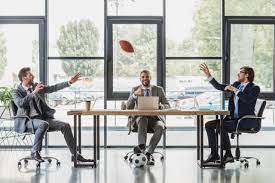 You can also find sports broadcasting jobs on various websites. General job search websites can help you find a wide variety of jobs, while niche websites might be able to narrow your focus. If you're interested in working for a specific sports team or company, you can browse their career pages to see if they have openings available.
9 great sports broadcasting job opportunities
Here are nine different sports broadcasting jobs in various areas that you can explore:
1. Camera operator
National average salary: $15.20 per hour
Primary duties: Camera operators are responsible for manning cameras, recording footage, and moving images to screens. Camera operators in the sports broadcasting industry primarily handle live events, though they can work on recorded sports news segments. Operators who work live events often need to track fast-paced plays to provide good shots for the audience. They also record footage for studio commentary and other supplementary content that is required for their jobs. Camera operators usually work under a director or a technical director.
2. Audiovisual technician
National average salary: $26.67 per hour
Primary duties: Audiovisual technicians are in charge of setting up the sound and visuals required to relay a broadcast. An audiovisual technician also acts as a liaison between camera operators, technical directors, and the sound team. They work to ensure that the sound from all sports games and additional commentary are in sync with the video footage being broadcast. Some sports broadcasting organizations have separate individuals who work as audio technicians and visual technicians. However, there is a lot of overlap between each of these roles, so it is common for one person to handle both audio and visual aspects.
3. Sports anchor
National average salary: $33,318 per year
Primary duties: Sports anchors are responsible for giving commentary on sports events and providing helpful analysis of these events for the viewers. Anchors commenting on live events provide continuous feedback about the athletes and plays to keep the audience entertained. Sometimes, sports anchors comment on past events or related sports news for recorded sports shows. Sports anchors often interview athletes, coaches, and fans to give viewers more insightful feedback about a particular sporting event. Many anchors specialize in a particular sport, though having general knowledge of several sports can be helpful.
4. Producer
National average salary: $45,092 per year
Primary duties: Producers are in charge of guiding the way a broadcast is presented. They craft the narrative of a sports broadcast and distill a day's worth of sporting events into that broadcast by choosing shots and editing down the content into a predetermined length. During live events, a producer coordinates and manages all the individual employees who are responsible for successfully airing the sports broadcast.
5. Talent coordinator
National average salary: $51,617 per year
Primary duties: Talent coordinators are responsible for recruiting the varying members of sports broadcasting teams, including anchors, camera operators, and technicians. They also help recruit sports talent for specific broadcasts that involve athletes. Talent coordinators work alongside directors and producers to help create a team of people who can deliver sports broadcasts.
6. Associate producer
National average salary: $56,094 per year
Primary duties: Associate producers are in charge of assisting a producer to plan and execute sports broadcasts. They work directly under a producer, handling administrative tasks and additional responsibilities, such as scheduling meetings and coordinating various broadcast employees. They help create and edit recorded sports content, determine the best shots for various events, and research sports statistics and records for anchors to present.
7. Broadcast engineer
National average salary: $80,650 per year
Primary duties: A broadcast engineer is responsible for maintaining the equipment required for sports events and shows. They are also in charge of setting up this equipment and communicating with people, like camera operators, to ensure that all equipment items are working properly. Broadcast engineers also remain on hand during live broadcasts to troubleshoot any problems that may arise.
8. Director
National average salary: $99,576 per year
Primary duties: Directors manage everything that has to do with live sports broadcasting. They work to set a broadcasting schedule for events, coordinate with producers, and outline the tasks that their team needs to accomplish in order to air a live sports broadcast. They are also responsible for consistently making sure that all industry rules are followed during a broadcast. Directors oversee the entire team, but they often directly communicate with producers, associate producers, and broadcasting engineers.
9. Technical director
National average salary: $103,382 per year
Primary duties: Technical directors oversee the technology sports broadcasts. They work alongside directors in overseeing the general flow of every sports broadcasting project. Technical directors manage the lighting, audiovisual, and production elements. They coordinate with camera operators and broadcasting engineers to outline how equipment and hardware should be used for the sports broadcast.
I hope you find this article helpful.