Technical theater jobs are viable career opportunities for people who want to work in theater without being an actor. If you're interested in the technical theater field, it's important to write a thoughtful and well-crafted resume to showcase your skills and capabilities. Learning how to write a technical theater resume properly can make it easier for the interviewer to better understand why you're a qualified candidate. In this article, we discuss what technical theater is and what to include in a technical theater resume and provide a template and example.
What is technical theater?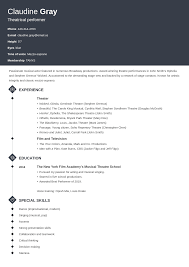 Technical theater, sometimes referred to as stagecraft, is all the technical elements that make a stage production, such as set design, lighting, costumes, makeup, props, and sound. These elements are the visual, auditory, and mechanical aspects that create the mood and atmosphere of the play as described and portrayed by the actors, playwrights, and directors. Professionals in technical theater work together to complete a stage production and ensure that everyone performs their duties in a timely manner, making it a career field that heavily depends on collaboration to be successful.
What do you include in a technical theater resume?
In a technical theater resume, it's important to emphasize your work experience and clearly define your skills and how you can apply them effectively to a stage production. Because stagecraft is so teamwork-dependent, include details that show how well you work with others and how you can adapt to unexpected occurrences. A successful technical theater resume also shows your mechanical and technical expertise, like knowing how to use specific production equipment.
How to write a technical theater resume
Follow these nine simple steps to help you write a technical theater resume:
1. Provide your personal contact information
Begin your resume by including your personal contact information. This provides the hiring party with ways to communicate with you if they want to set up an interview. Include the following details:
Your full name

Your preferred name, if applicable

Your physical address

Your home or cell phone number

Your email address

A link to your professional profile
2. Include your professional affiliations
Affiliations are organizations that safeguard the working conditions, benefits and compensation of professionals in a field. If you are a member of any professional affiliations, include them here. This section is optional.
3. Write your professional summary or objective
A professional summary or objective is a brief paragraph that describes who you are as a person and as a professional. It provides resume reviewers with an introduction to your skills and how you're qualified for the role. Include one or two succinct details about your career to help your career goals stand out to the hiring party.
4. Add your special skills
Include any special skills that apply to working in technical theater. To diversify your resume, include hard skills, like sound mixing and painting, and soft skills like teamwork and multitasking.5. Input your theater history and duties
It's important to create a resume that is specific to the position. For technical theater, emphasize your roles that closely relate to this field and include relevant tasks you performed at each job. If you've had positions unrelated to technical theater, you can still include them to show how you can apply universal traits and skills from those jobs to a technical theater position.
6. Include your educational history
Provide your education and any degrees you've earned. Start with your most recent or highest education and include the following details:
Degree or diploma

School name and location

Graduation date or projected graduation date
If you have a degree, you don't need to include a high school diploma or equivalents.
7. Include your applicable certifications
Certifications for this role are typically voluntary accomplishments. However, including them on your resume shows you have expanded your knowledge and developed capabilities. If you have any certifications, include the following details:
Certification title

Certifying body

The date you earned it

Expiration date
If you do not have any certifications, you don't need to include this section or put not applicable (N/A).
8. Include any notable accomplishments
Notable accomplishments show how you applied your skills for a successful outcome. If you've had any significant accomplishments, include them. Though this section is optional, it's appealing to the hiring party if you include at least one or two accomplishments.
9. Input your references
If you have any references, include them here. References are usually optional, but the hiring party may require them. If you have references but don't include them in your resume, mention that you can provide them upon request.
Technical theater resume template
Use this template to help you write a technical theater resume:
[Full name]
[Preferred name, if applicable]
[Physical address]
[Home phone number]
[Cell phone number]
[Email address]
[Link to professional profile]
Professional Affiliations
[Affiliation name 1]

[Affiliation name 2]

[Affiliation name 3]
Professional Summary
[Two to five sentences about your experience, skills, and goals]
Special Skills
[Soft skill 1]

[Soft skill 2]

[Soft skill 3]

[Hard skill 1]

[Hard skill 2]

[Hard skill 3]
Theater and work history
[Job title]
[Company name]
[Company location]
[Start month and year]–[End month and year]
[Job duties 1]

[Job duties 2]

[Job duties 3]

[Job duties 4]

[Job duties 5]
Educational history
[Degree name] [School name] [School location] [Graduation date]
Certifications
[Certification name] [Institution name] [Completion date] [Expiration date, if applicable]
Notable accomplishments
[Accomplishment 1]

[Accomplishment 2]

[Accomplishment 3]
References
[Reference name] [Relationship to you] [Company name] [Job title] [Phone number] [Email address]
To upload the template into Google Docs, go to File > Open > and select the correct downloaded file. Technical theater resume example
The following is an example of a technical theater resume, using the above template as a guide:
Clarke Jackson
2543 Chapel Street, Graniteville, TX 77084
281-656-2858
281-704-0304
clarke.Jackson@email.com
clarkejackson@professionalprofile.com
Professional Affiliations
The Association for Stage Production Professionals
Professional Summary
Qualified theater lighting technician with two years of experience operating lighting systems for productions. Possesses a deep understanding of lighting procedures and techniques to create ambiance and atmosphere. Highly receptive and quickly takes cues from stage managers. Seeking the position of Senior Lighting Technician, where I can contribute my experience and knowledge to your stage productions.
Special Skills
Communication skills

Teamwork skills

Leadership skills

Lighting equipment knowledge

Stage lighting systems maintenance knowledge

Lighting effects knowledge
Theater and work history
Theater lighting technician
Swan Theatre
5487 Glower Lane, Graniteville, TX 77021
March 2019–March 2021
Operated and rigged proper lighting equipment

Communicated with lighting designers

Took cues and coordinated directions from stage managers

Controlled manual and computer lighting systems during plays

Maintained lighting equipment for functionality and safety
Educational history
Bachelor's degree in Lighting Design and Technology, John Iris Arts School, Graniteville TX, Jan 2019
Certifications
Notable accomplishments
Coordinated lighting efforts for 50 stage productions of "The Birds"
References
I hope you find this article helpful.