A physician is a medical professional who analyzes patients' symptoms, diagnoses conditions, and prescribes medication and other treatments. Physicians can find employment in a wide range of settings, including hospitals, private clinics, surgical centers, and the military. To become a physician or medical doctor, you will need to pursue a high-level formal education, undertake practical clinical training, hold state licensure to practice, and develop a set of vital skills that are necessary for this patient-facing career.
In this article, we explore what a physician does, how much you can expect to earn as a physician, the steps to becoming a physician and other frequently asked questions about this role.
Key takeaways: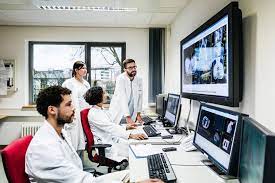 Becoming a physician requires an undergraduate degree, a medical degree, and state licensure.

The path toward being a physician also includes passing the Medical College Admission Test (MCAT) to qualify for medical school and either the United States Medical Licensing Examination or the Comprehensive Osteopathic Medical Licensing Examination (COMLE).

Aspiring physicians also complete residencies, which are three- to eight-year professional programs in which residents practice their medical specialty in a clinical environment under the supervision of experienced doctors.
What does a physician do?
A physician is a licensed healthcare professional who works to diagnose and treat medical illnesses, injuries, and conditions in their patients. Physicians must have the health of their patients at the core of their work ethic and aim to deliver excellent levels of care. The job of a physician has a range of duties, including the following:
Performing comprehensive physical examinations to evaluate patients

Recording patient histories in paper or electronic patient records

Ordering blood, urine, and tissue sample tests, imaging and radiography, and other diagnostic tests as required.

Interpreting test results to make diagnoses

Working with a team of healthcare providers to create an appropriate plan of treatment and therapy

Prescribing medications and medical assistance devices

Addressing patient concerns counseling patients about illnesses and conditions and guiding them toward further therapy if indicated

Performing procedures including minor surgeries, setting broken bones and stitching wounds

Attending conferences, meetings, and continuing education events

Taking part in research and clinical studies
The average salary for physicians
Salaries for physicians typically depend on their working hours, level of experience and certification, medical specialization, employment type, and geographical location.
Common salary in the U.S.: $200,867 per year

Salaries range from $47,000 to $460,000 per year
How to become a physician
To become a physician, you are required to complete years of medical education and training, specialize in a medical discipline, gain board certification and licensure, and continue training and education. Here are the steps you should follow:
Graduate from college with a relevant undergraduate degree

Pass the Medical College Admission Test exam

Apply to medical schools

Complete a medical degree

Take the licensing exam

Undertake a residency program

Obtain a license to practice medicine in your state

Earn additional certifications

Prepare a resume and cover letter
1. Graduate from college with a relevant undergraduate degree
The first step is to complete an undergraduate degree in a relevant field, such as a pre-medical track that provides coursework in biology, chemistry, and physics. Other majors not on a pre-med track are also accepted on medical school applications if you've completed the required science prerequisites, including anatomy and physiology, statistics, advanced mathematics, chemistry, and lab coursework.
2. Pass the Medical College Admission Test exam
You will need to register for and pass the Medical College Admission Test (MCAT) exam before you can apply to the medical schools of your choice. The exam is administered by the Association of American Medical Colleges (AAMC) and contains multiple-choice questions to test your skill sets. This allows your prospective medical schools to evaluate and predict how likely you are to complete your doctoral degree. The AAMC provides a range of study materials to help students prepare for the exam and achieve the best score they can.
3. Apply to medical schools
Admission into medical school is highly competitive, so you should aim to achieve a 3.5 minimum grade point average during undergraduate coursework. You should also gain relevant experience in medicine to add to your application. Opportunities in research work, volunteering positions, internships of shadowing may be beneficial. This experience can help you stand out from other applicants and show that you are a serious and dedicated student. Your letter of recommendation that you submit with medical school applications can outline these extracurricular activities and their impact on your skills, knowledge, and dedication.
4. Complete a medical degree
To become a physician, you must earn either a Medical Doctor degree (M.D.) or a Doctor of Osteopathic Medicine (D.O.) degree. Both types of physicians use a similar methodology for treatments such as drugs and surgery, but those with a D.O. designation focus particularly on holistic or whole-person patient care, the musculoskeletal system, and the importance of preventive medicine.
Both types of medical degrees are four-year programs of full-time study. The first two years center around biology, anatomy and physiology, chemistry, laboratory work, medical ethics and law, and the practice of medicine. The second two years are clinical rotations that are supervised clinical practice hours in a range of specialties where you will be responsible for patient care. As you progress through your clinical rotations, you can specialize in the area that interests you the most, such as pediatrics, neurology, obstetrics, or critical care.
5. Take the licensing exam
You must pass the first part of the United States Medical Licensing Examination (USMLE) in your second year before pursuing clinical rotations. This exam tests your knowledge to see that you are adequately prepared to start clinical rotations. You must then pass part two of the USMLE to demonstrate your proficiency as a physician before you can begin to practice medicine without supervision. This part of the exam is usually during the end of your medical degree program or shortly after.
6. Undertake a residency program
To become a physician, you will need to enter a residency program in the specialty of your interest once you have graduated from medical school. Residencies are assigned through the Electronic Residency Application Service (ERAS), which is administered by the American Association of Medical Colleges.
The majority of residencies take place in a hospital, although they can take place in any medical setting. The programs vary in length depending on the specialty but expect to spend from three to eight years in this area of your training. You receive additional training in advanced diagnostic techniques, treating difficult and rare conditions, and techniques and skills related to your particular specialty.
7. Obtain a license to practice medicine in your state
To legally practice medicine, you must complete medical school, a residency program, and have a medical license in the state in which you wish to find employment. You must pass the final part of the USMLE if you are a Medical Doctor or the Comprehensive Osteopathic Medical Licensing Examination (COMLEX-USA) for Doctors of Osteopathy. The rules and regulations vary by state, so contact the state medical board to determine requirements in your state. All require periodic license renewal and continuing education hours.
8. Earn additional certifications
Certifications are not a requirement for physicians, but they can help increase the job opportunities that are available to you. The American Board of Medical Specialties (ABMS) and the American Osteopathic Association (AOA) offer certifications to physicians who commit to an extended residency of up to seven years and who pass an examination. Certifications demonstrate that you are a physician who is committed to high levels of patient care and an expert in your medical specialty.
9. Prepare a resume and cover letter
Once you have completed the previous steps, you are in a position to write your resume and cover letter and begin to apply for employment as a physician. Aim to consider each job application separately, and carefully align your resume to suit the employer's requirements. This step can increase the likelihood of being selected for an interview. Include your clinical experience, exam results that you did particularly well in, any awards or grants you were granted, and measurable achievements. Your aim is to showcase the skills and abilities that make you an outstanding applicant.
Frequently asked questions about being a physician
If you are thinking about pursuing this career path, review these frequently asked questions to learn more about becoming a physician:
1. What are some alternative career choices?
The healthcare sector is large and varied, which means there are a lot of career choices besides physician assistant. Here are some alternative career choices to consider:
Pharmacist
National Average Salary: $52.48 per hour
Primary Duties: As an expert in medications and prescriptions, these professionals must understand how medications are used, what they can treat, their function, and their interactions with other drugs and foods. They also advise on minor health issues, suggest over-the-counter remedies or a referral to a physician.
Nurse practitioner
National Average Salary: $108,569 per year
Primary Duties: A nurse practitioner is a highly qualified and specialized nursing professional who is qualified to perform patient care duties that are similar in many aspects to a physician, including patient examinations, making diagnoses of illnesses, diseases, and injuries, and providing medications and treatments.
Medical director
National Average Salary: $217,641 per year
Primary Duties: Medical directors are in charge of a number of teams that work in hospitals and clinics, coordinating their work and ensuring that patient care is excellent while keeping costs within budget.
2. What soft skills does a physician need?
You will be working directly with patients and other medical staff, so you must have specific soft skills and qualities to perform well in the role, including:
Compassion and empathy: Your patients are ill or injured and could be extremely distressed and experiencing pain. You must have empathy toward them and understand how they could be feeling. You must instill confidence in them so that they feel comfortable with the treatment they will be receiving.

Active listening: You will need to listen carefully to everything that the patient and their family are telling you, as any and all details could be essential for you to form a correct diagnosis and begin a treatment plan. You will need to ask relevant questions and recall the answers. You may also practice active listening when collaborating with other medical professionals to provide thorough and safe healthcare to patients.

Analysis and problem-solving: You will need to use problem-solving skills to evaluate symptoms and administer the correct treatment, even if under extreme pressure during a critical care situation. You must keep the latest medical research and more proven therapies in mind so that you can apply them when appropriate.

Attention to detail: You are charged with monitoring patient treatments and vital signs and adjusting medication as appropriate. You must ensure that medications are prescribed in the correct quantities and that even the smallest change in symptoms and vital signs is noted and reacted to as appropriate.

Communication: You will need to talk to other members of the healthcare team and your patients. You must be an excellent communicator so that your needs are met and the patients receive the best care.
3. What professional organizations are there for physicians?
There are a number of medical associations that physicians can choose to join. Membership can help to enhance your career by keeping you up to date with medical news and providing opportunities for networking and further education. Depending on your specialty, you should be able to find an organization that focuses on this area of medicine. Some of these professional organizations include:
American Academy of Family Physicians

American College of Emergency Physicians

American College of Physicians

Council of Medical Specialty Societies

American Society of Internal Medicine
4. What is the work environment like for physicians?
Physicians can find employment in a wide range of healthcare capacities, including hospitals, clinics, specialist care units, public health or private clinics, military bases, community health clinics, or urgent care centers. There are even possibilities for remote work with online health providers or in education. The role is usually full-time and could require working a shift pattern to cover emergency care around the clock.
I hope you find this article helpful.