There may be times when you experience failure in the workplace, so it's important to learn skills to cope with and overcome these challenges. Although failure can feel like a negative experience, it can also be a positive opportunity for growth and development. Learning about failure and developing strategies for overcoming it can help you find positive ways of accepting and improving after difficulties occur.
In this article, we discuss why it's important to know how to cope with failure and offer nine strategies with additional tips on how to deal with failure in a healthy, positive, and growth-oriented way.
Why is it important to deal with failure?
It's important to deal with failure to prevent negative emotions such as anger, embarrassment, or anxiety from having a lasting effect on yourself and others. These emotions can affect relationships and decisions, making it a challenge to overcome failure and progress. When experiencing a failure, try to alter your perspective to not only avoid future missteps but also recognize that although failures happen, they don't define you. By taking time to acknowledge and accept failure, along with the varied emotions that may come with it, you can better process those feelings and overcome them.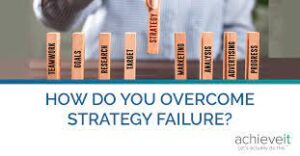 How to deal with failure
Follow these nine steps to acknowledge, accept, and deal with failure:
1. Acknowledge your feelings
It's common to avoid the feelings associated with failure since they can cause discomfort, but it's important to learn how to acknowledge them instead. Allow yourself to recognize your feelings and name them. If it's disappointment or anger you feel, try to understand where the feeling stems from and what you can learn from it.
Example: Cindy didn't get the promotion she had hoped for and she feels let down by her inability to stand out. Cindy analyzes her feelings and learns that her disappointment isn't in herself but in her expectation of getting the job. She sets goals to improve her productivity to stand apart from her colleagues, rather than assuming she already did.
2. Recognize irrational beliefs
After experiencing a failure, you may have more negative thoughts, but it's important to note that these feelings and beliefs may not be rational. One way to combat these thoughts is to reflect on your successes. Compile a list of successes, no matter how small, and consult it before the next task or when you feel fear taking over. For example, here's a list of accomplishments an individual may write to remind themselves of their successes:
Coached the Little League to the championship

Implemented the office's current filing system

Installed a ceiling fan

Helped kids with homework to pass tests

Headed the ad campaign that won the best ad award
3. Release the need for approval
Often, our need to gain the approval of others can make a small failure seem much larger. Maybe you feel you haven't met expectations, but it's important to remind yourself that your goals are yours alone. Focus your energy on your personal goals for the future rather than meeting someone else's expectations.
4. Accept responsibility
Failure may result from a mistake, misdirection or miscalculation. Acknowledge your role and take action to prevent further mistakes. Taking responsibility for your mistakes means accepting them and working to improve your skills and processes. By taking the time to reflect on failures and make changes to prevent them in the future, you show your accountability and willingness to grow from mistakes.
Example: Luis received a paper letter and a confirmation email stating the time and date of his licensing exam. Relying only on his memory, Luis didn't enter the appointment in his phone or on his wall calendar. As a result, Luis missed the appointment by 30 minutes and had to wait six months to test again. Luis acknowledged the mistake and started recording his appointments afterward.
5. Don't take it personally
While experiencing a business, career, or personal failure is a setback, it isn't a definition of who you are. It's easy to associate a single failure with a personal statement about you, which is why it's imperative to separate the two. Remind yourself that failure doesn't represent you as a person. You have other qualities, traits, and successes that extend beyond the mistakes you may have made. It may help to make a list of your core values and what your goals mean to you so you can motivate yourself to try again.
6. Channel negative emotion productively
Try to direct negative emotions toward becoming the motivation required to find a solution. Ask yourself what you could've done differently and then form an action plan to do it differently. While it's important to acknowledge how you feel after a failure, also reflect on how you can use those feelings to re-engage with your goals. Have a structured plan for reviewing your habits and processes so you can identify the source of the mistake or failure. After identifying the cause, brainstorm solutions to prevent future mistakes.
7. Adopt stress management skills
Practice coping skills such as deep breathing, going for a long walk, calling a friend or spending time with your pet to help reduce stress and anxiety. When you take time to care for yourself and reduce your stress levels, it can bring clarity and perspective. Make a habit of assessing your stress levels throughout the day. If you find yourself overwhelmed, use your stress management skills to take a break.
8. Boost self-esteem
Failure can impact self-esteem and might elicit doubts about your ability or value. Reduce the negative impact on self-esteem by remembering that you're likely to have other opportunities in the future. Shift your attention to a hobby or low-stakes activity that you enjoy. Participating in activities that you enjoy and feel confident doing can be a great way to improve your self-esteem.
9. Seek support
External support can help you process and overcome failures. A friend or colleague may validate your feelings or share a story of failure that lessens the impact of yours. Family and friends may offer advice or simply provide a space to hear your thoughts aloud. Talking about your experiences and feelings is important for understanding them, alleviating their effect on you, and brainstorming solutions with trusted individuals. Additionally, it can improve your relationships with others when you ask them for support and offer support in return.
Additional tips for dealing with failure
Here are a few other tips you can use to overcome failure:
Reflect on learning opportunities
Learning from failures is not only how we avoid making the same mistakes, but it's also how we discover how useful failure can be. Perhaps you learned that you need to improve your communication skills, or you realized you didn't want the job after all. Failures can help you understand your opportunities for improvement, which allows you to find new ways to grow.
Find inspiration in your mistakes
Mistakes can be sources of inspiration that help you make other improvements in your life. For example, if you make a mistake, you may use the opportunity to develop a new method of performing the task or working toward the initial goal. Using your mistake as an opportunity to innovate and problem-solve can be a valuable experience.
Adapt to changing circumstances
It's common to overlook details when you follow a particular routine. For example, if you perform repetitive tasks in your job, you may overlook a minor detail or forget to incorporate a recent update. When changes happen in your routine, it's important to take additional time to adapt. Additionally, you may choose to change your routine occasionally to improve your focus or try tasks in a new way that may encourage creative thinking and innovation.
Find a new perspective
When experiencing a failure, consider it an opportunity to gain a new perspective. By acknowledging your feelings, practicing self-care, and evaluating your steps, you may identify new ways of thinking about your habits. Failure can be a great opportunity to evaluate your habits and thinking patterns to find new ways of approaching challenges or goals. When you think about challenges or goals from a new perspective, you may find different solutions.
Take action
Take action by writing goals to overcome obstacles and set your focus on the next achievement. When setting goals, try using the SMART method. SMART goals are:
Specific

Measurable

Achievable

Relevant

Time-bound
Using this method of goal-setting can help you create a structure around what you want to accomplish. Based on your goals, you can develop effective plans that help you take action and work toward achieving your objectives.
Know when to progress forward
Reflecting on failures can help you know when it's time to progress forward from a task or goal. Acknowledging that the goal isn't currently achievable or doesn't align with your needs and expectations can be valuable. Releasing unrealistic or unnecessary goals through failure can help you focus your attention on other priorities that may better suit your long-term objectives. For example, if you're struggling to earn a promotion in your current workplace, you may look for other opportunities that better fit your skills, needs, and career goals.
I hope you find this article helpful.