An ICU nurse is a professional who provides treatment and care to patients in an intensive or critical care setting. After completing a nursing school program, recent graduates may apply for their first nursing role in an ICU. If you're completing nursing school or are a new grad beginning your ICU career, reading tips for new ICU nurses could help you prepare for your role. In this article, we provide nine tips you may use to succeed in your ICU career.
What is a new grad nurse in the ICU?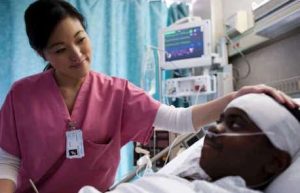 A new grad nurse is a term that refers to professionals who've recently completed a nursing school program. These recent graduates may begin their nursing careers by working in an ICU. In the ICU, healthcare professionals provide treatment and care for patients in critical conditions. An ICU nurse works to stabilize patients, administer medications and provide immediate medical care. New ICU nurses often receive specialized training at the beginning of their careers to help prepare them for their duties.
9 tips for a new grad nurse in the ICU
If you're a recent nursing graduate working in the ICU or pursuing your first ICU role, consider following these nine tips to help you succeed:
1. Develop your skills
One of the most important things you can do as a recent graduate to help you prepare for your ICU nursing career is to develop your skills. You likely developed your technical skills through your nursing program and resident training. You may also consider taking an additional course, reading books or pursuing certification to help you further your skills. As you begin your career, you may focus on developing these skills through on-the-job training and professional experience.
Consider developing both technical and soft skills, as these can help your ICU nursing career. For technical skills, you may consider observation skills and clinical knowledge that can help you monitor and assess patients. For soft skills, consider strengthening your communication, interpersonal and empathy skills to help you connect with patients, their family members and your healthcare team members.
2. Prepare for orientation
Your healthcare organization may offer orientations for new ICU nurses. Consider taking some time to prepare before the orientation program to help you stay organized. You may want to gather supplies, such as a folder, notebook, pen and computer. An ICU nursing orientation can contain a lot of information, and by gathering your supplies in advance, you can help keep this information neat. This can help you access important healthcare information later in your career.
Also, before orientation, consider writing specific questions you have. Your orientation leader may answer many or all of your questions. During the program, you can cross off the questions that the orientation leader covered. At the end, you can review the list to see if you have questions left. Consider asking these during orientation to help you feel prepared for your ICU nursing career.
3. Gather your nursing equipment
ICU nurses often use a variety of tools and equipment to complete their tasks. Your healthcare company may provide some of this equipment, while others you may need to purchase on your own. As a recent graduate, you may have some supplies from your nursing program. Consider gathering or buying the following items before your first day of work:
Scrubs

Stethoscope

Comfortable shoes

Pens

Penlight

Nursing bag

Reusable water bottle

Small notebook

Clipboard

Folder
4. Set weekly goals
Setting small weekly goals can help you succeed in your ICU nursing career. Consider taking time during orientation to write a set of goals for yourself. For example, you can set a goal to finish one chapter of a training book each night. You can also make interpersonal goals to meet new colleagues or learn your team members' names.
Try to make goals as specific as possible to help you accomplish them. You can include deadlines to help you measure and track your progress. For example, you may create a goal to finish reading the training manual by the end of the week. Also, consider setting time to review your goals frequently. This can help you revise your deadlines or steps and add new objectives as you complete your initial goals.
5. Learn team members' roles
As an ICU nurse, you may work with a team of healthcare professionals. Learning more about your team members and their unique roles could help you succeed in your career. For example, if you need to ask a specific question or have a particular health concern, learning about the specialist that focuses on that topic could help you find the correct answer. The team members you work with can vary depending on your role and healthcare organizations, but some common professionals you may work with include:
Physician assistants: A physician assistant (PA) may work under the supervision of an ICU doctor. They assist the doctor, monitor the patients and help provide critical or emergency medical care, and they may provide directions to an ICU nurse.

Doctors: In the ICU, you may work with doctors, also called intensivists, who provide critical care treatment. They may specialize in critical care or an additional healthcare area, such as cardiology.

Rapid response team: These are professionals who responded to critical codes or emergencies in the ICU. This team may include nurses, doctors and specialized therapists, such as physical therapists and respiratory therapists.
6. Create a paperwork process
Completing paperwork is an important responsibility for ICU nurses. This paperwork includes healthcare reports, patient records and other crucial documents that help keep patients safe. As an ICU nurse, your days will include meeting patients, responding to critical situations and collaborating with your team members, and it's important to schedule time to complete documents and reports. Consider creating a process to help you complete all paperwork on time. Depending on your role, you may want to schedule time each week or each day. For example, you may end your day by completing the necessary paperwork before you leave the office.
7. Review important terms, procedures and equipment
ICU nurses use a wide variety of healthcare terms, processes and equipment to help keep patients safe. As a new graduate, you may have a lot of terms and processes to remember. Consider taking time each week to review the most important concepts. You probably learned important vocabulary and processes during your nursing program and healthcare orientation, but reviewing these ideas frequently at the beginning of your career could help you succeed in your role.
Consider creating a review system that works for your learning style and personal preferences. For example, you might create flashcards or a quick reference sheet for different medical codes or equipment instructions. You may carry some guides or books with you in your nursing bag, but having a quick reference sheet can make it easier to check your knowledge and procedures quickly while working on the ICU floor.
8. Develop a time management plan
Time management is an essential skill for ICU nurses. During the day, you may have to meet with various patients, attend meetings, creating reports and administer medications to multiple patients. Your duties and schedule may vary each day as your patients rotate out of the ICU. Consider creating a time management plan or schedule that works for you.
For example, some new grad nurses create daily to-do lists at the start of their workday. Some nurses may block their schedule, which involves planning your tasks for each hour of the day. You may also use calendars or checklists to help you plan your day.
9. Create a stress management plan
As a new grad entering the ICU career path, you may have days filled with activities and new challenges. This can be an exciting and rewarding position, as you help treat patients in intensive care, and it's important to create a stress management plan for your new role. You may study or complete training while also working full time at the beginning of your career. Consider scheduling time for breaks and fun activities outside of work. For example, you may schedule time for exercising, reading or meeting with friends. This can help you relieve stress and improve your wellness.
I hope you find this article helpful.