By helping your customers understand your products or services, you can enhance their experience with your company. Helping them through the onboarding process can lead to higher consumer retention and brand loyalty. It can also ensure your customers are using your offerings correctly. In this article, we define onboarding customers, explain why it's important, and provide tips on how to do it effectively.
What is onboarding customers?
Onboarding customers is the process of helping new clients understand how to use your products or services. Providing how-to guides, online tutorials, easy-to-follow directions, live demonstrations, one-on-one support, and other onboarding features can help customers use your offerings in the right way. Customers may appreciate being able to easily connect with one of your support staff to get help with using their new product or service.
Why is onboarding customers important?
Onboarding customers is important for the following reasons: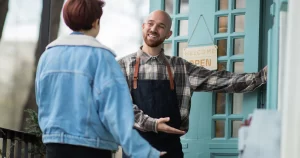 Builds brand loyalty: When customers feel like your brand cares about their success with your offerings, they may feel more inclined to shop with you again. You want to create an experience they look forward to each time they shop with you.

Leads to better interactions: By having ample onboarding resources available to customers, you can ensure they feel at ease when using your products or services. This can reduce the amount of challenging customers contacting your support line.

Saves time and money: Acquiring new customers can take up your company's valuable resources. By onboarding clients correctly, your sales team can spend more time nurturing current clients rather than searching for brand-new ones.

Improves company reputation: When customers have a pleasant onboarding process with your brand, they may leave you a favorable online review or refer your company to their friends. Eventually, people may know your brand as a helpful company to work with for their specific needs.
Tips for onboarding customers
Onboarding customers efficiently takes a lot of planning and effort. Use these tips to improve your brand's customer onboarding process:
Start the process right away
As soon as you make your sale, begin the customer onboarding process. Whether it's sending your customers the learning materials they need or setting up a one-on-one meeting, doing this right away shows your customers that your company values their success with your offerings. You can start by learning more about your customers and assessing what they are going to need throughout the process. Make sure your team initiates the process, rather than waiting for the customer to contact you with questions.
Learn your customers' needs
Knowing the wants and needs of your target audience can help you build a better onboarding process. By anticipating what questions or concerns they might have, you can create comprehensive instructions for them to follow. While there is a lot of research you can do to understand your customers' needs, things like surveys and feedback forms can help your team learn a lot. After each onboarding process, have your customers rate how they feel it went.
Simplify the process
Think about what the customer needs to know in order to be successful with your product or services. Center your onboarding process around these details, rather than ones that may prolong or complicate the process. If you find a specific customer has more advanced needs, consider providing them additional support or supplementary materials as needed. Overall, you want the onboarding process to be quick and easy for the majority of your clients.
Check-in with customers
Throughout the entire onboarding process, regularly check in with your clients. Ask them how they are feeling about the process so far and what they need to succeed. Even after the onboarding process is complete, consider reaching out to them to see if they are enjoying your offerings. See if they have any additional questions or concerns to show them that your team cares about customer success.
Introduce information in order
Rather than giving your customers all the information at once, gradually introduce them to each topic as they work through the process. This is a helpful way to ensure they are grasping each concept.
Be available at all times
Have team members stand by to answer customers' questions during business hours. If you can't hire 24/7 support, consider making a FAQ page or using a live chat bot to answer common questions. Give your clients multiple ways to contact your team, such as a phone number, email address or live chat feature. By giving people more options, they can find support that caters to their comfort level.
Measure the process
Along with getting qualitative feedback from your clients, you want to find ways to analyze the process through data. By tracking the success of your clients, you can see what's working and what you can tweak in the future. Consider measuring factors like the completion of your program and how quickly people can work through it.
Create a user-friendly interface
When customers need to access your quizzes or modules, this needs to be an intuitive process. That's why it's so important that your onboarding process has a user-friendly interface. Think about who your clients are and how well they might be able to use digital technology. Choose an interface that may align with their technological abilities.
Set different levels of goals
Setting goals for your clients helps them stay on track with your onboarding process. Each time they meet a goal or milestone, make sure you find a way to celebrate their achievement. When setting goals, let customers work through the process at their own pace. You may find that some customers can speed through the process while others need a little more support. By creating a personalized solution, your customers can meet their goals more efficiently.
I hope you find this article helpful.