Whether you're meeting an acquaintance or greeting someone you know, a professional handshake may help set the tone for your conversation. In this article, we discuss when to use a handshake and provide tips for how to deliver a quality professional handshake.
When to use a professional handshake
A professional handshake may establish rapport between people during an in-person interaction. Here are situations where you can use a professional handshake:
During an initial introduction between you and a stranger

At an in-person job interview when you meet the interviewer

When you see someone you haven't seen in a long time

When someone extends their hand

During business meetings, negotiations, industry events, or interviews
It's important to remember that a professional handshake is not an indicator of talent, and some people with disabilities may be unable to shake hands. Some people simply don't feel comfortable shaking hands after the COVID-19 pandemic and may prefer a fist or elbow bump instead as a more hygienic alternative to the handshake.
If you're unable to shake hands or would prefer not to, you may consider letting your workplace or the person you're talking to know.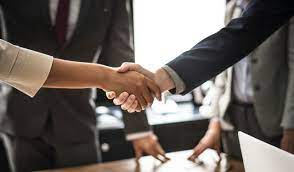 9 tips to develop your professional handshake
While a strong handshake could be helpful in a professional situation, don't overthink it. Shaking hands with someone is a very brief part of an in-person interaction, but there are other ways to convey confidence and friendliness in the workplace.
Here are nine tips to keep in mind when developing your professional handshake:
1. Keep your hands ready for a handshake
If you think there's a need to shake hands with someone, get your hands ready for the occasion. The first step is to keep your right hand clean and free of dirt, sweat, grease and other contaminants by washing and drying your hands or using hand sanitizer. If you don't have time to do either, try discreetly wiping your palms or consider offering a fist or elbow bump instead or giving a wave.
2. Know when to extend your hand
In many cases, the more senior person will start the handshake. If you're meeting a senior manager for the first time, let the person extend a hand before you do. When you go for an interview, wait for the interviewer to initiate the handshake.
If you initiate the handshake, place your hand perpendicular to the ground or hold your palm in an upward position. Placing your palm downward when offering your hand to someone could be considered a form of aggressive communication.
You can extend your hand from four to six feet from the other person, but make sure you wait until the other person is paying attention. While the general practice is to extend the right hand, you can use the left hand if you or another person are unable to use your right hand.
3. Offer sincerity
Consider making eye contact with the person and offering a sincere smile or other engaged response to show your feelings about the interaction. If eye contact is uncomfortable or not possible, look at another spot on their face, or substitute it with a friendly nod.
4. Greet the person
For more emphasis, you can greet the person and mention their name before and during the handshaking. For example, saying something like, "It's nice to meet you, Maria," during the handshake can build rapport and trust between you and the other person. You can also introduce yourself by saying something like, "Hi, it's nice to meet you. I'm Harold."
5. Aim for the web
When initiating a handshake, aim for the web of the other person's hand. This will lock the web of your thumb and forefinger between the other person's thumb and forefinger. The move provides a palm-to-palm contact that allows you to pump their hand firmly.
6. Keep the pressure moderate
Your handshake should be firm, but not overly so. Don't pinch or squeeze the other person's palms. The ideal handshake will be comfortable and match the grip pressure of the other person.
7. Make it brief
A handshake lasts about two to four seconds. If you started the handshake, try to disengage after three seconds to prevent making the other person uncomfortable. Follow the other person's lead if they initiate the handshake. After breaking your grip, don't wipe your hands, as people may consider this insulting.
8. Repeat before leaving
If you're having a full conversation with the person, such as in an interview or a business meeting, exchange a handshake with the person before departing. Repeat the steps above to make the moment memorable.
9. Practice your handshake
Ask friends or family to help you practice if you're nervous about your handshake. You can rehearse your posture, grip strength, timing, and conversation starters at home before big events.
Nonverbal communication is one of many tools that can help you make a good impression in interviews and in your professional life. However, candidate assessments should be based on skills and qualifications, and workplaces should strive to be inclusive and understanding of individual differences in communication styles.
I hope you find this article helpful.