Music venues are facilities where audiences can view concerts and musical performances. There are a variety of careers to consider if you want to work in music venues and help performing artists plan, schedule, and host their shows. Understanding the different types of roles available in this professional setting can help you determine which position is the right choice for you.
In this article, we describe the types of jobs typically available at a music venue and provide a list of music-venue jobs, along with details about each position's salary and duties.
What are the types of jobs at a music venue?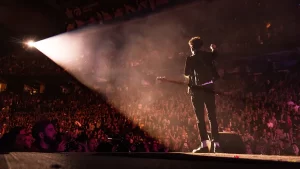 There are a variety of roles that you may secure if you're interested in finding a position at a music venue. Depending on your interests and skills, you may pursue a management role, production role, security position, planning job or service-related position, like a sales representative or customer service associate. When working in a music venue, you may advance into a leadership position after gaining sufficient experience in production and stage management. For example, you may advance into a stage manager position after working as a sound engineer, since you may have in-depth knowledge of a show's production procedures.
9 jobs at a music venue
If you want to find a career at a music venue, there are a variety of positions you can choose from:
1. Security guard
National average salary: $37,507 per year
Primary duties: Security guards are responsible for ensuring the safety of audience members, music venue staff and performers during an event. They may issue passes for audience members so that they can enter the venue, and they also monitor each guest who enters and exits the building. They also review video screens that transmit live images of audience members. Security guards often perform inspections before a performance to check for any potential dangers. They may escort individuals off the premises who don't follow the proper safety protocols or venue rules.
2. Ticket sales representative
National average salary: $42,223 per year
Primary duties: Ticket sales representatives are responsible for selling tickets and entry passes for events at music venues. They may sell tickets in person, or they can perform online selling where they may provide patrons with tickets through email or text message. They also provide information about a music event to patrons, and they may answer questions about the event's time and performance details. Ticket sales representatives also collect payments and maintain a balance sheet that has information about ticket costs and sales. When guests purchase a ticket, they typically create a reservation for themselves by reserving their seats.
3. Photographer
National average salary: $42,676 per year
Primary duties: Photographers are responsible for taking pictures during live performances. A music venue's marketing team may use these pictures to promote future events. They use a variety of camera equipment to take numerous photos. For example, they may use wide-angle lenses to fit the entire live music venue within a photo. While they often take pictures of the performers, they may also take pictures of audience members during an event. Photographers can also record a performance using video equipment.
4. Stage manager
National average salary: $46,170 per year
Primary duties: Stage managers are responsible for overseeing the preparation and production of a show at a music venue or concert hall. They manage the stage crew to ensure they set up equipment, perform rehearsals and supervise the audience. They ensure their crew meets the performers' requests, like if they request specific food or beverages. Stage managers also manage the technical elements of the show, such as reviewing equipment and checking the sound quality. They may work with security team members to ensure that audience members and performers are safe during a performance.
5. Sound engineer
National average salary: $50,847 per year
Primary duties: Sound engineers are responsible for enhancing the sounds within a music venue so that audiences may have a better experience. They handle a variety of music equipment, including soundboards, microphones and transmitting devices to increase the volume and quality of sound. Throughout a performance, they may change specific elements of a performer's sound equipment to enhance their overall sound quality. Sound engineers often collaborate with audio engineers to test equipment and add special effects for shows. Sound engineers also research new audio trends and equipment that may enhance the sound quality and production elements during live performances.
6. Event Coordinator
National average salary: $57,031 per year
Primary duties: Event coordinators are responsible for planning musical performances and booking different kinds of performers for live entertainment venues. For a music venue, they may book bands, singers or musicians. They're often the liaison between a performer and the venue, so they may document a performer's requests or technical needs. Event coordinators often brainstorm different musical performers that may be a good fit for their venue, and they work with a venue's marketing team to promote performers and concerts.
7. Marketing Specialist
National average salary: $57,195 per year
Primary duties: Marketing specialists are responsible for creating promotional material for music performances and events. They often handle a music venue's social media account to announce upcoming events. Marketing specialists often create event logos, descriptions, or images that appeal to audiences, which may increase their engagement with the venue. They may also create flyers, brochures, or informational packets to share details about performers. Marketing specialists may create promotional material for specific audiences. For example, they might share information about a performer who's popular among younger audiences on social media.
8. Lighting technician
National average salary: $60,565 per year
Primary duties: Lighting technicians, also called lighting designers, are responsible for setting up and controlling the lighting and visuals within a music venue to enhance the performance. They often handle a switchboard that operates the various light fixtures within a venue. They may brighten the lights or dim them depending on a performance's theme. Lighting technicians also hang lights, set up electrical equipment and test the lights before a performance. They also perform inspections before a performance to ensure that all wires and lighting cables are secure and covered to ensure the safety of performers and audience members.
9. Audio engineer
National average salary: $82,701 per year
Primary duties: Audio engineers are responsible for setting up the sound equipment that music personnel can use while performing in a venue. They often set up equipment that includes microphones, soundboards, speakers, musical instruments, and transmitters. Before a performance, audio engineers test the equipment to ensure that it maintains a high sound quality. They may also perform important repairs on sound equipment to ensure it's functional and easy for performers to use. Audio engineers also use recording devices to record performances, which they may provide to performers or audience members.
I hope you find this article helpful.