When conducting research, researchers often examine the feasibility, cost, and accuracy of their methodologies. Choosing the most appropriate type of sampling helps researchers ensure the quality of information they're gathering. This leads to more reliable results, which can result in ‌more focused applications.
In this article, we discuss what sampling is, nine types of probability and nonprobability sampling, and what to avoid when creating a sample.
What is sampling?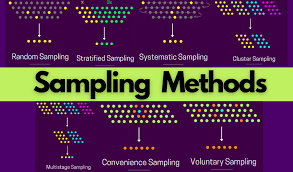 Sampling is the selection of subjects in a statistical study to represent a larger population. Because testing every member of a given population isn't always feasible, researchers select samples to make testing more efficient and cost-effective.
How researchers develop samples can have a significant impact on the quality of the study's results. The following elements determine a sample's efficacy:
Accuracy: Accuracy refers to how accurate sample responses are. Researchers should try to eliminate bias and influence from both researchers and participants.

Precision: Samples should provide answers to the specific research question researchers are asking. Answers should be relevant to the study.

Representativeness: A research sample should seek to provide the most representative group of subjects for the population as a whole. For instance, if researchers want to estimate how a city's residents feel about the government instituting a curfew, the sample should match the city's demographic percentages as closely as possible.
What are the types of sampling?
All types of sampling fall into one of these two fundamental categories:
Probability sampling: In probability sampling, researchers can calculate the probability of any single person in the population being selected for the study. These studies provide greater mathematical precision and analysis.

Nonprobability sampling: In nonprobability sampling, researchers cannot calculate the probability of being in the study for individuals within the population. These samples tend to be less accurate and less representative of the larger population.
5 types of probability sampling 
Here are the five types of probability sampling that researchers use:
1. Simple random sampling
Simple random sampling, or SRS, occurs when each sample participant has the same probability of being chosen for the study. Consider a lottery method. You can place all possible respondents in a pool and randomly, or blindly, select participants. Every person in the pool has the same likelihood that you will choose them. Researchers may also use computer programs that generate random numbers from a set.
Random sampling provides less opportunity for bias and influence by researchers in participant selection. However, true random sampling can be challenging because it requires a list of every potential participant.
2. Stratified sampling
Stratified sampling is a variation of random sampling that involves dividing the population into distinct groups, or strata. This method aims to make samples more representative of the population. One study may incorporate several groups. To create a representative sample, researchers take a simple random sample from each stratum.
For example, if a population consists of 650 females and 350 males, researchers may divide the population into males and females. Then, you can choose 65 female respondents and 35 male respondents via random sampling to get a representative sample of 100 participants. Professionals may divide strata into categories, including:
Age

Gender

Income

Profession
3. Systematic random sampling
Systematic sampling occurs when researchers reference a list and choose a certain subgroup as study participants. For example, you can compile a list of 250 individuals in a population and use every fifth person as a study participant.
Systematic sampling aims to eliminate bias and can be easier to achieve than random sampling. However, systematic sampling differs from simple random sampling because the systematic method doesn't offer the same probability of being chosen for every member of a population.
4. Cluster sampling
Cluster sampling involves dividing a certain population into groups, or clusters. Often, clusters correlate to different geographic areas. Researchers choose clusters to use in their study randomly, and every member of each cluster takes part in the study.
For example, you could examine the dining habits of residents in a certain state. You can divide these. residents into clusters based on the county they live in and then use a random sampling method to select eight counties for the study. Cluster sampling differs from strata sampling because some clusters are unrepresented in the final sample, whereas researchers use members from every stratum in stratified sampling.
5. Multistage sampling
Multistage sampling occurs when you use different sampling methods at different stages of the same study. This method is helpful for large population sizes. For instance, consider determining how much support a new government initiative has across the country. It's not practical to list every person in the country, so you may start by creating clusters in stage one for each state or geographic region, like southwest, southeast, northeast, and northwest. In the next stage, you may further divide these clusters into strata and choose random samples from each stratum.
4 types of nonprobability sampling
Here are four examples of nonprobability sampling:
1. Convenience sampling
In this type of sampling, researchers use random people as testing subjects. For example, a researcher may sample a group of people walking by on a street. In this case, the researcher has no control over the sample group itself. This type of sampling is both cost and time-efficient as researchers can gather people to sample relatively quickly.
2. Quota sampling
Quota sampling involves researchers creating a sample based on predefined traits. For example, the researcher might gather a group of people who are all aged 65 or older. This allows researchers to easily gather data from a specific demographic.
3. Judgemental sampling
In judgemental sampling, the chosen research subjects are solely at the discretion of the researcher. In this case, the researcher is responsible for picking individuals who they feel would be a positive addition to the study. To create their sample, researchers may ask prospective individuals a few questions relating to the study and then decide based on their answers.
4. Snowball sampling
Researchers use snowball sampling when the study involves sampling groups of people who are more difficult to gather. To gather people to survey, researchers may ask the test subjects they do have to contact and nominate others to take part in the study. While this can be an effective way to gather participants, it makes the factors of the test group more difficult to control.
What to avoid when creating a sample
Sampling for research should aim to be unbiased and representative. The best way to create these types of samples is through probability sampling. Nonprobability sampling can lead to inaccuracies, bias and misrepresentation in the sample. Here are a few types of sampling that you may want to avoid:
Convenience sampling
Convenience sampling occurs when researchers choose respondents based on elements of convenience, such as being near respondents or being close friends with respondents. For instance, a survey conductor may poll people at a nearby park. Convenience sampling is easier and cheaper than random sampling, but you cannot generalize the results, which makes it less reliable.
Voluntary response sampling
Voluntary response sampling refers to soliciting responses from volunteers. Unlike other studies, participants select themselves rather than being selected by those carrying out the research. For instance, a teaching assistant may send an evaluation survey via email asking for feedback on their performance. Voluntary response sampling is typically unrepresentative and not random, as only respondents with strong opinions are likely to participate.
I hope you find this article helpful.