Hearing gossip about yourself or others at work can impact the way you feel about yourself and your organization. Effectively and professionally responding to work gossip is essential, no matter what the gossip may be about. In this article, we discuss work gossip along with nine ways that you can deal with it.
Why is it important to deal with work gossip?
Work gossip often starts without the explicit intent to hurt someone. For instance, a coworker may simply repeat a joke without knowing the context. However, if the gossip continues to spread, it can have a significantly negative impact on both the employee it's about and the company.
Work gossip can also negatively impact someone's reputation or mood and reduce the productivity of the company. When coworkers form an opinion of one another based on gossip, it can harm their ability to work together. Ending gossip as soon as possible can ensure the organization functions cordially and productively.
Here are a few examples of gossip: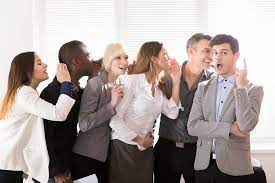 Chitchat that rejoices in the misfortune of others

Conversations that have a negative emotional charge or seem to perpetuate conflict

Talk that hurts or damages the one being spoken of—would you say it in front of this person?

Rumors about another employee's work situation or home life
9 ways to deal with work gossip
Here are nine methods you can use to stop work gossip from spreading about you or others.
1. Ignore it
Sometimes the best way to handle gossip at work is to simply ignore it since reacting to the gossip can sometimes help it to spread further. If you ignore the gossip, people may eventually grow bored with the topic and stop discussing it on their own. Try ignoring any gossip you hear for a short time before taking any other action. If the gossip continues to grow, or if it keeps coming back up, you may need to take more direct action.
2. Study it
Before you take any action, make sure that what you are hearing is actually gossip. Gossip is different from workplace discussions and not all discussions require action on your part.
The key difference between a discussion and gossip is whether the focus is on attacking someone's character. If the individuals are speaking straightforwardly about events related to work, this is likely not gossip. However, if they are talking about things they heard or about the character of an employee, it is probably gossip.
If you decide that it is gossip about you, take a moment to see if there is anything you can learn from it. You may discover that there is some truth to it and that your behavior is responsible. You can still speak assertively to those gossiping or consider altering your actions that led to the gossip.
3. Review company policy
Many companies have a policy regarding gossip. If gossip at work is bothering you and you want it to stop, you should first check to see if there is a company policy on how to handle it. For instance, the handbook might require the HR manager to step in or that you file an official report.
4. Watch your own conversations
Joining in gossip only encourages more gossip in the workplace. If you hear gossip, either ignore it or encourage the conversation in another direction. Another option is to disavow the gossip and say something like "We shouldn't be talking about someone like that."
5. Keep your private life at home
A good way to prevent gossip about yourself is by keeping your private life private. You spend a lot of time with your co-workers, making it tempting to share information with them about non-work topics. However, the more you share about your personal life, the more likely it is that gossip may start. Even if you think you are confiding in a close work friend, you are better off leaving your personal life at home.
At the same time, keep conversations with your coworkers professional. Ask them about work-related matters or workplace-suitable topics, such as how their vacation was or what they are doing for a holiday. By keeping your conversations professional, it will encourage others to do the same.
6. Document everything
Unhealthy working environments are often characterized by a lack of trust and challenges with communication. In some cases of workplace gossip, especially if the gossip is directly affecting you, it may be best to begin documenting incidents.
Clear and comprehensive documentation is especially important for any concerns you want to escalate to senior leadership. Putting your concerns in writing, copying all relevant stakeholders,, and sharing any necessary documentation or evidence of those concerns is essential. This helps keep the conflict resolution process objective and can help prevent any attempts at retaliation. It also ensures that all parties are aware of the concerns as told from your perspective.
7. Address it directly
Sometimes, gossip simply won't go away and you may need to address it directly. To do this, you'll need to find the source of the gossip and ask to speak with them. When addressing the gossip, it's best to keep your focus on the issue and not the person. For example, instead of accusing the person who is spreading gossip, keep the attention on the issue of gossiping itself.
If the gossip is all around the office, another option is to send out a mass email that addresses the gossip and presents facts to counter the narrative. For example, if there is gossip that you are leaving your company for a competitor, you can send out a message denying these claims. You could then go on to describe why you appreciate your current position and why you intend to stay.
8. Keep a positive attitude
No matter how you decide to deal with the gossip, remain upbeat to prevent any further negativity. For example, if someone asks you about the gossip, you could respond by saying something like "You heard that about me? That's so funny!" By maintaining a positive attitude, you're showing that the individual should not take the gossip seriously, which can decrease the chances of it continuing.
9. Talk to a supervisor
Finally, let someone with authority know about the situation and ask that they do something about it. Supervisors and HR professionals have a professional interest in stopping gossip, so they will likely step in quickly.
I hope you find this article helpful.