The Fully Funded AACR Research Training Fellowships in the USA offer an exclusive opportunity for academic clinicians to undergo specialized industry-academic clinical training focused on drug development. These fellowships in the USA are designed to facilitate practical training at the facilities of the American Association for Cancer Research, AACR's pharmaceutical industry partners. Each selected fellow receives a generous stipend of $100,000 for a one-year duration to support their training and research endeavors while also enabling them to fully dedicate their time and efforts to the training program. This stipend covers living expenses and other costs associated with their training, allowing them to focus entirely on acquiring new skills and knowledge.
The primary objective of the CORE research fellowships is to foster collaboration between academia and the pharmaceutical industry. By bringing together the best of both worlds, the program accelerates the translation of cutting-edge research discoveries into potential therapies and treatments for cancer patients. This mutually beneficial relationship between academic institutions and industry partners enhances the overall progress in the fight against cancer.
Fully Funded AACR Research Training Fellowships In USA 2024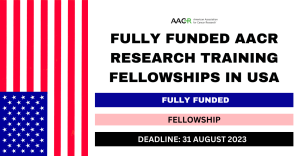 DEADLINE
31 August 2023
STUDY IN
United States Of America
PROVIDER
American Association For Cancer Research
STUDY LEVEL
Fellowship, Research Program, Training
SUBJECTS
Subjects offered by the university
FUNDING TYPE
Fully Funded Scholarships
Scholarship Eligibility
The eligibility criteria for the Fully Funded AACR Research Training Fellowships in USA are stated below:
1. Candidates must possess a medical degree (such as MD, DO, or MD/Ph.D.) in a relevant field and not currently be pursuing another doctoral degree.
2. Be enrolled in an accredited hematology/oncology fellowship program at an academic, medical, or research institution within the United States.
3. Not be employed by or affiliated with a US government entity or for-profit private industry. Moreover, clinical fellows applying from a US government laboratory (NIH, CDC, FDA) are not eligible for this grant.
4. If the candidate is not a US citizen, they must ensure that their visa status permits them to conduct the fellowship on-site with the industry partner while continuing their employment at the host institution.
5. All candidates must hold AACR membership. Nonmembers who wish to apply for this grant should complete a satisfactory AACR membership application by the specified deadline.
6. For the Johnson & Johnson grant, candidates must either be female or belong to one of the underrepresented groups as defined by the NIH guidelines.
Scholarship Benefits
The benefits of the Fully Funded AACR Research Training Fellowships in the USA are:
1. Fellows receive a substantial stipend of $100,000 for the one-year duration of the program. This financial support allows them to focus entirely on their training and research without worrying about financial constraints.
2. A chance to gain practical experience in drug development, clinical research, and clinical trial design.
3. The fellowship fosters collaboration between academia and the pharmaceutical industry, allowing fellows to work with leading experts and researchers from prominent pharmaceutical companies.
4. A unique opportunity to enhance the progress in the fight against cancer and the development of potential therapies for cancer patients.
5. Fellows become part of a dynamic community of researchers and professionals, offering them valuable networking opportunities.
6. The fellowship provides opportunities for fellows to publish and present their completed work.
7. The AACR research training fellowship offers a transformative experience for early-career clinical scientists.
Others
Documents Required:
1. Curriculum vitae
2. Letter(s) of Reference
3. Academic Mentor's Biographical Sketch
4. Completed Application Form with all necessary signatures
I hope you find this article helpful.