The Federal University Of Agriculture, Abeokuta (FUNAAB) Cut-Off Mark 2023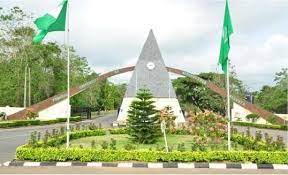 The Federal University of Agriculture, Abeokuta (FUNAAB) stands tall, championing the cause of agricultural education and research in Nigeria. Established amidst the historic backdrop of the Federal Government's restructuring in 1988, FUNAAB has since emerged as one of the premier institutions dedicated to the field of agriculture. The university was birthed from the demerger of four erstwhile universities of technology. Alongside its counterpart in Makurdi, FUNAAB has been instrumental in shaping Nigeria's agricultural landscape.
The Federal University of Agriculture, Abeokuta Cut Off Mark has been announced. Here is FUNAAB JAMB & Departmental Cut off Mark for the 2023/2024 academic session. Check the cut-off marks by departments of the Federal University of Agriculture, Abeokuta (FUNAAB).
| | |
| --- | --- |
| 🏫 Institution | Federal University of Agriculture, Abeokuta (FUNAAB), Ogun State |
| 📅 Established | 1 January 1988 by the Federal Government |
| 📣 Announcement | The released cut-off mark for the 2023/2024 admission exercise |
| 🎯 Cut-off Marks | A minimum score of 160 in the 2023/2024 UTME |
| 📜 Eligibility | Chose FUNAAB as Most Preferred Institution, sat for 2023/2024 UTME |
| 🌾 Programs (Agriculture) | Includes Agricultural Administration, Animal Nutrition, Aquaculture, etc. |
| 🔬 Programs (Science) | Includes Biochemistry, Computer Science, Nutrition and Dietetics, etc. |
| 🛠️ Programs (Engineering) | Includes Civil Engineering, Mechatronic Engineering, Electrical Engineering, etc. |
Delving into FUNAAB's Rich Legacy
The Federal University of Agriculture, Abeokuta's inception can be traced back to 1 January 1988. This establishment was a consequence of the Federal Government's decision to demerge the combined universities of technology established in 1984. This strategic move catalyzed the creation of two pathbreaking universities of agriculture located in Abeokuta and Makurdi. FUNAAB, situated in Abeokuta, has since been at the forefront, making groundbreaking contributions to agriculture and allied sectors.
The Federal University of Agriculture, Abeokuta, Ogun State, or FUNAAB, was established on 1 January 1988 by the Federal Government when four universities of technology, earlier merged in 1984, were demerged. This led to the creation of the first two universities of agriculture in Abeokuta and Makurdi.
READ ALSO: MOUAU ADMISSION CUT-OFF MARK
Setting the Benchmark: FUNAAB's 2023/2024 Admission Cut-Off
As the 2023/2024 academic session looms, aspirants across Nigeria eagerly await the cut-off criteria, the golden number that could potentially shape their academic and professional trajectories. The leadership of FUNAAB, in its commitment to upholding academic excellence, has announced the benchmark for this year's admission exercise.
To contend for a coveted seat within FUNAAB's hallowed halls, candidates must have:
Earmarked FUNAAB as their Most Preferred Institution during the Joint Admissions and Matriculation Board (JAMB) application.
Participated in the 2023/2024 Unified Tertiary Matriculation Examination (UTME).
Attained or surpassed the requisite score of 

160

 marks.
FUNAAB's Diverse Academic Palette
With its expansive academic offerings, FUNAAB provides a nurturing environment for students keen on pursuing various agricultural, scientific, and engineering disciplines. The array of programs spans three primary domains:
1. Agriculture
Agricultural Administration
Agricultural Economics and Farm Management
Agricultural Extension and Rural Development
Animal Breeding and Genetics
Animal Nutrition
Animal Physiology,
Animal Production and Health
Aquaculture and Fisheries Management
Crop Protection
Entrepreneurial Studies
Environmental Management and Toxicology
Forestry and Wildlife Management
Geology
Horticulture
Pasture and Range Management
Plant Breeding and Seed Technology
Plant Physiology and Crop Production
Soil Science and Land Management
Water Resources Management and Agro-meteorology
2. Science
Biochemistry
Chemistry
Computer Science
Food Science and Technology
Home Science and Management
Hospitality and Tourism
Mathematics
Microbiology
Nutrition and Dietetics
Physics
Pure and Applied Botany
Pure and Applied Zoology
Statistics
Veterinary Medicine
3. Engineering
Agricultural Engineering
Civil Engineering
Electrical and Electronics Engineering
Mechanical Engineering
Mechatronic Engineering
FUNAAB – Crafting Agricultural Pioneers
The Federal University of Agriculture, Abeokuta continues its rich legacy, cultivating the next generation of agricultural experts, scientists, and engineers. For those aspiring to be a part of this prestigious institution, the journey begins now. Secure the cut-off, harness your potential, and become a part of Nigeria's agricultural revolution.
I hope you find this article helpful.