For those with an ambition to further their academic achievements, Akwa Ibom State University (AKSU) stands as a beacon of excellence. For the 2023/2024 academic session, the esteemed institution has unveiled a range of postgraduate programs, designed to cater to a variety of academic and professional aspirations.
AKSU Postgraduate Courses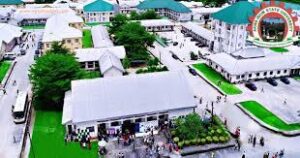 | | |
| --- | --- |
| 🏛 University | Akwa Ibom State University (AKSU) |
| 📆 Session | 2023/2024 Academic Year |
| 🎓 Level | Postgraduate |
| 📜 Courses | Check the attached PDF for the full list of courses |
| 📋 Requirements | Detailed in the provided PDF |
| 📣 Announcement | AKSU's management has advertised these programs |
| 🖥 Format | PDF |
Dive Deep into AKSU's Postgraduate Offerings
The management team at AKSU, known for their unwavering commitment to educational excellence, have meticulously crafted an array of postgraduate courses. Each is backed by a rich curriculum, and tailored to meet the evolving needs of today's scholars and professionals.
READ ALSO: GVU POST-UTME SCREENING FORM
Key Details on AKSU Postgraduate Programs
Unfortunately, due to constraints, the full list of postgraduate courses and their respective admission requirements cannot be displayed directly here. However, AKSU has provided a comprehensive PDF that encapsulates all the details that prospective students might need.
For an in-depth overview of all postgraduate courses on offer, along with their specific admission requirements, simply click on the link provided below:
Explore AKSU's Postgraduate Courses and Admission Requirements (PDF 207KB)
Why Consider a Postgraduate Degree at AKSU?
Akwa Ibom State University is renowned for its academic rigor, state-of-the-art facilities, and a faculty comprising some of the brightest minds in their respective fields. As a student here, you are not only gaining a degree but also joining a community that prioritises research, innovation, and the holistic development of its members.
In summary, Choosing to pursue a postgraduate degree is a significant step, and where you choose to study can influence your academic and professional trajectory. Akwa Ibom State University ensures that its students are equipped with the knowledge, skills, and experiences that resonate with employers and research institutions globally.
Should you be inclined to walk this academic path, AKSU is undoubtedly a prime choice. Dive into the PDF, explore the courses, and commence your postgraduate journey with confidence.
I hope you find this article helpful.