Apple skipped the iPhone 9 to Launch iPhone X, iPhone Xs and iPhone XS Max. Apple further went ahead to launch iPhone 11 in 2019. iPhone SE 2020 has now been launch. iPhone SE is the iPhone 9 we thought Apple was going to release.
The Price of a brand new iPhone SE in Nigeria now is from ₦190,000. Don't have money to buy a brand new iPhone SE here in Nigeria? Clean Nigerian and UK Used iPhone SE are cheaper on Jiji.ng.
Unlike we expected, the new 4.7 inch iPhone is called iPhone SE and not iPhone 9. With a price of around 150k in Nigeria, the new iPhone SE replaces the iPhone 8 and packs a fast A13 Bionic chip, a 4.7-inch Retina display, a Touch ID sensor and wireless charging.
iPhone SE also features iOS v13.0,  Touch ID, 4G Network, 3GB RAM, 256GB ROM, A13 Bionic Chip, Water Resistant, 7MP front Camera, 12MP Back Camera and ability to shoot 4k videos. Colours are space grey, silver and red.
iPhone SE Brings Back the Home Button
Many of us loved the home button on iPhone 7. The good news is that Apple is bringing back the home button to the iPhone SE. The bad news is that the iPhone SE will not come with face ID. Instead, the Touch ID will be used. You may not have any problem unlocking your iPhone with a fingerprint scanner.
When iPhone SE Will Reach Nigeria
iPhone SE was announced on April 15th 2020, it is expected to start selling here in Nigeria starting from April ending. You can buy the iPhone SE on Jumia, Konga or big Apple stores around. You may also want to buy from Amazon or Aliexpress. The rule is not to buy iPhones from sellers that are not trusted.
Recommended: Where to buy iPhones in Nigeria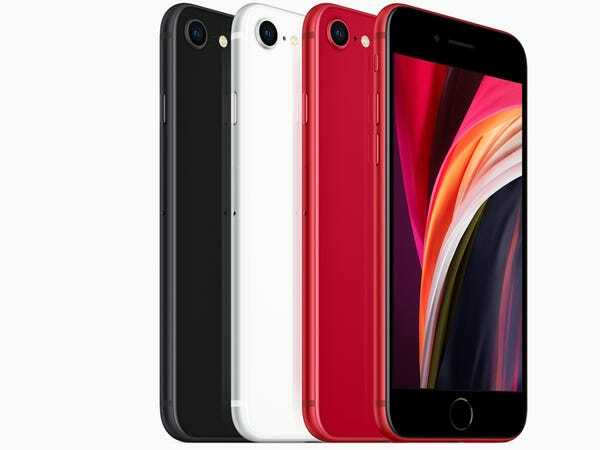 Apple iPhone SE Processor and Speed
The iPhone SE will use the same processor as the iPhone 11. This implies that the iPhone SE will be launched with Apple's A13 Bionic Chip. iPhone is powered by Hexa Core (2.65 GHz, Dual-core, Lightning + 1.8 GHz, Quad-core, Thunder) processor.
iPhone SE RAM And Storage Size
The iPhone SE comes with 3GB RAM and 64 GB ROM, 128GB 3GB RAM and 256GB 3GB RAM. It is same design with the iPhone 8, same performance as iPhone 11 and same Camera with iPhone XR.
Summary of Apple iPhone SE Features And Price
Apple iPhone SE was launched on April 15, 2020
iPhone SE will start selling in Nigeria starting from April
The iPhone SE has a single back Camera
iPhone SE comes with 7MP f/2.2 front Camera and 12MB Back Camera
Camera features of iPhone SE are Digital Zoom, Auto Flash, Face detection, etc
iPhone SE comes with 1821 mAh battery and 4G network.
---