Apply For DAAD University Winter Courses In Germany (2023)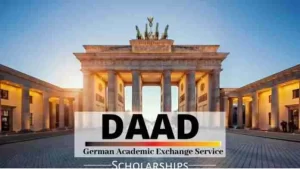 DAAD University Winter Courses-In-German Scholarship is designed for students, graduates, and doctoral candidates. It aims to help them improve their knowledge of the German language (general language) as well as German regional and cultural studies.
Opportunity Detail
Language RequirementDSH German

GenderMaleFemale

LevelNon-Degree /Short Program

Eligible Region/Countries

Global
Opportunity Description
The German Academic Exchange Service (DAAD) offers Winter Courses in Germany for International Students and Graduates. This scholarship program is intended for undergraduates, recent graduates, and postdoctoral applicants. It aims to assist pupils in enhancing their general language proficiency in German as well as their understanding of German regional and cultural studies.
About German Academic Exchange Service (DAAD):
The German Academic Exchange Service, founded in 1925, is the largest German support organization in the field of international academic cooperation.
READ ALSO: SINGAPORE INTERNATIONAL GRADUATE AWARD (SINGA)
Brief Details:
Organized by: The German Academic Exchange Service (DAAD)
Location: Germany
Deadline: 15 August 2023
Duration: Up to 6 weeks (start in January 2024 and end in February 2024)
Gender: Male and Female
Type: Course
Eligible Nations: Global
Benefits:
The scholarship award of 2,151 euros was made once.
Payment of a trip reimbursement for a certain nation.
Benefits from health, accident, and personal liability insurance.
Note: The aforementioned scholarship perks (including the travel reimbursement) cannot be transferred to another country.
The language course provider often immediately deducts the course fees and housing costs from the scholarship benefits so that the scholarship holder "only" receives the difference in the entire amount from the course provider.
Eligibility Criteria:
Applicants must have the following:
Students, recent graduates, and doctorate candidates in any academic area are all eligible to apply.
When the scholarship term begins, undergraduate students must have finished at least two academic years.
If they enroll in a postgraduate study program right after receiving their undergraduate degree, students who are in their last year of a study program are eligible to apply. As proof, kindly provide a letter of confirmation from your university.
Language skills:
Candidates must be able to participate in group projects and follow German lectures.
Candidates must demonstrate that they have a B1 or higher level of German.
When applying, German language proficiency must be demonstrated.
OnSET-Deutsch, TestDaF, Goethe Institut Zertifikat, DSD, DSH, telc Deutsch, SD-Zertifikat, or bachelor (for specialized language courses only) are required as proof of language proficiency.
When applying, the language certificate must be more than one year old (DSH is included in this restriction).
Selection Criteria:
The most important selection criteria are:
Prior academic successes.
Convincing letter of motivation for academic program selection and upcoming project.
Documents Requirement:
Online application form.
In tabular form, a complete curriculum vitae in German.
Motivational letter (in German).
Copy of school transcript with grades for undergraduate students (with a translation into German or English).
For PhD candidates and graduate students: a copy of the most recent university degree certificate, in either German or English.
Proof of credits for all university exams, including a breakdown of grading scales (in German or English), along with final grades translation
Language diplomas (if relevant, with translation into German or English)
Other records you believe may be relevant to your application (such as job certificates or confirmation of placements).
How to Apply?
To apply click the Apply Now button below.
Apply Now
For more details, kindly refer to DAAD's website.
I hope you find this article helpful.