Apply For Ritman University Founder's Scholarship 2023/2024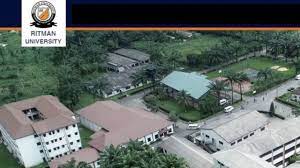 Ritman University is one of the best academic institutes in Nigeria which offers various academic programs ranging from certificates, diplomas, undergraduate degrees, masters, Ph.D., and more. Below are the educational opportunities linked to Ritman University allowing you to gain access to education for different levels.
In Nigeria Ritman University is ranked number 177 according to different University/College ranking organizations like; UniRank Ranking, Webometrics University Ranking, QS World University Rankings, Times Higher Education World University Rankings, Academic Ranking of World Universities, Aggregate Ranking of Top Universities, Center for World University Rankings, Leiden Ranking.
Other ranking institutes of which Ritman University is ranked are Performance Ranking of Scientific Papers for World Universities, Reuters World's Top 100 Innovative Universities, Round University Ranking, SCImago Institutions Rankings, U-Multirank, University Ranking by Academic Performance and U.S. News & World Report Best Global Universities Rankings, just to mention few of them.
According to data we collected from Webometrics Ranking, Ritman University is mentioned as number 177 in Nigeria for the general ranking of Universities and Colleges.
Globally, Ritman University is mentioned to rank number 18811 as categorized to general criteria.
Ritman University is ranked number 17955 on impact rankings, number 7420 on openness rankings, and number 7190 for excellency rankings.
Ritman University in Ikot Ekpene extends an enticing invitation to all aspiring students with the announcement of its Founder's Scholarship for the 2023/2024 session. This comprehensive guide illuminates the offerings of the scholarship scheme, the eligibility criteria, and the advantages that set Ritman University apart as a top choice for higher education.
| | |
| --- | --- |
| 🎓 Ritman University Scholarship | Offering a 40%-50% fee waiver for the 2023/2024 session. |
| 📚 Available Degree Programmes | Numerous programs in Sciences, Arts, Economics, Management, Sociology, Communication, etc. |
| ✔️ Eligibility | Minimum of 140 scores on UTME plus five SSCE credit passes. |
| 📝 Registration | Forms are available for free at Ritman University's information unit or the Bursary department. |
| 📞 Enquiries | Contact numbers and emails are provided for further information. |
| 🎖️ Accreditation | All programs are accredited by the National University Commission, and Accounting is ICAN accredited. |
| 🏢 Facilities | Boarding, electricity, sports facilities, modern labs, mass communication studios, eatery, clinic. |
| 🤝 Partnership | Ritman University is in collaboration with the Catholic Diocese of Ikot Ekpene. |
UNILAG POST UTME ADMISSION SCREENING FORM
The Founder's Scholarship: An Opportunity to Shine
The Ritman University Founder's Scholarship provides significant tuition relief for successful applicants. The scholarship scheme offers a generous fee waiver of 40% and 50% off the total university fees, providing an essential helping hand in easing the financial burden of university education.
Broad Range of Degree Programmes
This scholarship scheme opens doors to a wide array of degree programs, spanning both the arts and sciences. Whether your interest lies in the realm of physics or finance, mathematics, or mass communication, the Ritman University Founder's Scholarship has you covered.
The scholarship is available for the following degree programs:
B.Sc Mathematics
B.Sc Chemistry
B.Sc Industrial Chemistry
B.Sc Physics
B.Sc Computer Science
B.Sc Cyber security
B.Sc Software Engineering
B.Sc Biochemistry
B.Sc Biology
B.Sc Microbiology
B.A English & Literary Studies
B.A History & International Studies
B.Sc Economics
B.Sc Accounting
B.Sc Banking and Finance
B.Sc Industrial Relations & Personnel Management
B.Sc Sociology
B.Sc Political Science and Public Administration
B.Sc Management
B.Sc Mass Communication
Eligibility Criteria
To be eligible for this opportunity, candidates must have obtained a minimum score of 140 on the UTME and possess five credit passes in SSCE.
How to Apply
Application forms for the scholarship can be obtained at no cost from the Ritman University information unit or the Bursary department.
For any enquiries, you can call 08069182133 or 08159918907, or email bursar@ritmanuniversity.edu.ng.
Ritman University: The Hallmark of Quality Education
Ritman University, the 58th private university to be licensed in Nigeria in 2015 by the National University Commission, is renowned for its high educational standards. All of the university's programs are duly accredited by the commission, with the Accounting department also enjoying accreditation from the Institute of Chartered Accountants of Nigeria.
But what sets Ritman University apart? It boasts a modern campus equipped with boarding facilities, consistent electricity, state-of-the-art sports facilities, advanced laboratory facilities, and a cutting-edge mass communication studio. Also, with modern eateries and clinics available, the university offers a conducive environment for both learning and living.
Partnerships and Collaborations
Ritman University prides itself on its collaboration with the Catholic Diocese of Ikot Ekpene, further enriching its academic and ethical standing.
The Ritman University Founder's Scholarship is more than just financial support; it's an invitation to join an institution deeply committed to nurturing the leaders of tomorrow. If you are a diligent student aspiring to elevate your educational journey, this could be your stepping stone to success.
I hope you find this article helpful.