The annual DBN Entrepreneurship Training Program (DBNETP) is the flagship program of the Development Bank of Nigeria and is currently in its 5th Cycle. Capacity building is a core mandate of the Development Bank of Nigeria, and so far, the Bank has trained over 2000 MSMEs across Nigeria digitally and physically, leveraging partnerships and the DBN Learning Management System (LMS).
            About the DBN Entrepreneurship Training Program 2023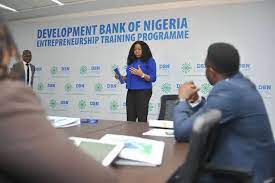 The annual DBNETP aspires to meet the following objectives:
Ensuring MSMEs have the necessary skills to create viable and robust business proposals
Enhancing the ability of MSMEs to access available credit
Strengthening the capacity of MSMEs for efficient fund utilization, trade, investments, and market access
Training Format
The program employs a blended learning format that includes both virtual and physical training.
Virtual Training
This consists of a self-paced comprehensive curriculum of basic business principles broken into 9 modules. The training will utilize the DBN learning management platform of the BizAid App.
Onsite Training
This consists of a 5-day intensive practical training based on a needs assessment of the shortlisted businesses. A total of 350 businesses will be selected for this phase, to be trained in Lagos, Abuja, and Port Harcourt.
Pitching Session
All participating businesses will have the opportunity to pitch their business value proposition, and 25 businesses will be chosen to receive grant funding of N500,000 each.
Eligibility Criteria
Business owners must be at least 18 years old.
The business owner must be a citizen or legal resident of Nigeria.
The business must be based in Nigeria.
The business must be for profit, and it can be from any sector.
Applicant must be available to commit to the training schedule once accepted.
Training Programme Process Flow
The program involves several steps, beginning with registration on the DBN BizAid application. Applicants must complete at least 4 mandatory courses on the BizAid Learning management platform, achieve an average score of 70% on all quizzes, and then apply for face-to-face training. A screening process will select eligible businesses based on specific criteria.
READ ALSO: ICONIC OPEN UNIVERSITY POST-UTME FORM
Selection Criteria
Bankability – The readiness level to access credit.
Feasibility and Sustainability of the business model.
Scalability – Demonstrated potential for business growth to create jobs.
Application Procedure
Interested candidates can register here.
For additional information, visit DBN.
The application process is ongoing.
In summary, the DBN Entrepreneurship Training Programme presents a unique opportunity for business owners to build the necessary skills for success. With a blend of virtual and physical training sessions, business owners can gain practical insights into managing their operations more efficiently and developing sustainable business models. Eligible entrepreneurs are encouraged to apply and leverage this unique opportunity.
I hope you find this article helpful.