Choosing the right Learning Management System (LMS) for your learning institution or organization is crucial. It's not just about using any LMS but finding the one that fits your needs perfectly. In this article, we will explore the key features to consider when selecting an LMS.
Before diving into the features, there are two important questions you should ask:
What are the specific needs and goals of my organization or institution?
Take some time to understand your organization's unique requirements. Consider factors such as the number of users who will be using the LMS, the types of courses or training programs you offer, whether you need customization options or scalability, and any specific features or integrations that are essential for your organization's success.
What level of support and training does the LMS provider offer?
Implementing an LMS may come with a learning curve, so it's essential to know what kind of support and training the LMS provider offers. Find out about the availability of technical support, training resources, and ongoing customer assistance. This will ensure that you have the necessary guidance and help to make the most of the LMS and overcome any challenges that may arise.
4 Things You Should Know About Learning Management System
Top Features of a Learning Management System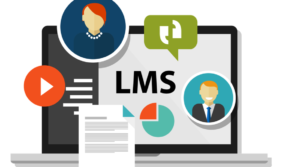 In a higher learning institution, selecting the right learning management system (LMS) is crucial for delivering effective online education. The LMS should possess the top features below:
1. Course Management
The major focus of an LMS is that it makes the creation and delivery of your course content very easy. It should provide robust course management capabilities, allowing instructors to easily create, organize, and manage their courses. This includes setting up course structures, creating modules and lessons, and arranging content in a logical manner. Instructors should have the flexibility to customize course layouts, manage enrollment, and set access permissions for students.
2. Content Delivery
The LMS should support a variety of content formats to ensure instructors can deliver engaging and diverse learning materials. This includes the ability to upload documents, presentations, videos, audio files, and interactive multimedia, and allow live training sessions.  A user-friendly interface for content organization and navigation is also important, enabling students to access and navigate course materials with ease.
3. Communication Tools
The best LMS allows for effective communication between instructors and students, as well as among students themselves. Effective communication is vital in an online learning environment, hence the learning management system should provide communication tools such as discussion forums, messaging systems, and announcements. These tools facilitate ongoing interaction, clarification of course content, and the fostering of a sense of community among students.
4. Personalization
The type of learning management system you employ for your institution speaks volumes about your competence and overall brand. Personalization is a powerful feature that can greatly enhance the learning experience within a learning management system. It involves tailoring the system's content, activities, and recommendations to meet the unique needs and preferences of individual learners. This is why you will have to choose one that is fast, allows for consistency with your desired theme, and suit your brand in all ways such as colour, animations, logos, etc.
5. Analytics and Reporting
Excellent analytics and reporting features are also very important for your institution. This allows instructors and administrators to gain insights into student engagement, performance trends, and course effectiveness. Analytics can help identify areas for improvement, personalize learning experiences, and inform decision-making to enhance overall educational outcomes. Therefore, ensure to choose an LMS that provides robust analytics and reporting capabilities.
6. Compliance and Security
Security and data privacy are paramount in educational environments. The learning management system should adhere to industry standards for data protection and compliance with regulations such as the General Data Protection Regulation (GDPR). It should provide user authentication, secure data storage, and role-based access control to safeguard sensitive information.
7. Assessment and Grading
With the right LMS, instructors should be able to create various types of assessments, including quizzes, tests, assignments, and projects. It should offer comprehensive assessment and grading features to streamline the evaluation process seamlessly. Where automatic grading is needed, it should allow and provide timely feedback to students, and generate grade reports. This helps instructors track individual student progress and identify areas for improvement.
8. Collaboration and Group Work
In a higher learning institution, collaboration and group work are integral components of the educational experience. The LMS should support features that enable students to collaborate effectively. This includes functionalities like shared document editing, virtual meeting spaces, group discussion boards, and project management tools. These features encourage teamwork, foster engagement, and simulate the collaborative aspects of traditional classroom settings.
9. Easy Integration
The LMS should have the ability to integrate with other systems and tools commonly used in higher education, such as student information systems (SIS), video conferencing platforms, plagiarism detection tools, and learning analytics systems. Integration enables seamless data exchange, simplifies administrative processes, and provides a unified experience for students and instructors.
10. Mobile Accessibility
With the increasing use of mobile devices, an LMS that offers a mobile-responsive interface or a dedicated mobile application can greatly enhance accessibility. Students and instructors should be able to access course materials, participate in discussions, submit assignments, and track progress conveniently from their smartphones or tablets, regardless of their location.
Final Words
Learning management systems offer a comprehensive set of features that empower learning institutions to deliver effective and engaging education. By harnessing the capabilities of an LMS, institutions can optimize the learning experience for students and instructors alike. From personalization and collaboration to assessment and analytics, LMS provides a robust foundation for effective online learning.