Arla Foods is calling for fresh talent to join its cooperative in the 2024 Internship Program. This is a sterling opportunity to be part of a community that's been at the forefront of dairy innovation since the 1880s. With a history rooted in the union of Danish and Swedish farmers, Arla Foods has upheld a philosophy centred around natural, healthy, and superior-quality dairy products for the Nigerian market.
Arla Foods Internship Program 2024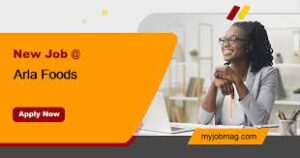 Arla Foods' Internship Opportunities
Embark on a journey of professional growth across a multitude of departments. Arla Foods is looking for vibrant individuals ready to explore roles in:
Finance

Human Resources

Warehouse Management

Supply Chain Operations

Quality Assurance

Maintenance and Production
RECOMMENDED: OXFORD-ORJIAKO GRADUATE SCHOLARSHIP 2024
Are You the Ideal Candidate?
Criteria for Eligibility
A robust academic background with a 

Bachelor's Degree

 or 

Higher National Diploma

 in a relevant field.
Exclusively open to 

fresh graduates

 to foster new talent.
Completion of NYSC is mandatory, or if you are a Corps member in search of a PPA, this is your chance.
0-2 years of experience ensures that the program is tailored to those at the beginning of their career journey.
Proficiency in 

Microsoft Office Packages

 — including MS Word, Excel, and PowerPoint.
An ideal Arla Foods intern is smart, creative, ambitious, and above all, eager to learn.
Application Process
If you meet the above requirements and are driven to excel in a cooperative environment, send your CV to: recruitment@tgarla.com.
Use the

"2024 Internship Program"

 as the subject of your email to ensure your application is considered for the right opportunity.
Important Dates
Application Closing Date:

 30th November 2023.
Don't miss the chance to develop your skills and gain invaluable experience at Arla Foods, where the potential of their interns is recognised and nurtured. Be part of a legacy that's over a century in the making. Join the Arla Foods Internship Program 2024 and take the first step towards a flourishing career in the dairy industry.
I hope you find this article helpful.