The Aminu Saleh College of Education, Azare (ASCOEA), a renowned educational institution, has initiated the sale of Post UTME screening forms. This marks the commencement of the admission process into its assorted National Certificate in Education (NCE) programmes, slated for the 2023/2024 academic session.
ASCOEA Post -UTME NCE Form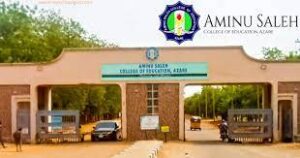 | | |
| --- | --- |
| 🏫 College | Aminu Saleh College of Education, Azare |
| 🗓️ Session | 2023/2024 |
| 📚 Programmes | 27 NCE Programmes in various fields |
| 📄 Application | Available at Academic Unit, Azare Main Campus |
| 🎯 Eligibility | Minimum of 100 JAMB-UTME Points and 3 Relevant Credits |
| 📍 Location | Azare |
| 🖋️ Admission Type | NCE Programmes |
| 🤓 Fields | Languages, Arts, Science, Vocational, Education, Humanity |
Offered NCE Programmes:
ASCOEA is offering a diverse range of programmes, segmented into six broad categories, to accommodate varied academic interests and aspirations. The institution provides 27 carefully curated programmes falling under the following sectors:
Languages
Arts
Science
Vocational
Education
Humanity
Each category is structured with the intent of providing an enriched learning experience and equipping the students with profound knowledge and skills in their chosen fields of study.
YOU MAY ALSO LIKE: RSUST POST-UTME SCREENING
Application Process for ASCOEA Post UTME Form:
Prospective students harbouring the ambition to enrol in ASCOEA's distinguished NCE programmes are requested to collect the screening forms for admission from the Academic Unit, situated in the Azare Main Campus.
Admission Requirements:
Candidates aspiring to join the NCE Programme should fulfil the following prerequisites:
Secure a minimum of 100 JAMB-UTME Points.
Attain a minimum of 3 Relevant Credits, encompassing English and/or Mathematics.
Additionally, Pre NCE candidates must possess at least two passes.
Instructions for Applicants:
Applicants are implored to adhere to the aforementioned criteria and ensure the completion of all necessary formalities. It is pivotal for every aspiring student to meticulously fill out the screening forms and submit them, ensuring accuracy and completeness in the details provided. This step is crucial for the seamless progression of the admission procedure.
In summary, Aminu Saleh College of Education, Azare, extends a warm invitation to all the prospective students to partake in the enriching academic journey it offers. The institution is steadfast in its commitment to imparting quality education and fostering an environment conducive to learning and intellectual growth. With its array of programmes, ASCOEA is an ideal choice for students aiming to carve a niche in their respective fields and contribute significantly to society.
I hope you find this article helpful.