Aminu Saleh College of Education, Azare (ASCOEA), a distinguished institution of learning, is pleased to announce the initiation of the sale of Admission Forms for its Pre-NCE programme for the upcoming 2023/2024 academic session. This announcement is aimed at informing prospective candidates about the opportunity to enrolL in this foundational programme designed to provide a pathway to further educational pursuits.
ASCOEA Pre-NCE Admission Form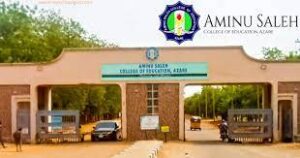 | | |
| --- | --- |
| 🏫 College | Aminu Saleh College of Education, Azare |
| 🗓️ Session | 2023/2024 |
| 📚 Programme | Pre-NCE |
| 📄 Application | Collect at Academic Unit, Azare Main Campus |
| 🎯 Eligibility | Minimum of Two Passes in one sitting |
| 📍 Location | Azare |
| 🖋️ Admission | Pre-NCE Admission |
| 🚀 Opportunity | Advance your academic journey |
Opportunity for Aspiring Educators:
The Pre-NCE programme at ASCOEA is meticulously crafted to cater to individuals aspiring to delve into the realms of education. It serves as a gateway for students to acquire the foundational knowledge and skills necessary to excel in National Certificate in Education (NCE) programmes subsequently.
RECOMMENDED: GVU POST-UTME SCREENING FORM
Application Procedure:
Candidates with a keen interest in joining the Pre-NCE programme at ASCOEA are invited to collect the Screening Forms for Admission directly from the Academic Unit, located within the Azare Main Campus of the college.
Entry Requirements:
To be considered for admission into the Pre-NCE programme, all applicants are mandated to fulfil the following eligibility criterion:
Obtain a minimum of any two passes in not more than one sitting.
Detailed Instructions for Applicants:
Prospective students are urged to procure the screening forms with utmost diligence and ensure that all provided information is accurate and comprehensive. The adherence to instructions and the completion of all necessary formalities are imperative for the successful processing of the application.
In summary, the Pre-NCE programme at Aminu Saleh College of Education, Azare, stands as a beacon for those aiming to immerse themselves in the education sector. The institution's commitment to excellence in education is reflected in its well-structured programmes, offering a conducive learning environment for students to nurture their academic and professional capabilities. Prospective candidates are encouraged to seize this opportunity to embark on a rewarding educational journey at one of the esteemed educational institutions.
I hope you find this article helpful.