As companies expand their operations and cater to new customers, they need someone to transport their products. One group of truck drivers, owner-operators, own their own trucking business and enter deals to deliver products for these companies. Owner-operators often work independently, which gives them more freedom and flexibility than traditional truck drivers. In this article, we explain what an owner-operator is, what they do and how to become one.
What is an owner-operator?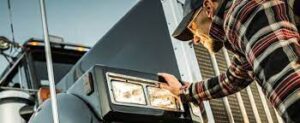 Owner-operators own their business and also may contract with a company or own their own truck and any equipment they use to transport goods. Because they own the business, owner-operators keep the revenue generated by the business, and they also pay the costs of ownership, such as insurance, taxes and equipment costs. They can also choose which jobs they want to accept, decide their own schedule and personalize their truck or other equipment.
What does an owner-operator do?
Owner-operators transport goods for companies, either as a contracted employee or an independent operator, and they manage their own business. This can include searching job boards for companies who need a driver to transport products or accepting assignments from a company the owner-operator contracts with. They may transport this freight themselves or assign transportation duties to other drivers who work for them. Owner-operators also record and manage expenses, create work schedules and perform maintenance on their truck and equipment.
How to become an owner-operator
Owner-operators have a great deal of freedom to decide what they want to do, and they also have a lot of responsibility for their business and any employees they might hire. You can follow these steps if you want to become an owner-operator:
1. Evaluate your situation
Consider your current circumstances and what you will need to succeed as an owner-operator. Ask yourself how much you know about the trucking industry and how many people you know in the industry. Look at your finances to decide if you can afford everything you need to start your own business.
Like any other truck driver, owner-operators drive for long periods of time and often travel long distances. Consider whether you are physically fit to complete the work and if long hours away from your home suit your lifestyle. If you have less than three to five years of experience, consider working as a truck driver first to gain enough experience.
2. Research the industry
Consult owner-operators you know and others who know about running a business, such as tax professionals or small business owners. They can give you firsthand information about what you can expect as an owner-operator and offer advice from their own experiences. Consider whether you want to lease onto an existing trucking company or work completely under your own authority. Leasing can be helpful for new owner-operators because companies often supply loads to transport, but working independently can be lucrative and allow you more flexibility.
3. Get your commercial driver's license (CDL)
Check your local laws to be sure you meet all the requirements to earn a CDL. For most states, you can follow these steps:
Be at least 21 years old

Get your driver's license

Get your CDL permit

Take a CDL training program

Pass a road skills test
Depending on your experience in the trucking industry, you may already have a CDL. Regardless of whether you already have one, be sure you have the correct class of CDL for your intended cargo. For example, if you plan to transport hazardous material, you need a hazmat endorsement on your license.
4. Get the equipment you need
Consider what equipment or tools you might need for your company. For example, you will need a truck and trailer for most loads, but you may also need specialized equipment for long or wide loads. You can purchase a truck and trailer or lease one from a trucking company. Your options may include:
Lease: If you choose to lease, you may need to perform work for the company you're leasing from as part of the lease arrangement.

Lease-to-own: Some companies may offer a lease-to-own option, which may mean leasing on a payment plan until either you pay it all off or pay a certain amount before owning it outright.

Purchase: If you want to purchase your truck, you can look for a bank with a low-interest loan if you need one. A high credit score, stable work history and permanent address can help you qualify for a loan with a bank.
5. Apply for truck licenses
Check your local laws and legislation, including anything that applies when you cross state lines. Typically, you need a U.S. Department of Transportation (USDOT) number and a motor carrier (MC) number. If your vehicle travels through multiple states, you may also need an interstate license for your truck. These licenses may take some time to process, usually four to six weeks, so be sure to apply for them before you have to have them.
6. Buy trucking insurance
Research the laws in your area to ensure you have the correct trucking insurance and consider speaking with an insurance broker to discuss your options. Typically, owner-operators need general and primary liability coverage to operate their trucks legally. These types of insurance will cover damage to another vehicle or driver in the event of an accident and any damage to a loading facility or cargo during transportation.
7. Reduce costs where you can
You can lower your costs without affecting important items in your budget by keeping your equipment functioning properly to avoid repairs and changing some of your habits. You can improve your fuel efficiency by driving close to the speed limit and keeping your speed as consistent as possible. You can also avoid idling by looking for routes with limited traffic or delays and drive safely by braking gradually and turning slowly. Look for routes that will be fast and short, and consider looking for jobs that begin near your destination.
8. Look for work on load boards
Load boards collect information from companies who need someone to transport their products and list the jobs where drivers can access them. Some load boards are free and others require payment to use them, and while many of them are accessible through a website, some are apps you can check on your phone. Consider which option would be more convenient for you while you decide which job board to follow. Jobs can pay by a percentage of the load that you transport or by mileage.
I hope you find this article helpful.