The Bennington College Funded Scholarship in the USA aims to support students worldwide who want to commence undergraduate degrees at Bennington College.
Bennington College is a renowned institution celebrated for its progressive and innovative approach to education. With an emphasis on self-directed learning, small class sizes, and a commitment to interdisciplinary studies, Bennington provides a unique academic environment where students can design individualized programs and work closely with faculty mentors.
Bennington College's appeal lies in its progressive and individualized approach to education, allowing students to design their academic programs and work closely with professors. With small class sizes, a strong emphasis on interdisciplinary learning, and renowned arts programs, Bennington provides a unique environment for self-directed, creative, and intellectually curious students to cultivate their passions and build a well-rounded education in a close-knit community.
Bennington College Funded Scholarship In USA 2024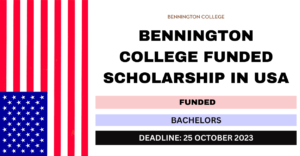 DEADLINE
25 October 2023
STUDY IN
United States Of America
PROVIDER
Bennington College
STUDY LEVEL
Bachelor, Undergraduate
SUBJECTS
Subjects offered by the university
FUNDING TYPE
Partial Scholarships, Fully Funded Scholarships
Scholarship Eligibility
The eligibility criteria for the Bennington College Funded Scholarship in the USA are stated below:
1. Eligible Countries: All nationalities
2. Eligible Course or Subjects: Students can apply for an undergraduate degree in any subject offered by the university.
3. Eligibility Criteria: To be eligible, the applicants must meet all the following/given criteria:
4. The applicants must have high school certificates with a good academic record.
Scholarship Benefits
The benefits of the Bennington College Funded Scholarship in the USA are:
1. The average need-based grant from Bennington for international students is $33,760 per year.
2. Bennington scholarships range from $7,500 to $40,000 annually for international students. The average merit scholarship is $31,130.
3. International students' average gift aid package is $64,543 a year.
Others
How to Apply?
Students apply to Bennington using either the Common Application or Bennington's own Dimensional Application; choose the process that works best for you.
1. Supporting Documents: Your official transcripts from all high school years must be submitted directly from your school. If your transcripts aren't in English, an official translation should be submitted along with the originals. The equivalent of a U.S. high school diploma is required.
2. Admission Requirements: The applicants must provide a certificate of one standardized test such as SAT or ACT.
3. Language Requirement: While Bennington does not have a minimum score for these exams, successful applicants typically have at least 100 on the TOEFL, 7 on the IELTS, 130 on the DET, or 70 on the PTE Academic. In addition to these exams, we will use any writing samples in the application or interviews to assess a student's English skills further.
I hope you find this article helpful.