Benson Idahosa University is renowned for its commitment to academic excellence and holistic development. In a recent development, the university's Senate has made notable announcements regarding the resumption of the 2023/2024 academic session, offering clarity to both returning and prospective students on the new dates and procedural details. Below is a meticulous breakdown of the scheduled dates and the preparations the university is undertaking to ensure a rewarding campus experience.
Benson Idahosa University Resumption Date 2023/2024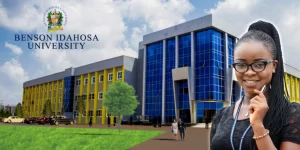 | | |
| --- | --- |
| 🗓 Resumption | Online Registration: 22nd October 2023; Physical Resumption: 29th October 2023 |
| 🏫 University | Benson Idahosa University |
| 📚 Session | 2023/2024 Academic Session |
| 🎓 Students | Old (Returning) and New Students |
| 🛠 Preparations | Adequate preparations for a better campus experience |
| 🙏 Wishes | Safe return for all students |
| 🙌 Gratitude | Thank You |
| 🌐 Mode | Online and Physical Resumption |
I. Overview of Resumption Dates for Academic Session 2023/2024
Benson Idahosa University, exhibiting its characteristic zeal for structured and well-organized learning experiences, has formally approved and announced the commencement dates for the upcoming academic session.
Online Resumption for Registration: The gateway for online registration shall be accessible starting from Sunday, 22nd October 2023. This online commencement is pivotal, enabling students to streamline the registration process effectively.
Physical Resumption for Students: The prestigious walls of Benson Idahosa University will welcome both old (returning students) and new scholars on Sunday, 29th October 2023. This marks the day when the learning environment pulsates with vibrancy, encapsulating the essence of academic pursuits.
II. Enhanced Campus Experience for Staff and Students
The university, in its pursuit of providing a conducive learning environment, is investing resources and efforts to make substantial preparations. These strategic preparations are aimed at refining the overall campus experience for both the educational staff and the student body. The objective is to foster an atmosphere where knowledge acquisition and interpersonal development occur in harmony, thereby enriching the lives of all members of the university community.
III. Well-Wishes for Students
In alignment with the university's core values of compassion and community spirit, heartfelt prayers and well-wishes are being extended to all students for their safe return. The university believes in the empowerment of its scholars through not just academic knowledge but also spiritual growth and moral values. The university, hence, upholds the divine protection and welfare of its students as they resume their academic journey.
IV. Gratitude and Acknowledgement
A note of gratitude is being expressed for the understanding and cooperation of all the involved individuals. The commitment and adherence to the outlined resumption dates and procedures are highly valued, reflecting the collective responsibility of the university community in fostering a seamless transition into the new academic session.
Conclusion: Embracing a Fruitful Academic Year Ahead
Benson Idahosa University stands as a beacon of learning and moral development, reflecting its unwavering dedication to nurturing future leaders. The newly announced resumption dates signify the commencement of another journey of intellectual and moral enrichment for the students. The ongoing preparations by the university are a testament to its devotion to creating an environment conducive to learning and personal growth.
The harmonious blend of academic excellence, moral values, and a supportive learning environment makes Benson Idahosa University a preferred choice for many aspiring scholars. As the university opens its doors for the 2023/2024 academic session, it remains a symbol of hope and a catalyst for positive change in society.
The university community, fuelled by gratitude and shared aspirations, looks forward to welcoming its scholars and embarking on a transformative journey in the pursuit of knowledge, wisdom, and communal growth.
I hope you find this article helpful.