Best Commercial Courses To Study In Nigeria (Top 5)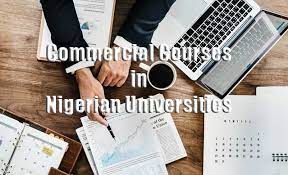 Commerce is a lucrative and expansive field of study. It offers numerous courses in subjects including business studies, accounting, management, marketing analysis, arithmetic, economics, and statistics, among others. You have a variety of possibilities if you're a student in the commerce stream. You can choose to switch from studying commerce to studying the humanities if you're a commercial student, relying on your interests. The undergraduate programs give you a foundational understanding of key ideas. You can widen your horizons by specializing in a particular sub-field through postgraduate coursework. However, given the variety of degrees offered, students frequently ask "What to study?" in the commerce stream. So, in order to provide additional clarity, here is a blog that will explain some of the best commercial courses you can study later.
Here are the top five commercial courses to enroll in Nigeria if you're a student and want to be sure you'll get a solid career after graduation.
Accounting
Accounting is one of the top business subjects to study in Nigeria due to its employment opportunities. A four-year program in accounting focuses on understanding how money moves through a corporation on a daily basis. It also covers how to monitor the balance sheets while averting problems in the future. You will graduate from this course with the useful and specific abilities that almost all businesses and occasionally even individuals need.
Accountants in Nigeria have a promising future. Since accountants' skill set is required by almost all businesses, there is a clear career path. You can be guaranteed to have a successful career because there is a continuing need for accountants in Nigeria. Strong earning potential and employment opportunities across the nation are offered by degrees in this field.
The marketability of accounting means that it will continue to be in demand in Nigeria from both enterprises and people. This and many other factors mentioned in this article have made taking this course valuable for a very long time. Given this, we determined that the best commercial course to study in Nigeria is accounting.
Economics
There are many things to gain from studying economics. One of it is that you will learn various multidisciplinary skills. The skills you will learn at the university include business planning, marketing, research, and management, as well as quantitative and statistical abilities. You will be able to work in a variety of industries thanks to the skills you will acquire while studying economics at the university.
You'll be able to spot financial hazards with an education in economics and decide where a business should put its money. Nearly every economic sector in Nigeria, including the banking and insurance industries, as well as private firms and the government, is in need of economists. Moreover, economists are paid above-average salaries in Nigeria, giving them the chance to achieve financial security throughout their professional careers.
Business Administration
Studying business administration will help you build and hone the management skills that employers in the corporate world demand. You might only need a degree in this area to have a prosperous career. With this degree, you can also launch a business or build your personal brand. The best thing is that graduates in this subject can find employment.
A thorough and interdisciplinary undergraduate degree in business administration teaches the fundamentals of organizing, managing, and expanding a company. After graduation, taking this course opens up a wide range of employment options for you to consider.
You could start your own business if you have a degree in business administration. You are equipped with the knowledge and abilities necessary to make wise business decisions, spot potential areas for improvement put marketing plans into practice, carry out in-depth research, and more after completing this course. You may also work as a project manager, in which case you would plan, strategize, and carry out business or government initiatives to meet objectives while observing restrictions.
Marketing
Marketing is yet another commercial course that belongs on the list of the top five commercial programs in Nigeria. Undergraduate programs in marketing last four years. It focuses on analyzing customer behavior and purchasing trends in order to comprehend how firms may effectively target their audiences. You can learn several valuable skills from a marketing degree, including management, marketing psychology, advertising, customer experience, branding, and campaign management, among others.
With a marketing degree, you can work in almost any industry and earn a good salary. You can work with any company as long as it wants to connect with a target market for products or services. The following are just a handful of the career options open to marketing graduates: copywriter, event manager, media planner, advertising planner, and market researcher.
Insurance
Students in the commercial field would benefit from studying insurance. The course ranks among the most difficult management programs in the country. Students in this discipline are receptive to various theories regarding the laws governing commerce, finance, economics, and related fields. The program insurance looks into ways to protect people, businesses, and nonprofits from losses that could have disastrous consequences.
A degree in insurance increases the likelihood of finding more well-paying employment options in Nigeria. Since the demand is widespread throughout Nigeria, you can put the training into effect wherever. You can work as an insurance sales agent after graduation, assisting firms to reduce financial risks. You may even take on the position of an underwriter, which would require you to gauge the degree of risk your clients are prepared to accept.
In summary, universities all around Nigeria offer a variety of commercial courses. Are you thinking about enrolling in a commercial course at the university? It would be advisable for you to apply for courses with excellent chances of professional success after graduation. The top five commercial courses to take in Nigeria are discussed in this post. We really hope that the information was useful.
I hope you find this article helpful.