Microsoft Excel can support many data analysis applications and tools for evaluation. Even with its numerous features, many professionals integrate additional tools for organizing and maintaining information. Understanding what common Excel substitutes are available online can enhance team collaboration and productivity.
In this article, we explain why it's beneficial to use Excel alternatives and list eight of the best Excel alternative tools.
Why is it beneficial to have an Excel alternative?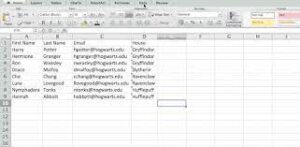 While Microsoft Excel can provide many beneficial tools and features for organizing and accessing data, it can also be beneficial to have other options that further support data accessibility. One reason many professionals consider alternatives is the ability to support collaboration across different devices in real-time. Some alternatives can also be more cost-efficient than subscriptions to specific software packages, including Excel. Consider several more reasons it's beneficial to integrate additional data analysis tools and resources:
Increased efficiency: Many alternative applications are compatible with a larger range of formats, making data transfer and cleaning more efficient when importing from external sources.

Intuitive spreadsheet tools: Some programs are especially useful for predictive and auto-analysis, which can make organizing and using data easier for others.

Real-time updates: When teams need to make changes or adjustments to data remotely so others can review information immediately, cloud-based and online applications can be valuable tools in addition to other resources like Excel.
8 of the best Excel alternatives
Here are eight spreadsheet tools other than Excel that offer alternative features to support data analysis and implementation:
1. Excel Online
One common alternative to Microsoft's desktop-based program is its online variation. Even though Excel Online features fewer tools than its full version, the application provides access to all basic commands and resources. Because it's a cloud-based program, you can update and share spreadsheets collaboratively. Additional features include free access, cloud storage and an editable browser extension.
2. Calligra Sheets
Calligra Sheets is an Excel alternative that lets you create detailed spreadsheets for business purposes. With this tool, you can access built-in functions, various formatting possibilities and style tools. It even offers scripting with specific programming languages.
3. Smartsheet
Smartsheets can be suitable for many businesses' project management needs. The application features a trial period and can provide remote access and ease of use between teams. Similar to Excel, this application also provides tools for creating elements like Gantt charts, KPI tracking logs and project management processes. The program also features collaborative editing, file-sharing tools and reporting and data visualization tools.
4. LibreOffice
This application is an open-source program that includes a range of tools, including spreadsheet tools. It's similar in design and function to Excel and can handle many types of business data. Because it's an online resource, it can also support collaborative editing and real-time updates. Users enjoy the ability to create and share work through email. Common tools available include charts, text-to-columns and pivot tables.
5. Airtable
Another alternative is Airtable, which provides a low-cost option for organizing and arranging information in databases you create within the application. It's also a cloud-based alternative, giving you online storage and backup accessibility features. Additional tools in this program include style and formatting tools to create engaging worksheets, project management tools for performance tracking and data retrieval functions to increase usability.
6. Apache OpenOffice
Apache is another option that comes with a range of online, open-source applications, including spreadsheets. Even with its online use, the program allows you to download your spreadsheets for offline editing. Cloud-based storage also supports data backups and quick access. Other accessibility features include collaborative support for multiple users, custom codes for increased personalization and outlined templates for quicker spreadsheet creation.
7. Quip
This application is a similar paid-for alternative that offers several tiers of team accessibility, from small teams to large enterprises. Quip also features remote accessibility across a variety of devices. Depending on your data needs, you can also integrate it with other business analysis tools. Additional features of the application include slide and document integration and reporting and visualization functions.
8. Hancom Office
Hancom Office is another online option that provides collaborative resources and remote access on mobile devices. Although the program has a paid subscription plan, teams can use a maximum amount of storage. Data analysis tools within the application are also compatible with a variety of integration tools, such as communication platforms. Several more elements that Hancom Office comes with include document conversion tools for uploading to websites and pre-established toolbars to optimize the user experience.
Tips for creating spreadsheets
Consider the following tips when creating spreadsheets in any application:
Use data cleaning tools
Ensure data is clean before executing functions in your spreadsheet program. Check for missing information, duplicate values and errors in syntax that can affect the analysis. It's also important to convert any incompatible files to formats your application can read and display when importing data from external sources.
Use positive values
Review your data values and look for negative values that can affect any formulas you apply. For instance, instead of entering decreases in account balances, a bookkeeper may use parentheses around a number value to indicate a negative. Keeping positive values in your spreadsheet can ensure calculations in your analysis are accurate.
Organize your worksheets
Establish an order for each worksheet you create that relates to one another. For instance, budgeting information in several spreadsheets can be grouped in a specific order to clarify information. Number multiple pages that you include within each worksheet so teams understand how to interpret important data.
Arrange timelines
If your data includes dates or schedules, consider arranging this information chronologically. Organizing timelines in order from the latest to the most recent can help other users understand information from different periods. This strategy can often be beneficial for sorting and maintaining time-sensitive data requiring continuous updates.
Include labels for all elements
Create headers for each column containing data to provide clarity on what the spreadsheet includes. Labeling the elements that represent different data groups is also important for ensuring accuracy when entering formulas. For example, many spreadsheet applications use formulas to calculate common statistical measurements, like averages and subtotals. Labeling your information is essential to make these functions work properly with cell ranges.
Maintain consistency across similar worksheets
When using style elements, be sure to maintain consistency within multiple pages of individual worksheets and reports. This improves readability and understanding and can eliminate distractions between worksheets. Additionally, consistency in font and syntax is also important for usability and collaborative editing.
I hope you find this article helpful.