If you like the idea of detective work but you're also fascinated by science, you may want to consider earning an online forensic science degree.
Some forensic scientists spend all their time in clinical labs while others also spend time scouring crime scenes alongside detectives.
This can be a rewarding career path, especially if you like studying advanced science and math, can see yourself in a lab coat, and have an unexplainable itch to dabble in criminology!
Online Forensic Science Degrees
Forensic science is a highly technical field that requires specialized scientific knowledge, math, and statistical reasoning for rigorous clinical laboratory investigation work.
Forensic scientists can apply these clinical laboratory skills across a range of related careers and roles, such as working in a medical laboratory setting. But, forensic scientists typically apply clinical laboratory skills rigorously and objectively for the purpose of helping with criminal investigations and related court proceedings.
While you'll likely take specialized science and math classes in a forensic science degree online program, you'll also learn about evidence processing and reporting practices. You may even study some criminology.
Forensic scientists are likely to concentrate on either biology, chemistry, or physics, applying their knowledge to specific kinds of evidence sampling and analysis.
Biology: Biology specialists can work on human trace evidence—including DNA analysis—or do drug and toxicology measurement and reporting.
Chemistry: Chemistry specialists can analyze physical or environmental forms of trace evidence, including explosives-related or ballistics-related analysis.
Physics: Physicists might be needed for some puzzle-solving work too—using their knowledge to interpret evidence in incidents involving moving vehicles, explosives, or gunfire.
When studying for your degree, you won't only study core scientific concepts. You'll also learn about methods, practices, and controls used for clinical lab work. Your courses can also cover protocols for reporting on findings and presenting them as evidence, in written briefs or in expert witness testimony.
Forensic Science Careers & Salaries
Some forensic science technicians specialize in crime scene investigation work. They may work alongside police detectives or federal investigators.
Other forensic science technicians work primarily in the lab as forensic chemists or forensic biologists. They perform technical analysis in labs with advanced laboratory devices and report on findings. Another common role can be working in medical diagnostic laboratories or working for agencies involved with food and drug safety.
According to the Bureau of Labor Statistics, knowledge in the field of forensic science can open doors to a range of technical occupations that vary by specialization.
| | |
| --- | --- |
| Careers | Annual Median Salaries |
| Detectives and Criminal Investigators | $86,940 |
| Chemists | $79,300 |
| Forensic Science Technicians, State Government | $62,570 |
| Fire Inspectors | $62,120 |
| Forensic Science Technicians, Testing Laboratories | $61,540 |
| Forensic Science Technicians, Local Government | $60,870 |
| Clinical Laboratory Technologists and Technicians | $54,180 |
| Private Detectives and Investigators | $53,320 |
| Chemical Technicians | $49,820 |
| Forensic Science Technicians, Medical and Diagnostic Laboratories | $38,870 |
Forensic science careers revolve around investigative work that requires lots of scientific sleuthing and analysis. They can also involve any number of processing controls and reporting methods since the analysis work will often have to hold up to scrutiny in a courtroom.
A bachelor's degree in forensic science may be a first step toward becoming a crime scene investigator or another type of forensic science technician. Bachelors can also help equip you for related careers or further education down the road.
Forensic Science Curriculum & Courses
As a forensics major, your coursework will vary by school and program, but you'll develop expertise in both pure science and a range of more practical investigative and judicial methods.
Clinical Laboratory Methods: This foundational course covers the laboratory best practices and controls for the storage, handling, processing, safety, and analysis of clinical samples and specimens.
Principles of Chemistry: This course is a survey of general chemistry with an emphasis on quantitative analysis using chemical concepts.
Criminal Evidence and Judicial Process: You'll learn how various forms of physical and forensic evidence are documented and introduced in the context of court proceedings, including relevant laws and practices.
Research Statistics: This foundational course covers concepts in data analysis and statistical computing, including probability theory and measures, measures of association, and hypothesis testing.
Forensic Serology: This course examines processes for identifying and characterizing a range of bodily fluids, with an emphasis on evidentiary applications.
DNA Analysis: You'll learn about DNA concepts and principles and how to apply them for evidentiary purposes, including DNA sampling, crime scene sampling, DNA testing, analysis, and reporting.
Criminology: This course is especially for those who plan to apply their technical expertise in police work and criminal casework, and it provides a broad introduction to a range of theoretical frameworks and concepts applied in the study of criminal behavior.
Forensic Microscopy: This course combines general and advanced topics in microscopy with the study of techniques and methods used in practical scenarios by forensic scientists.
Drug Chemistry and Toxicology: This course covers a range of topics related to drug chemistry and toxicology, including sampling methods, measurement methods and devices, reliability and variability factors and controls, and determining and reporting on influences and effects in human subjects.
Molecular Genetics: You'll learn about DNA chemistry and biological processes that inform, direct, and regulate genetic information.
Studying all these topics can help prepare you to pursue a career related to forensic investigation, with work that is both exciting and technically rigorous.
How to Become a Forensic Scientist
Online forensic science degrees, much like online crime scene investigator degrees, can help provide you with a solid foundation for pursuing a career in this field.
That said, you may need to think about what areas of knowledge and expertise you want to focus on in this complex technical field. In addition to choosing a concentration, you may have better odds of getting the kinds of jobs you most want by attaining professional certification.
Some forensic scientists choose to pursue a graduate degree too. If you're wanting a graduate degree, you may consider spending some time working in the field first as a way to get more clarity about what kinds of jobs you want to advance to.
The following are common steps on the road to becoming a forensic scientist:
Undergraduate degree. You can complete your initial undergraduate degree program in a scientific concentration you're most interested in, such as chemistry or biology, or you can major in forensic science.
Training program. It's strategic to enroll in a training or apprenticeship program that's based on the areas of specialization and practice that most interest you.
Certification. It can be beneficial to attain professional certification related to your area of forensic practice from a licensing board. Certification can be required for many jobs, and you can also pursue certification to enhance your status in the field.
Once you're certified, you can continue advancing your career either on the job or by pursuing higher education at the master- or doctoral level. You may choose to enroll in a master's or doctorate program based on your specialized career goals in the field. A growing number of universities offer masters in forensic science online programs for students busy with work or other responsibilities.
Forensic scientists work in roles that typically require specialized knowledge as well as rigorous, methodical standards and controls. These steps can help ensure that you have the opportunity to gain the appropriate education and training for the job.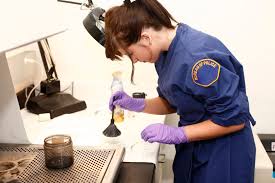 Admissions Requirements
Admissions requirements for an online forensic science degree program can vary from school to school. You'll probably be expected, for most programs, to have a good high school GPA along with transcripts demonstrating qualifying science and math coursework.
The following are some common requirements:
High school diploma or equivalent
Satisfactory GPA (generally 3.0 or higher)
Prerequisite science and math courses
SAT or ACT scores (if required)
For more information about a prospective school's specific requirements, you can check the school's website or ask to speak to an admissions officer.
Accreditation
In a field like forensic science, many aspects of the work involve exacting professional standards and practices, and objectivity, accuracy, and accountability are critical.
Sticking with regionally accredited programs can help ensure you're getting the learning and training you need to meet those professional standards in the work world. Accreditation can be important for other reasons too, such as being a qualifier for some forms of financial aid or for your board certification down the road.
When graduating from a regionally accredited school, you can rest assured that your degree will also be honored by other schools and prospective employers. You can find more information about accreditation through the Council for Higher Education Accreditation (CHEA).
Financial Aid and Scholarships
Are you excited to find an online program that works for you but doubtful you'll have enough money to start? If so, there are various forms of financial aid you can apply for and potentially qualify for.
Depending on your individual circumstances, you might qualify not only for student loans but even for state or federal education grants. You can try and apply for work-study programs too.
It's always strategic to look over loan offers and other financial aid proposals carefully since terms can vary. Financial aid resources, though, can help you with tuition costs so you don't have to put off learning for another day.
If you anticipate applying for need-based aid, filling out the Free Application for Federal Student Aid (FAFSA) can be a good place to start.
What Is Forensic Science?
Forensic science is the application of empirical scientific and mathematical knowledge and practice for the purpose of investigative analysis and reporting. In most cases, forensic science is used to provide technical evidence in court proceedings. The technical evidence often comes from crime scenes.
Knowledge and principles from statistical research, biology, genetics, chemistry, and sometimes physics are used to analyze relevant forms of evidence. Some examples of evidence are trace DNA, fingerprints, ballistic markings, or fluid samples, such as blood, sweat, and urine.
Forensic science work can involve more than clinical laboratory work. It also typically involves reporting methods and probability findings that inform investigative hypotheses, evidentiary reporting, or expert testimony in court proceedings.
What Does a Forensic Scientist Do?
Forensic scientists perform complex and technical clinical laboratory analyses used for investigative work, typically in law enforcement and court proceedings. Most forensic scientists work in clinical laboratories. Since the work can be technically complex, most forensic scientists will work in a specialized area of expertise.
In terms of investigative work, these specializations can include examining and interpreting DNA evidence, providing evidence for drug and toxicology reports, and analyzing fingerprint evidence as well as physical or trace evidence related to firearms and ballistics.
Forensic scientists can also specialize in performing chemical and biological analysis of any number of trace elements collected as samples by police or law enforcement specialists.
Some forensic scientists also work alongside police detectives or federal investigators, collecting and documenting evidence from crime scenes. In addition to doing lab work, forensic scientists may specialize in creating evidentiary reports or presenting expert testimony in court cases.
What Degree Is Best for Forensic Science?
Degrees in chemistry, biology, or even physics can provide aspiring forensic scientists with a solid foundation for performing rigorous clinical lab work.
Degrees in forensic science can also be a beneficial pathway forward. A forensic science program combines knowledge from one of these areas of scientific specialization with coursework directly related to the field.
The field of forensic science is scientifically complex and requires exceptional objectivity and knowledge of complex topics. So, many in the field go on to pursue a master's degree or even a doctorate in order to qualify for more senior roles.
What Can I Do with a Forensic Science Degree?
A BS in Forensic Science can help you qualify for a number of job opportunities doing clinical laboratory work. Many in this field, though, apply their skills in a law enforcement or crime-related work setting.
Some forensic scientists work for a forensic evidence laboratory or consulting firm. Others also work alongside law enforcement investigators, such as police detectives or FBI agents.
Professionals in the field can use their training to qualify as expert witnesses, and they may work for themselves as freelancers, with legal firms, or for the Department of Justice.
Government regulatory agencies, medical laboratories, and research institutes or universities are other places a forensic scientist may work, depending on the degrees they have earned along with other factors.
Many forensic scientists spend most of their time in labs, performing clinical laboratory analysis with specializations in different types of evidence. These evidence specialties can include physical evidence, DNA samples, serology, toxicology, or ballistics and explosives.
What Jobs Can You Get with a Forensic Science Degree?
Your degrees, work experience, professional certifications, employer, and even geographical location can impact your job opportunities.
Forensic science graduates tend to pursue careers as forensic science technicians. Forensic science technicians may work as crime scene investigators or forensic biologists or chemists.
Other related careers can include biological or chemical technician and clinical laboratory technologist and technician.
How Much Does a Forensic Scientist Make?
The median annual salary for forensic science technicians is $60,590, according to the Bureau of Labor Statistics. Most forensic scientists can earn between $36,630 and $100,910. Meanwhile, chemists earn a median salary of $79,300.
How much a forensic scientist can make depends on their position, employer, experience, and geographic location. With the right certifications and advanced degrees, such as a masters or Ph.D. in Forensic Science or a closely related specialty, you may qualify for senior roles and higher pay.
How Much Money Does a Crime Scene Investigator Make?
Forensic investigator often conducts work at crime scenes, but they can also work many hours in clinical laboratories.
According to the Bureau of Labor Statistics, crime scene investigators fall under the broader category of forensic science technicians, who earn a median salary of $60,590 per year. A crime scene investigator's salary can fluctuate depending on their employer and their amount of experience.
For example, forensic science technicians who work for testing laboratories earn an average salary of $61,540, and those who work for the local government earn an average of $60,870.
Is a Forensic Science Degree Worth It
Yes, a forensic science degree is worth it for many students. The Bureau of Labor Statistics projects that life, physical, and social science occupations will grow 5% over the next ten years. Forensic science technicians in particular are expected to experience 14% job growth, which is much faster than the average for all occupations.
A forensic science degree can equip you with the needed skills to perform scientific analysis and report findings that involve investigative discovery, hypothesis testing, and problem-solving. If you're not interested in crime scene investigation or analysis, you may also apply your skills in any number of technical inspection and compliance roles.
Universities Offering Online Bachelors in Forensic Science Degree Programs
Methodology: The following school list is in alphabetical order. To be included, a college or university must be regionally accredited and offer degree programs online or in a hybrid format.
Arizona State University offers an online program for a Bachelor of Science in Psychology with a concentration in Forensic Psychology. Applicants must have a GPA of 2.5 or higher. A total of 120 credit hours are required to graduate. Classes last for 7.5 weeks. The concentration in forensic psychology requires 2 extra lab courses and statistical training.
ASU is accredited by the Higher Learning Commission of the North Central Association of Colleges and Schools.
Colorado Technical University offers an online program for a Bachelor of Science in Criminal Justice with a concentration in Forensic Investigation.
Applicants only need to prove they have a high school diploma or an equivalent to apply. To graduate from the program, students must complete 182 credits. The CTU Fast Track exams are for those who wish to earn credits in subject areas they have already studied.
Colorado Technical University is accredited by the Higher Learning Commission.
Columbia College offers an online program for a Bachelor of Arts in Criminal Justice with a Forensic track option.
Students must complete 120 semester hours, with 38 hours dedicated to the program. To graduate, students must achieve a GPA of 2.5 in their selected major. Interested applicants can apply online with their high school transcript or GED certificate.
Columbia College is accredited by the Higher Learning Commission.
Excelsior College offers a Bachelor of Science in Criminal Justice. Students must complete 120 credit hours and have the option to transfer a maximum of 117 qualifying credits to the program.
A GPA of 2.0 is required to graduate. Applicants only need to apply with proof of a high school diploma or equivalent.
Excelsior College is accredited by the Middle States Commission on Higher Education.
Florida International University offers an online Bachelor of Science in Crime Science program. To graduate, students must complete 120 credits for the program.
An additional 5 prerequisite courses must be completed to be eligible for the degree. Applicants must supply SAT or ACT scores along with their high school transcripts when applying.
Florida International University is accredited by the Southern Association of Colleges and Schools Commission on Colleges.
Liberty University offers an online program for a Bachelor of Science in Criminal Justice with a concentration in Crime Scene Investigation. A total of 120 credit hours are needed to graduate. Courses last for 8 weeks. Applicants must have a GPA of 2.0 and must submit a high school self-certification form.
Liberty University is accredited by the Southern Association of Colleges and Schools Commission on Colleges.
Maryville University offers an online Bachelor's in Forensic Psychology program. Students must complete 135 credit hours, including a senior research project in social science for 18 credits and an internship for 3 credits. Applicants must have a minimum GPA of 2.5 and must submit official high school transcripts.
The Maryville University of Saint Louis is accredited by The Higher Learning Commission.
National University offers an online Bachelor of Science in Criminal Justice Administration program. Students take one 4 week course at a time, with 17 courses needed to graduate. To be eligible, applicants must have a GPA of 2.0 and complete the ACCUPLACER exam if they have not completed English and math college-level courses.
National University is accredited by the WASC Senior College and University Commission.
Seton Hill University offers a Bachelor of Arts in Criminal Justice. The program is designed for adults returning to school. Sessions last for 8 weeks.
A minimum of 120 credits are required to complete the degree, with 58 credits dedicated to the major. Students can apply online with a high school transcript or GED and official transcripts from colleges and universities attended.
Seton Hill University is accredited by the Middle States Commission on Higher Education.
The University of Maryland Global Campus offers an online Bachelors in Investigative Forensics program.
The program requires 120 credits to graduate, with 47 credits available for a minor or as electives. To be eligible, applicants must have a high school diploma or an equivalent degree. Verification for eligibility must be submitted by the end of the first term of study.
The University of Maryland Global Campus is accredited by the Middle States Commission on Higher Education.
Earning Your Forensic Science Degree Online
If you like objective scientific methods and also like testing hypotheses and solving puzzles, then pursuing a degree in forensic science might be a good match for you. A job in forensic science can allow you to exercise your scientific mind with a few dashes of criminology and sleuthing thrown in for good measure!
An online forensic science degree program can help you start the training you need to perform rigorous clinical lab work. If you're ready to start your educational journey, you can begin today by researching online forensic science degree programs from accredited universities.
I hope you find this article helpful.